Why Should Anyone Work Here?
What It Takes to Create an Authentic Organization
Rob Goffee and Gareth Jones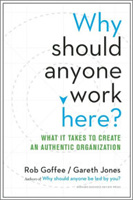 Format:
Hardcover, 256pp.
ISBN:
9781625275097
Publisher:
Harvard Business Review Press
Pub. Date:
November 3, 2015
Average Customer Review:

For Bulk Orders Call: 626-441-2024

Description and Reviews
From
The Publisher:
Imagine designing the best company on earth to work for . . .
What would that company be like? How would you build and sustain it? As a leader, you need to know. In the past, businesses made people conform to the organization's needs. But the old paradigm has shifted. Now leaders must transform their organizations so that they attract the right people, keep them, and inspire them to do their best work. How do you create a culture people want to belong to?
In this powerful and necessary follow-up to the classic
Why Should Anyone Be Led by You?
, leadership and organizational sages Rob Goffee and Gareth Jones identify and illuminate the six key organizational attributes to do just that. In separate chapters, they delve deeply into each one:
1. Let people be themselves
2. Practice radical honesty
3. Magnify people's strengths
4. Stand for authenticity (more than shareholder value)
5. Make work meaningful
6. Make simple rules
With vivid stories and examples from global companies, the authors illustrate the kind of strong, attractive workplace culture that leads to sustained high performance. They also provide ways of assessing how your company is doing and describe the tensions and trade-offs that leaders must manage as they transform their organizations.
Should Anyone Work Here? is the question all contemporary organizational leaders must constantly ask themselves if they want to survive and thrive in the new world. This book will help them answer that question.

Reviews
"Goffee and Jones have a knack for asking the right questions at the right time. The workplace as we know it is broken, and no amount of personal, 'authentic' leadership is going to fix it. A primer on what it will take to build organizations where people can truly be their best, this book is a must-read for anyone concerned with attracting the best talent and fostering their creativity."
—Herminia Ibarra, professor, INSEAD; author, Act Like a Leader, Think Like a Leader
"A great sequel to Why Should Anyone Be Led by You? This book lifts the discussions about authentic leadership and what makes for the best possible organization to a new level. A must-read for all CEOs."
—Franz Humer, Chairman, Diageo; former Chairman, F. Hoffmann-LaRoche
"If you were to design the best workplace on earth, what would it look like? You can find the answers to this question in this wonderful book. Why Should Anyone Work Here? is full of inspiring examples, intellectual wisdom, and practical advice on how to design an organization that brings out the best in its people. It is bound to become required reading for any senior executive."
—Costas Markides, professor, London Business School
"The combination of the right products with the right people drives a brand's success. After showing that leadership is not given but earned in Why Should Anyone Be Led by You?, Goffee and Jones now demonstrate that to complete the equation, a leader must build and shape the right organizational culture to stimulate creativity and ensure long-term success."
—Chantal Gaemperle, LVMH Group Executive Vice President, Human Resources and Synergies
"Goffee and Jones have taught us much in the last two decades about how to be outstanding leaders. And it is our job as leaders to create the distinctive cultures that will attract and foster talent and leadership. In this book, they show us how to do this, clearly demonstrating, as no one has before, the key importance of a few simple cultural traits in order for companies to be great."
—Belmiro de Azevedo, former Chairman and CEO, Sonae

About the Author
Rob Goffee
is Emeritus Professor of Organisational Behaviour at London Business School, where he teaches in the world-renowned Senior Executive Programme. Gareth Jones is a Fellow of the Centre for Management Development at London Business School and a visiting professor at Spain's IE Business School in Madrid. Goffee and Jones consult to the boards of several global companies and are coauthors of Why Should Anyone Be Led by You? and Clever, both published by Harvard Business Review Press.

Find Items On Similar Subjects

Why Should Anyone Be Led by You?