The Pivot Point
: Success in Organizational Change
Victoria M. Grady and James D. Grady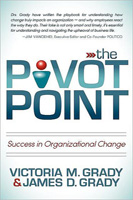 Format:
Paperback, 140pp.
ISBN:
9781614483007
Publisher:
Morgan James Publishing
Pub. Date:
August 1, 2012
Average Customer Review:

For Bulk Orders Call: 626-441-2024

Description and Reviews
From
The Publisher:
The source of the problem is not so much the new, but the threat of the loss of the old.
Resistance to change is often grudgingly accepted as an unavoidable challenge for organizations striving to remain competitive in the global marketplace. However, NOT ONE of the existing change methodologies has recognized, integrated, or even mentioned the true origin of the term Resistance. How can your organization avoid the 70% organizational change failure rate that has plagued change initiatives for more than 15 years? Is there an organizational change tool that will predictably and measurably improve the overall success rate?
Drs. Victoria (Jr.) and James (Sr.) Grady have uncovered the answers! The Pivot Point presents the verdict in two easy to read sections:
The Pivot Point
provides an explanation, not an excuse, for an organizational change failure rate which has continued to hover near 70% for 15 + year.
The Pivot Point
highlights the steps to measure, track, and proactively intervene to maximize change success.
The Pivot Point
introduces information that will enhance, not replace, existing methodologies currently implemented by change agents and consultants.

Reviews
Drs. Grady have written the playbook for understanding how change truly impacts an organization - and why employees react the way they do. Their take is not only smart and timely, it's essential for understanding and navigating the upheaval of business life.
—Jim VandeHei, Executive Editor and Co-Founder, POLITICO

About the Authors
Dr.
Victoria M. Grady
(Jr.) completed her doctoral studies at The George Washington University in May 2005. Her dissertation resulted in the development of the Model of an Organizational Loss of Effectiveness (LOE) which describes loss of stability inherent within organizations during the implementation of change initiatives and the tendency of employees, often subconsciously, to disrupt their organization's attempts to introduce a change.
She is currently an Assistant Professorial Lecturer in the Department of Organizational Science and Communications within the Columbian School of Arts and Sciences at The George Washington University.
Dr.
James D. Grady
(Sr.) has practiced Oral and Maxillofacial Surgery in Auburn/Opelika, Alabama since completing his residency at the University of North Carolina at Chapel Hill in 1974. He and his daughter have worked together extensively over the past 7 years to extend the original Model of Organizational Loss of Effectiveness and to develop a validated LOE Index to quantitatively measure and track the nature and intensity of employee reaction to organizational change initiatives.
Drs. Grady are often asked to consult with internal or external change agents on issues of planning, implementing, and modifying employee reactions to change. They speak frequently at various industry conferences, and have authored professional publications on change and related subjects both in the United States and Abroad.

Find Items On Similar Subjects

Our Iceberg Is Melting
: Changing and Succeeding Under Any Conditions

Leading Change