The Heart of Leadership
: Becoming a Leader People Want to Follow
Mark Miller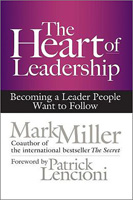 Format:
Hardcover, 168pp.
ISBN:
9781609949600
Publisher:
Berrett-Koehler Publishers
Pub. Date:
October 14, 2013
Average Customer Review:

For Bulk Orders Call: 626-441-2024

Description and Reviews
From
The Publisher:
In this short, easy-to-read fable, author Mark Miller reveals the habits that determine a leader's success—and he teaches leaders how to develop these habits. Like Miller's previous books, this one follows the life of Debbie Bruster. She finds herself mentoring Blake Brown, the son of her former mentor. She introduces him to other leaders, each of whom shares a unique perspective on what makes a leader successful. Blake discovers that his problem is not one of skills but of character, which Miller summarizes as five learnable character traits. A roadmap for aspiring leaders, this book is designed to help people get their lives and careers on track.

Reviews
"For those who have the courage and the character to embrace the radical nature of heart-based leadership, the rewards are great. But those rewards are not always tangible nor are they guaranteed. They cannot be calculated like a bonus or a 401(k) program. That may be why relatively few leaders choose to lead this way. But perhaps this book will begin to change that. I certainly hope so."
—from the foreword by Patrick Lencioni, President, The Table Group, and author of The Five Dysfunctions of a Team and The Advantage
"The most important leadership tool you have is not your education, your experience, or your know-how. It's your heart. In this book, Mark provides a clear prescription for using yours to become the kind of leader people want to follow."
—Michael Hyatt, New York Times bestselling author and former CEO, Thomas Nelson Inc.
"Mark once again demonstrates the power of a simple story well told. The Heart of Leadership will serve leaders around the world for decades to come."
—Dr. Henry Cloud, leadership consultant, psychologist, and bestselling author of Boundaries and Necessary Endings
"Mark Miller has done it again! Another outstanding book—this time on the most important aspect of leadership: who you are as a leader. If you focus only on skills, you are ignoring 90 percent of what makes a great leader. Through an engaging parable, Mark reveals the five qualities of leadership character. And the good news is, they can be learned. Read this book, discover what they are, and take them to heart!"
—Jesse Lyn Stoner, coauthor of the international bestseller Full Steam Ahead!
"The Heart of Leadership addresses the primary stumbling block for leaders—themselves! If you want to improve how you lead others, you must first improve how you lead yourself. This great little book shows you how."
—Daniel S. Harkavy, CEO and Executive Coach, Building Champions, Inc.
"The Heart of Leadership extends and deepens the bestselling leadership models pioneered by Mark Miller. This book is clear, compelling, and of real practical value. Keep it on hand—a small investment of time will yield a lifetime of dividends, in your life as well as in your career."
—Jeff Rosensweig, Associate Professor of International Business and Finance and Director, Global Perspectives Program, Goizueta Business School, Emory University
"There's a difference between potential leaders with raw talent and great leaders with real influence. Mark's book reveals the foundational difference—it's all about leadership character."
—Tony Morgan, author and Chief Strategic Officer and founder of TonyMorganLive.com.
"Mark Miller's The Heart of Leadership immediately creates a place for personal discovery. As I read each page, I was no longer thinking of Blake, the main character, but myself. Blake's journey of discovery became my own. This is about the 'life' of leadership and how it reaches within and without, having profound and long-lasting impact. It's about being unselfishly driven and highly motivated. It is about how others within the workplace and within our lives benefit from our personal resolve to lead from the perspective that others matter."
—Clifton L. Taulbert, author of Eight Habits of the Heart and President, The Freemount Corporation/Building Community Institute
"There are so many buzzwords in business that claim to be the answer to all leadership woes. The truth is that leadership is all about the people, and to have success with people, read The Heart of Leadership, and watch your leadership soar to a whole new level."
—Todd Nielsen, author and COO, JMARK Business Solutions

About the Author
Mark Miller
began writing about a decade ago when he teamed up with Ken Blanchard on The Secret: What Great Leaders Know and Do. Since then, his books have sold almost 600,000 copies worldwide. Miller encourages leaders through his posts on GreatLeadersServe.org. It's rated as one of the top leadership blogs in the world and has garnered almost 2 million page views since its inception less than two years ago. Miller also sells chicken. He started his Chick-fil-A career working as an hourly team member back in 1977. He joined the corporate staff in 1978, working in the warehouse and mailroom. Today he serves as the vice president for organizational effectiveness.

Table of Contents
| | | |
| --- | --- | --- |
| | | |
| | Foreword by Patrick Lencioni | ix |
| | | |
| | Introduction: Leadership Character | 1 |
| | Leaders are Different | 3 |
| | When the Student is Ready | 9 |
| | It's Not About You | 20 |
| | Leaders Create the Future | 37 |
| | Vision Fuels Courage | 49 |
| | The Price of Leadership | 63 |
| | No Substitute for Wisdom | 72 |
| | Look in the Mirror | 85 |
| | I Can Change This | 97 |
| | A Matter of the Heart | 102 |
| | The Next Step | 115 |
| | Epilogue | 119 |
| | Author's Note | 121 |
| | | |
| | Self-Assessment | 123 |
| | Acknowledgments | 125 |
| | About the Author | 127 |

Find Items On Similar Subjects

Great Leaders Grow
: Becoming a Leader for Life

The Secret
: What Great Leaders Know—And Do
2nd Edition