The Secret
: What Great Leaders Know—And Do
10th Anniversary Edition
Ken Blanchard and Mark Miller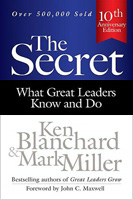 Format:
Hardcover, 144pp.
ISBN:
9781626561984
Publisher:
Berrett-Koehler Publishers
Pub. Date:
2 edition October 1, 2009
Average Customer Review:

For Bulk Orders Call: 626-441-2024

Description and Reviews
From
The Publisher:
10TH ANNIVERSARY EDITION, REVISED AND UPDATED
In this new edition of their classic business fable, Ken Blanchard and Mark Miller get at the heart of what makes a leader successful. Newly promoted but struggling young executive Debbie Brewster asks her mentor the one question she desperately needs answered: "What is the secret of great leaders?" His reply—"great leaders serve"—flummoxes her, but over time he reveals the five fundamental ways that leaders succeed through service. Along the way she learns:
• Why great leaders seem preoccupied with the future
• How people on the team ultimately determine your success or failure
• What three arenas require continuous improvement
• Why true success in leadership has two essential components
• How to knowingly strengthen—or unwittingly destroy—leadership credibility
The tenth anniversary edition includes a leadership self-assessment so readers can measure to what extent they lead by serving and where they can improve. The authors also have added answers to the most frequently asked questions about how to apply the SERVE model in the real world.
As practical as it is uplifting,
The Secret
shares Blanchard's and Miller's wisdom about leadership in a form that anyone can easily understand and implement. This book will benefit not only those who read it but also the people who look to them for guidance and the organizations they serve.

About the Authors
Ken Blanchard
is founder and chief spiritual officer of the Ken Blanchard Companies and is one of the world's most prominent authors, speakers, and consultants. He is the author or coauthor of more than sixty books.
Mark Miller
is currently serving as vice president, organizational effectiveness, at Chick-fil-A, Inc. He is also the author of The Heart of Leadership, The Secret of Teams, and, with Ken Blanchard, Great Leaders Grow. His blog, GreatLeadersServe.org, is rated as one of the top leadership sites in the world.

Table of Contents
| | | |
| --- | --- | --- |
| | | |
| | Foreword by John Maxwell | |
| | | |
| 1 | The Opportunity | |
| 2 | The Meeting | |
| 3 | The Secret | |
| 4 | Where Are You Going? | |
| 5 | What's Most Important? | |
| 6 | An Insight With Impact | |
| 7 | How Can It Be Better? | |
| 8 | What Is Success? | |
| 9 | How's Your Credibility? | |
| 10 | Serving Leaders | |
| 11 | Let's Review | |
| 12 | Passing the Baton | |
| | | |
| | Acknowledgments | |
| | About the Authors | |
| | Services Available | |

Find Items On Similar Subjects

Great Leaders Grow
: Becoming a Leader for Life

The Heart of Leadership
: Becoming a Leader People Want to Follow

Leading at a Higher Level
: Blanchard on Leadership and Creating High Performing Organizations