Leadocracy
: Hiring More Great Leaders (Like You) into Government
Geoff Smart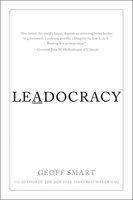 Format:
Hardcover, 160pp.
ISBN:
9781608322886
Publisher:
Greenleaf Book Group Press
Pub. Date:
July 3, 2012
Average Customer Review:

For Bulk Orders Call: 626-441-2024

Description and Reviews
From
The Publisher:
Do you think your life will get better in the future?
Geoff Smart had some doubts. He saw what you see—how broken government has become. He worried about his career, his family's future, and our everyday quality of life.
Then one day, Geoff received an unexpected message that changed how he saw the problem.
Geoff was asked to help. His journey took him behind the scenes to work with other private sector leaders who had made the leap into government. What he discovered will surprise you.
Leadocracy will tell you
Why great leaders avoid government
How the "3 As of Leadership" can help us identify, hire, and become better leaders
How we can avoid nonleader candidates like the Turtle, Bureaucrat, Screamer, and Idealist
How the adrenaline rush of "flow" can offer leaders from the private sector the adventure of a lifetime
Thomas Paine's
Common Sense
painted a vision that inspired a generation and changed the course of human history. The movement of our time is leadocracy—government by society's greatest leaders. Leaders like you.

Reviews
"Leadocracy is a refreshingly simply solution to the problem of government dysfunction."
—H. Wayne Huizenga, Chairman, Huizenga Holdings and former Founder and CEO of three Fortune 500 companies
"At a time of deep doubt about the ability of our federal government to manage our country, Leadocracy provides a reason for hope. As Geoff Smart demonstrates in this timely book, with great leadership no problem is unsolvable."
—Ken Griffin, CEO of Citadel
"As someone who has seen up close hundreds of companies succeed or fail, I can tell you that the quality of the leader is the number one driver of success. Leadocracy shows how to get more great leaders into government, which we sorely need."
—Steve Schwarzman, Chairman, CEO, and Cofounder, The Blackstone Group
"If we don't have leadership in this country with the experience to develop a smart long-term economic growth plan, the guts to aggressively execute it, and the perseverance to stick with it over the long haul, we'll never again see the economic prosperity we've come to take for granted."
—Ted Waitt, Chairman, Avalon Capital Group and Waitt Family Foundation, Founder & former CEO of Gateway
"Leadership is the key to human progress. Geoff Smart s book leads the way."
—Charles Butt, Chairman, H-E-B
"If we can systematically find ways to attract our best leaders to government, as Leadocracy describes, the quality of life of our society will improve."
—John Malone, Ph.D., Chairman, Liberty Media Corporation
"Our future, the world's future, depends on attracting better leaders to government. Leadocracy provides a blueprint for how to do it. Reading it is an inspiration." --Governor John W. Hickenlooper of Colorado "Leadocracy documents what we in Indiana have learned firsthand: With leadership from citizens possessing the right mix of experience and vision, good government is not a lost cause."
—Governor Mitch Daniels of Indiana
"Geoff Smart makes clear the compelling need for top talent to choose public service. Leadocracy demonstrates the difference strong leadership makes in the public and private sectors."
—Governor Jack Markell of Delaware
"It is high time that we focus far more on improving the return on investment of our tax dollars. The best approach for accomplishing this is for successful business leaders to step forward and give back by applying their wealth of practical business experience and objective fact-based analysis to government leadership and decision making."
—Fred Steingraber, President of Kenilworth, IL, and Chairman Emeritus, A.T. Kearney
"Nothing we do in government is as important as who we hire into key leadership roles. Leadocracy, and Geoff's previous book Who, outline principles that we have applied with great success here in Colorado."
—Roxane White, Chief of Staff to Governor John Hickenlooper of Colorado
"Education reform and government reform are inter-related. I believe that leadership is the answer to both. I applaud Geoff Smart's initiative and willingness to bring his hiring methods into the public sector with Leadocracy."
—Wendy Kopp, Founder, Teach For America
"We have used Geoff Smart's methods for hiring here at KIPP with great results. We would love to see them applied to how government leaders are selected, the way he outlines in Who and Leadocracy."
—Mike Feinberg and David Levin, Cofounders, KIPP (Knowledge is Power Program, the largest charter school operator in the United States)
"A high-performing government requires high-performing leaders; Leadocracy convincingly shows that we have an under-tapped supply in the private sector and desperately need to engage them."
—Professor Steven Kaplan, The University of Chicago Booth School of Business
"I am encouraged by the idea of more great private sector leaders going into the public sector, a trend which Leadocracy outlines."
—Professor Morten Sorensen, Columbia Business School
"The evaluation of any organization starts with an assessment of the leader. Geoff Smart has made a compelling case for leader-oriented government reform in Leadocracy."
—Professor Stewart Donaldson, Dean & Chair of Psychology, Claremont Graduate University
"Part diagnosis, part call-to-arms, Geoff Smart's Leadocracy injects a thought-provoking new voice into the dialogue about how to improve our government. It will hopefully spark better leaders to seek key positions at all levels of government."
—Professor Noam Wasserman, Harvard Business School, author of The Founder s Dilemmas: Anticipating and Avoiding the Pitfalls That Can Sink a Startup
"Geoff Smart is the world expert on the topic of hiring leaders. What he suggests we do in Leadocracy to get more great leaders into government is wise counsel."
—Marshall Goldsmith, the world's #1 Leadership Thinker (Thinkers50, Harvard Business Review) and New York Times bestselling author or editor of 31 books, including What Got You Here Won t Get You There
"Geoff Smart is one of the nation's top thinkers on how to hire great people. And he has put his finger on our fundamental failure as voters--we don't hire great people into government. Leadocracy shows how that can change."
—Atul Gawande, MD, surgeon and bestselling author of The Checklist Manifesto

About the Author
Geoff Smart
, PhD, is passionate about great leadership. He is the chairman and CEO of ghSMART, the management assessment firm for CEOs and investors. His assessment, feedback, and coaching tools are used around the world. He is the coauthor of the New York Times bestseller Who: The A Method for Hiring. And he has started two nonprofits focused on encouraging great leaders to grow and serve.

Find Items On Similar Subjects

Who
: The A Method for Hiring