Who
: The
A
Method for Hiring
Geoff Smart and Randy Street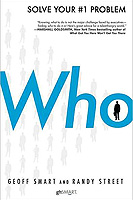 Format:
Hardcover, 190pp.
ISBN:
9780345504197
Publisher:
Ballantine Books
Pub. Date:
September 30, 2008
Average Customer Review:

For Bulk Orders Call: 626-441-2024

Description and Reviews
From
The Publisher:
In this landmark book, Geoff Smart and Randy Street provide a simple, practical, and effective solution to what
The Economist
calls "the single biggest problem in business today": unsuccessful hiring. The average hiring mistake costs a company $1.5 million or more a year and countless wasted hours. This statistic becomes even more startling when you consider that the typical hiring success rate of managers is only 50 percent.
The silver lining is that "who" problems are easily preventable. Based on more than 1,300 hours of interviews with more than 20 billionaires and 300 CEOs,
Who
presents Smart and Street's A Method for Hiring. Refined through the largest research study of its kind ever undertaken, the A Method stresses fundamental elements that anyone can implement–and it has a 90 percent success rate.
Whether you're a member of a board of directors looking for a new CEO, the owner of a small business searching for the right people to make your company grow, or a parent in need of a new babysitter, it's all about Who. Inside you'll learn how to:
avoid common "voodoo hiring" methods
define the outcomes you seek
generate a flow of A Players to your team–by implementing the #1 tactic used by successful businesspeople
ask the right interview questions to dramatically improve your ability to quickly distinguish an A Player from a B or C candidate
attract the person you want to hire, by emphasizing the points the candidate cares about most
In business, you are who you hire. In
Who
, Geoff Smart and Randy Street offer simple,easy-to-follow steps that will put the right people in place for optimal success.

Reviews
"Seventy percent of the game is finding the right people, putting them in the right position, listening to them, and alleviating what gets in their way. Who is a practical guide to making sure you get the right people to start with! Excellent advice and guide."
—Robert Gillette, president and CEO, Honeywell Aerospace
"Geoff Smart and Randy Street have done an amazing job distilling the best advice from some of the world's most successful business leaders."
—Wayne Huizenga, founder, Blockbuster Video
"A great read–it really is all about finding, keeping, and motivating the team."
—John Malone, chairman, Liberty Media Corporation
"The key point in this book is that those of us who run companies should include who decisions near the top of the list of strategic priorities."
—John Varley, group chief executive, Barclays
"Who is the only book you need to read if you are serious about making smart hiring and promotion decisions. It is the most actionable book on middle- and upper-management hiring that I've read after twenty years in HR."
—Ed Evans, executive vice president and chief personnel officer, Allied Waste Industries
"I wish I had this book thirty years ago, at the beginning of my career!"
—Jay Jordan, chairman and CEO, the Jordan Company
"This book will save you and your company time and money. In business, what else is there?"
—Roger Marino, co-founder, EMC Corporation
"You'll find yourself nodding yes, saying 'That's right,' and thinking, Oh, I've been there, all the way through this grand slam of a book. Whether you're starting a company or running a part of a big one, the level of success you achieve is almost always a result of choosing the right people for the right jobs at the right time. It's all about the who!"
—Aaron Kennedy, founder and chairman, Noodles & Company

About the Authors
Geoff Smart
is the chairman and CEO of ghSMART, the management assessment firm for CEOs and investors.
Randy Street
is the president of ghSMART Executive Learning and a top-rated international public speaker.

Table of Contents
| | | |
| --- | --- | --- |
| | Introduction: Who, Not What | |
| | | |
| 1 | Your #1 Problem | 3 |
| 2 | Scorecard: A Blueprint for Success | 19 |
| 3 | Source: Generating a Flow of A Players | 47 |
| 4 | Select: The Four Interviews for Spotting A Players | 67 |
| 5 | Sell: The Top Five Ways to Seal the Deal | 123 |
| 6 | Your Greatest Opportunity | 147 |
| | | |
| | For More Information | 173 |
| | Biographies of Captains of Industry | 175 |

Find Items On Similar Subjects

Talent is Overrated
: What Really Separates World-Class Performers from Everybody Else