The 15 Invaluable Laws of Growth
: Live Them and Reach Your Potential
John C. Maxwell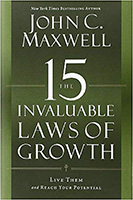 Format:
Hardcover, 288pp.
ISBN:
9781599953663
Publisher:
Center Street
Pub. Date:
October 2, 2012
Average Customer Review:

For Bulk Orders Call: 626-441-2024

Description and Reviews
From
The Publisher:
Are there tried and true principles that are always certain to help a person grow? John Maxwell says the answer is yes. He has been passionate about personal development for over fifty years, and for the first time, he teaches everything he has gleaned about what it takes to reach our potential. In the way that only he can communicate, John teaches . . .
The Law of the Mirror: You Must See Value in Yourself to Add Value to Yourself
The Law of Awareness: You Must Know Yourself to Grow Yourself
The Law of Modeling: It's Hard to Improve When You Have No One But Yourself to Follow
The Law of the Rubber Band: Growth Stops When You Lose the Tension Between Where You are and Where You Could Be
The Law of Contribution: Developing Yourself Enables You to Develop Others
This third and final book in John Maxwell's Laws series (following 2-million seller
The 21 Irrefutable Laws of Leadership
and
The 17 Indisputable Laws of Teamwork
) will help you become a lifelong learner whose potential keeps increasing and never gets "used up."

Reviews
"My good friend John Maxwell has been a great source of inspiration and encouragement in my life and has motivated millions of people around the world to achieve new heights in their lives as well. In his new book, The 15 Invaluable Laws of Growth, John does what he does best; inspiring people to find and unlock their true potential and fulfill their God-given purpose. Regardless of where you are in your life, the principles outlined in this book can help you to forge better relationships, grow spiritually and become all that you were created to be."
—Joel Osteen
"I salute John Maxwell for being a pioneer for leadership throughout the world. In his most recent book, he has successfully distilled the 15 most invaluable laws for personal growth. To read this book is to receive the essence of John's expertise, which will help you take your personal success to the next level."
—Stedman Graham, speaker, author and entrepreneur

About the Author
John C. Maxwell
is an internationally respected leadership expert, speaker, and author who has sold more than 20 million books. Dr. Maxwell is the founder of EQUIP, a non-profit organization that has trained more than 5 million leaders in 126 countries worldwide. Each year he speaks to the leaders of diverse organizations, such as Fortune 500 companies, foreign governments, the National Football League, the United States Military Academy at West Point, and the United Nations. A New York Times, Wall Street Journal, and Business Week best-selling author, Maxwell has written three books that have sold more than a million copies: The 21 Irrefutable Laws of Leadership, Developing the Leader Within You, and The 21 Indispensable Qualities of a Leader. His blog can be read at JohnMaxwellOnLeadership.com. He can be followed at Twitter.com/JohnCMaxwell.

Find Items On Similar Subjects

The 17 Indisputable Laws of Teamwork
: Embrace Them and Empower Your Team

The 21 Irrefutable Laws of Leadership
: Follow Them and People Will Follow You