Minding the Store
: Great Writing About Business from Tolstoy to Now
Edited by Robert Coles and Albert LaFarge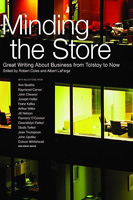 Format:
Hardcover, 320pp.
ISBN:
9781595583550
Publisher:
New Press
Pub. Date:
August 1, 2008
Average Customer Review:

For Bulk Orders Call: 626-441-2024

Description and Reviews
From
The Publisher:
Entertaining and illuminating literary selections that explore the ethical quandaries of the workplace, collected by the Pulitzer Prize-winning author of
The Moral Lives of Children
.
"They don't know me anymore."—Willy Loman, in
Death of a Salesman
In a course he taught at Harvard Business School and elsewhere for many years, esteemed psychiatrist Robert Coles asked future money market managers and risk arbitrageurs to pause for a semester and reflect on the ethical dimensions of their chosen profession.
Now, for corporate professionals, armchair entrepreneurs, and other students of commerce, Coles has gathered a generous and stimulating collection of classic literary reflections on the ethical and spiritual predicaments of the business world.
From John Cheever's descriptions of a businessman who endures a moral crisis after stealing a neighbor's wallet and Gwendolyn Parker's "Uppity Buppie," in which an African American woman ascends to the upper ranks of corporate America, to Death of a Salesman and Tolstoy's "Master and Man," Minding the Store offers a richly human vision of the business world. With selections by, among others, John Updike, Flannery O'Connor, William Carlos Williams, Edith Wharton, and Vladimir Nabokov, Coles gives us the essential literary gems that illuminate the human predicaments of commerce and the moral quandaries of the marketplace.

About the Editors
Robert Coles
is the former James Agee Professor of Social Ethics at Harvard University, where he taught at Harvard Business School and Harvard Law School. He is the Pulitzer Prize-winning author of the "Children of Crisis" series of books and lives in Concord, Massachusetts.
Albert LaFarge
is the former deputy editor of DoubleTake magazine. He lives in Boston.

Table of Contents
| | | |
| --- | --- | --- |
| | | |
| | Preface Robert Coles | |
| | Introduction Albert LaFarge LaFarge | |
| | | |
| | Part 1 The Hard Sell | |
| | "Are These Actual Miles?" Raymond Carver | |
| | "The Hardware Man" John O'Hara | |
| | from John Henry Days Colson Whitehead | |
| | "Fully Utilized" Steven C. Lo | |
| | from Youngblood Hawke Herman Wouk | |
| | "Give the Devils No Mercy" William H. Whyte | |
| | | |
| | Part 2 The Office | |
| | "The Office in Which I Work" Joseph Heller | |
| | "My Neighbor" Franz Kafka | |
| | from Volunteer Slavery Jill Nelson | |
| | "Uppity Buppie" Gwendolyn M. Parker | |
| | from The Moviegoer Walker Percy | |
| | | |
| | Part 3 The Rich Man's House | |
| | "The Housebreaker of Shady Hill" John Cheever | |
| | "Janus" Ann Beattie | |
| | "Babbitt Rising" Sinclair Lewis | |
| | "The Rich Man's House" Jean Thompson | |
| | | |
| | Part 4 Coming Up Short | |
| | "Good Country People" Flannery O'Connor | |
| | "The Loser" Michael Thomas | |
| | "Money" James Agee | |
| | "I Was Dropped" Studs Terkel | |
| | "The Man Higher Up" O. Henry | |
| | | |
| | Part 5 You Can't Take It With You | |
| | from Death of a Salesman Arthur Miller | |
| | "An Outpost of Progress" Joseph Conrad | |
| | "My Uncle's Death" John Updike | |
| | "Master and Man" Leo Tolstoy | |
| | | |
| | Acknowledgments and Permissions | |

Find Items On Similar Subjects

Questions of Character
: Illuminating the Heart of Leadership Through Literature