Questions of Character
: Illuminating the Heart of Leadership Through Literature
Joseph Badaracco, Jr.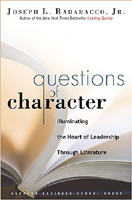 Format:
Hardcover, 240pp.
ISBN:
9781591399681
Publisher:
Harvard Business School Press
Pub. Date:
April 30, 2006
Average Customer Review:


For Bulk Orders Call: 626-441-2024

Description and Reviews
From
The Publisher:
What Serious Fiction Can Teach Leaders
The hardest tests for leaders challenge their character as much as their skills, and a growing body of research shows that the self-knowledge gained from such tests is critical to leaders' success.
In
Questions of Character
, Joseph L. Badaracco outlines eight fundamental challenges that test a leader's character, and proposes exploring them through the lens of literature. Badaracco argues that serious fiction provides us with memorable characters facing compelling challenges similar to those that confront business leaders. Through rich analysis of the main characters in The Death of a Salesman, The Secret Sharer, The Last Tycoon, and other stories, Badaracco addresses complex issues leaders face, such as the soundness of their vision, their readiness to take on responsibility, the depth of their compassion, and their ability to manage success.
Presenting classic leadership dilemmas in a novel and valuable light,
Questions of Character
helps leaders and aspiring leaders prepare for the opportunities and tests before them.


Reader's Index
Send us your favorite quotes or passages from this book
.
• "Serious literature offers a view from the inside. It opens doors to a world rarely seen—except, on occasion, by leaders' spouses and closest friends. It lets us watch leaders as they think, worry, hope, hesitate, commit, exult, regret, and reflect. We see their characters tested, reshaped, strengthened or weakened. These books draw us into leaders' worlds, put us in their shoes, and at times let us share their experiences." Pg. 3

About the Author
Joseph L. Badaracco Jr.
is the John Shad Professor of Business Ethics at Harvard Business School and the author of several books, including
Leading Quietly
and Defining Moments, both published by HBS Press.

Table of Contents
Introduction
1
1
Do I Have a God Dream?
Death of a Salesman by Arthur Miller
11
2
How Flexible Is My Moral Code?
Things Fall Apart by Chinua Achebe
31
3
Are My Role Models Unsettling?
"Blesses Assurance" by Allen Gurganus
53
4
Do I Really Care?
The Love of the Last Tycoon by F. Scott Fitzgerald
75
5
Am I Ready to Take Responsibility?
"The Secret Sharer" by Joseph Conrad
99
6
Can I Resist the Flow of Success?
I Come as a Thief by Louis Auchincloss
119
7
How Well Do I Combine Principles and Pragmatism?
A Man for All Seasons by Robert Bolt
139
8
What Is Sound Reflection?
Antigone by Sophocles
163
9
Judging Character
189
Notes
199
Bibliography
207
Acknowledgments
211
Index
213
About the Author
221

Find Items On Similar Subjects

The Good Struggle
: Responsible Leadership in an Unforgiving World

Leading Quietly