Succeed
: How We Can Reach Our Goals
Heidi Grant Halvorson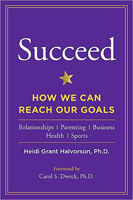 Format:
Paperback, 304 pp.
ISBN:
9780452297715
Publisher:
Plume
Pub. Date:
December 27, 2011
Average Customer Review:

For Bulk Orders Call: 626-441-2024

Description and Reviews
From
The Publisher:
Just in time for New Year's resolutions, learn how to reach your goals-finally-by overcoming the many hurdles that have defeated you before.
Most of us have no idea why we fail to reach our goals. Now Dr. Heidi Grant Halvorson, a rising star in the field of social psychology shows us how to overcome the hurdles that have defeated us before.
Dr. Grant Halvorson offers insights-many surprising-that readers can use immediately, including how to:
• Set a goal so that you will persist even in the face of adversity
Build willpower, which can be strengthened like a muscle
Avoid the kind of positive thinking that makes people fail
The strategies outlined in this book will not only help everyone reach their own goals but will also prove invaluable to parents, teachers, coaches, and employers. Dr. Grant Halvorson shows readers a new approach to problem solving that will change the way they approach their entire lives.

Reviews
"Once every ten years or so, someone says something original in the area of personal development. Heidi Grant Halvorson is that someone. If you have ever failed at something or are seeking to accomplish something, Succeed is a must read."
—Matthew Kelly, New York Times bestselling author of The Rhythm of Life and The Dream Manager
"The most important message of this book is that people can change. It's not necessarily easy, but it is possible with the right motivation and the right information about how to go about it. The problem has always been, Where do we go to get the right information? The solution is at hand; you need only turn the page."
—Carol S. Dweck, Ph.D., Professor of Psychology, Stanford University, and bestselling author of Mindset

About the Author
Heidi Grant Halvorson, PhD
, is a social psychologist, educational consultant, and most recently assistant professor of psychology at Lehigh University. She has received several grants from the National Science Foundation and also writes a blog for Psychology Today while running her website, heidigranthalvorsen.com

Find Items On Similar Subjects

Switch
: How to Change Things When Change Is Hard