Switch
: How to Change Things When Change Is Hard
Chip Heath and Dan Heath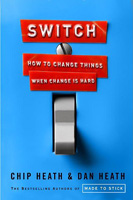 Format:
Hardcover, 320pp.
ISBN:
9780385528757
Publisher:
Broadway Business
Pub. Date:
February 16, 2010
Average Customer Review:


For Bulk Orders Call: 626-441-2024

Description and Reviews
From
The Publisher:Why is it so hard to make lasting changes in our companies, in our communities, and in our own lives?
The primary obstacle is a conflict that's built into our brains, say Chip and Dan Heath, authors of the critically acclaimed bestseller
Made to Stick
. Psychologists have discovered that our minds are ruled by two different systems—the rational mind and the emotional mind—that compete for control. The rational mind wants a great beach body; the emotional mind wants that Oreo cookie. The rational mind wants to change something at work; the emotional mind loves the comfort of the existing routine. This tension can doom a change effort—but if it is overcome, change can come quickly.
In
Switch
, the Heaths show how everyday people—employees and managers, parents and nurses—have united both minds and, as a result, achieved dramatic results:
The lowly medical interns who managed to defeat an entrenched, decades-old medical practice that was endangering patients.
The home-organizing guru who developed a simple technique for overcoming the dread of housekeeping.
The manager who transformed a lackadaisical customer-support team into service zealots by removing a standard tool of customer service
In a compelling, story-driven narrative, the Heaths bring together decades of counterintuitive research in psychology, sociology, and other fields to shed new light on how we can effect transformative change.
Switch
shows that successful changes follow a pattern, a pattern you can use to make the changes that matter to you, whether your interest is in changing the world or changing your waistline.

Reviews
The Heath brothers (coauthors of Made to Stick) address motivating employees, family members, and ourselves in their analysis of why we too often fear change. Change is not inherently frightening, but our ability to alter our habits can be complicated by the disjunction between our rational and irrational minds: the self that wants to be swimsuit-season ready and the self that acquiesces to another slice of cake anyway. The trick is to find the balance between our powerful drives and our reason. The authors' lessons are backed up by anecdotes that deal with such things as new methods used to reform abusive parents, the revitalization of a dying South Dakota town, and the rebranding of megastore Target. Through these lively examples, the Heaths speak energetically and encouragingly on how to modify our behaviors and businesses. This clever discussion is an entertaining and educational must-read for executives and for ordinary citizens looking to get out of a rut. (Mar.)
—Publishers Weekly

About the Authors
Chip Heath
is the Thrive Foundation for Youth Professor of Organizational Behaviour at Stanford University's Graduate School of Business.
Dan Heath
is a consultant to the Aspen Institute. Together, they are the authors of the national bestseller
Made to Stick: Why Some Ideas Survive and Others Die
. They write a regular column in Fast Company magazine, and have appeared on Today, NPR's Morning Edition, MSNBC, CNBC, and have been featured in Time, People and US News and World Report.

Table of Contents
| | | |
| --- | --- | --- |
| 1 | Three Surprises About Change | 1 |
| | | |
| | Direct the Rider | |
| 2 | Find the Bright Spots | 27 |
| 3 | Script the Critical Moves | 49 |
| 4 | Point to the Destination | 73 |
| | | |
| | Motivate the Elephant | |
| 5 | Find the Feeling | 101 |
| 6 | Shrink the Change | 124 |
| 7 | Grow Your People | 149 |
| | | |
| | Shape the Path | |
| 8 | Tweak the Environment | 179 |
| 9 | Build Habits | 203 |
| 10 | Rally the Herd | 225 |
| | | |
| 11 | Keep the Switch Going | 250 |
| | | |
| | How to Make a Switch | 259 |
| | Overcoming Obstacles | 261 |
| | Next Steps | 265 |
| | Recommendations for Additional Reading | 267 |
| | Notes | 269 |
| | Acknowledgements | 293 |
| | Index | 295 |

Customer Reviews
Write your own online review
.

Required reading for leaders
December 14, 2009
Reviewer: M L Woods from Greenville, OH USA
Am currently reading the pre-release version of the book. As someone who develops strategy with the goal of radically improving behavior, I have found this book extremely valuable. It will help you drive your organization from sustained behavior to transformed behavior.

Find Items On Similar Subjects

Made to Stick
: Why Some Ideas Survive and Others Die

The Happiness Hypothesis
: Finding Modern Truth in Ancient Wisdom