Nothing to Fear
: FDR's Inner Circle and the Hundred Days That Created Modern America
Adam Cohen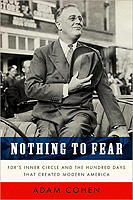 Format:
Paperback, 400pp.
ISBN:
9780143116653
Publisher:
Penguin Group
Pub. Date:
January 26, 2010
Average Customer Review:

For Bulk Orders Call: 626-441-2024

Description and Reviews
From
The Publisher:
A revealing account of the critical first days of FDR's presidency, during the worst moments of the Great Depression, when he and his inner circle launched the New Deal and presided over the birth of modern America
Nothing to Fear
brings to life a fulcrum moment in American history—the tense, feverish first one hundred days of FDR's presidency, when he and his inner circle swept away the old order and reinvented the role of the federal government. When FDR took his oath of office in March 1933, thousands of banks had gone under following the Crash of 1929, a quarter of American workers were unemployed, farmers were in open rebellion, and hungry people descended on garbage dumps and fought over scraps of food. Before the Hundred Days, the federal government was limited in scope and ambition; by the end, it had assumed an active responsibility for the welfare of all of its citizens.
Adam Cohen offers an illuminating group portrait of the five members of FDR's inner circle who played the greatest roles in this unprecedented transformation, revealing in turn what their personal dynamics suggest about FDR's leadership style. These four men and one woman frequently pushed FDR to embrace more activist programs than he would have otherwise. FDR came to the White House with few firm commitments about how to fight the Great Depression—as a politician he was more pragmatic than ideological, and, perhaps surprising, given his New Deal legacy, by nature a fiscal conservative. To develop his policies, he relied heavily on his advisers, and preferred when they had conflicting views, so that he could choose the best option among them.
For this reason, he kept in close confidence both Frances Perkins—a feminist before her time, and the strongest advocate for social welfare programs—and Lewis Douglas— an entrenched budget cutter who frequently clashed with the other members of FDR's progressive inner circle. A more ideological president would have surrounded himself with advisors who shared a similar vision, but rather than commit to a single solution or philosophy, FDR favored a policy of "bold, persistent experimentation." As a result, he presided over the most feverish period of government activity in American history, one that gave birth to modern America.
As Adam Cohen reminds us, the political fault lines of this era—over welfare, government regulation, agriculture policy, and much more—remain with us today.
Nothing to Fear
is both a riveting narrative account of the personal dynamics that shaped the tumultuous early days of FDR's presidency, and a character study of one of America's defining leaders in a moment of crisis.

Reviews
"In the veritable library of books about the New Deal, Adam Cohen's new entry deserves a prominent place on the top shelf. In my judgment, the story of the Hundred Days has never been told so well, nor the cast of characters rendered so compellingly."
—Joseph J. Ellis, author of American Creation
"This is thrilling history, bringing to life the full-dimensional, extraordinary band of people who shaped the modern United States in a hundred-day dash. Cohen's character sketches are sharp, his narrative moves along briskly, and the story itself is fresh—and full of drama. We are better off as a nation for having this chapter of our shared past told in page-turner fashion by Adam Cohen."
—Timothy Egan, author of The Worst Hard Time
"FDR brought together brilliant people with divergent beliefs and was able both to manage and juggle them. In this fascinating book about his first hundred days, Adam Cohen looks at his innermost circle and provides wonderful insights about leadership, management, and creativity."
—Walter Isaacson, author of Einstein
"When Franklin D. Roosevelt became president in March 1933 he issued a spate of reform legislation which transformed America for the better. Now, Adam Cohen, one our finest historians, explains in vivid prose the backstory of how five inner-circle liberals jumpstarted those historic 100 Days. Nothing to Fear is a riveting, indispensable book for our times."
—Douglas Brinkley, Professor of History and Baker Institute Fellow at Rice University and author, The Great Deluge
"Vividly written and profoundly researched, this reprise of FDR's circle is an exciting New Deal adventure for these troubled times. Adam Cohen's Nothing To Fear is filled with surprises, new stories and unique portraits of FDR's friends and enemies you have never met this way before. The amazing journey of Frances Perkins is simply a marvel. At this critical moment, with our nation imperiled by the 'starve the beast' crowd, this book offers hope for what is now again most needed: the restoration of democracy, and the restitution of New Deal agencies to promote dignity and security for all."
—Blanche Wiesen Cook, University Distinguished Professor, John Jay College & Graduate Center, CUNY and author of Eleanor Roosevelt

About the Author
Adam Cohen
is Assistant Editorial Page Editor of the
New York Times
, where he has been a member of the Editorial Board since 2002. He was previously a senior writer at
Time
, and is the author of
The Perfect Store: Inside eBay
and co- author of
American Pharaoh
, a biography of Mayor Richard J. Daley. Before entering journalism, Cohen was an education-reform lawyer, and he has a law degree from Harvard.

Find Items On Similar Subjects

The Defining Moment
: FDR's Hundred Days and the Triumph of Hope -
Paperback

The Rebellion of Ronald Reagan
: A History of the End of the Cold War