The Rebellion of Ronald Reagan
: A History of the End of the Cold War
James Mann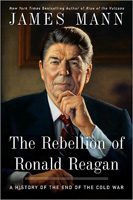 Format:
Paperback, 432pp.
ISBN:
9780143116790
Publisher:
Penguin Books
Pub. Date:
February 23, 2010
Average Customer Review:

For Bulk Orders Call: 626-441-2024

Description and Reviews
From
The Publisher:
In
The Rebellion of Ronald Reagan
, New York Times bestselling author James Mann directs his keen analysis to Ronald Reaganís role in ending the Cold War. Drawing on new interviews and previously unavailable documents, Mann offers a fresh and compelling narrativeóa new history assessing what Reagan did, and did not do, to help bring Americaís four-decade conflict with the Soviet Union to a close.
As he did so masterfully in Rise of the Vulcans, Mann sheds new light on the hidden aspects of American foreign policy. He reveals previously undisclosed secret messages between Reagan and Moscow; internal White House intrigues; and battles with leading figures such as Nixon and Kissinger, who repeatedly questioned Reaganís unfolding diplomacy with Mikhail Gorbachev. He details the background and fierce debate over Reaganís famous Berlin Wall speech and shows how it fit into Reaganís policies. Ultimately, Mann dispels the facile stereotypes of Reagan in favor of a levelheaded, cogent understanding of a determined president and his strategy.
This book finally answers the troubling questions about Reaganís actual role in the crumbling of Soviet power; and concludes that by recognizing the significance of Gorbachev, Reagan helped bring the Cold War to a close.

Reviews
Ronald Reagan did not "win" the Cold War, nor was he just historically lucky, as two contrasting viewpoints would sometimes have it. Instead, writes former journalist Mann (author-in-residence, Johns Hopkins Sch. of Advanced International Studies; Rise of the Vulcans), after a career of hard line anticommunism Reagan proved more flexible and visionary than many other leaders of American foreign policy and more opportunistic and insightful into the motives of Mikhail Gorbachev when the Soviet leader signaled change in the USSR's own conventional hard-line position. Mann's book has four sections: an analysis of the long personal and political relationship between Reagan and Richard Nixon, the two leading anti-Communists of their era; the story of how Reagan put to use his friendship with Susan Massie, a writer on Russian history from outside the academic establishment; a close study of Reagan's famous 1987 speech at the Berlin Wall; and an examination of Reagan's final two years in office, when the Cold War began to thaw. Mann bases his argument upon impressive original research, including interviews with principals who range from George Shultz, to Colin Powel, to Helmut Kohl, to Nancy Reagan. Highly recommended for all libraries. [See Prepub Alert, LJ11/08.]
óBob Nardini - Library Journal

About the Author
James Mann
is the author of the
New York Times
bestseller
Rise of the Vulcans
and
The China Fantasy
, among others. Author-in-residence at John Hopkins School of Advanced International Studies, he is an award-winning former Washington reporter, columnist, and foreign correspondent for the
Los Angeles Times
.

Find Items On Similar Subjects

Nothing to Fear
: FDR's Inner Circle and the Hundred Days That Created Modern America