The Age of Turbulence
: Adventures in a New World
Alan Greenspan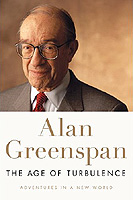 Format:
Paperback, 608pp.
ISBN:
9780143114161
Publisher:
Penguin Books
Pub. Date:
September 9, 2008
Average Customer Review:

For Bulk Orders Call: 626-441-2024

Description and Reviews
From
The Publisher:
In the immediate aftermath of September 11, 2001, in his fourteenth year as Chairman of the Federal Reserve Board, Alan Greenspan took part in a very quiet collective effort to ensure that America didn't experience an economic meltdown, taking the rest of the world with it. There was good reason to fear the worst: the stock market crash of October 1987, his first major crisis as Federal Reserve Chairman, coming just weeks after he assumed control, had come much closer than is even today generally known to freezing the financial system and triggering a genuine financial panic. But the most remarkable thing that happened to the economy after 9/11 was...nothing. What in an earlier day would have meant a crippling shock to the system was absorbed astonishingly quickly.
After 9/11 Alan Greenspan knew, if he needed any further reinforcement, that we're living in a new world - the world of a global capitalist economy that is vastly more flexible, resilient, open, self-directing, and fast-changing than it was even 20 years ago. It's a world that presents us with enormous new possibilities but also enormous new challenges. The Age of Turbulence is Alan Greenspan's incomparable reckoning with the nature of this new world - how we got here, what we're living through, and what lies over the horizon, for good and for ill-channeled through his own experiences working in the command room of the global economy for longer and with greater effect than any other single living figure. He begins his account on that September 11th morning, but then leaps back to his childhood, and follows the arc of his remarkable life's journey through to his more than 18-year tenure as Chairman of the Federal Reserve Board, from 1987 to 2006, during a time of transforming change.
Alan Greenspan shares the story of his life first simply with an eye toward doing justice to the extraordinary amount of history he has experienced and shaped. But his other goal is to draw readers along the same learning curve he followed, so they accrue a grasp of his own understanding of the underlying dynamics that drive world events. In the second half of the book, having brought us to the present and armed us with the conceptual tools to follow him forward, Dr. Greenspan embarks on a magnificent tour de horizon of the global economy. He reveals the universals of economic growth, delves into the specific facts on the ground in each of the major countries and regions of the world, and explains what the trend-lines of globalization are from here. The distillation of a life's worth of wisdom and insight into an elegant expression of a coherent worldview, The Age of Turbulence will stand as Alan Greenspan's personal and intellectual legacy.


Reader's Index
Send us your favorite quotes or passages from this book
.
• "The notion of enlisting representatives of a corporation's various stakeholders on the board—unions, community representatives, customers, suppliers, and so forth—has a nice democratic ring to it. But it is ill-advised and I strongly suspect it will not work. Today's highly competitive world needs each corporation to execute plans from a single coach, as it were. A vote by the whole team on each big play is a recipe for defeat. I assume that eventually some of the more abrasive edges of Sarbanes-Oxley, especially Section 404, will be honed down." Pg. 432

About the Author
Alan Greenspan
was born in 1926 in the Washington Heights neighborhood of New York City. After studying the clarinet at Juilliard and working as a professional musician, he earned his B.A., M.A., and Ph.D. in Economics from New York University. In 1954, he co-founded the economic consulting firm Townsend-Greenspan & Co. From 1974 to 1977, he served as Chair of the Council of Economic Advisers under President Gerald Ford. In 1987, President Ronald Reagan appointed him Chairman of the Federal Reserve Board, a position he held until his retirement in 2006.

Table of Contents
| | | |
| --- | --- | --- |
| | Introduction | 1 |
| | | |
| 1 | City Kid | 19 |
| 2 | The Making of an Economist | 38 |
| 3 | Economics Meets Politics | 54 |
| 4 | Private Citizen | 77 |
| 5 | Black Monday | 100 |
| 6 | The Fall of the Wall | 123 |
| 7 | A Democrat's Agenda | 142 |
| 8 | Irrational Exuberance | 164 |
| 9 | Millennium Fever | 182 |
| 10 | Downturn | 206 |
| 11 | The Nation Challenged | 226 |
| 12 | The Universals of Economic Growth | 249 |
| 13 | The Modes of Capitalism | 267 |
| 14 | The Choices that Await China | 294 |
| 15 | The Tigers and the Elephant | 311 |
| 16 | Russia's Sharp Elbows | 323 |
| 17 | Latin America nad Populism | 334 |
| 18 | Current Accounts and Debt | 346 |
| 19 | Globalization and Regulation | 363 |
| 20 | The "Conundrum" | 377 |
| 21 | Education and Income Equality | 392 |
| 22 | The World Retires. But Can it Afford To? | 409 |
| 23 | Corporate Governance | 423 |
| 24 | The Long-Term Energy Squeeze | 437 |
| 25 | The Delphic Future | 464 |
| | | |
| | Acknowledgements | 506 |
| | A Note on Sources | 508 |
| | Index | 513 |

Find Items On Similar Subjects

The Age of Turbulence
: Adventures in a New World • Paperback

Biography

The First Billion Is the Hardest
: Reflections on a Life of Comebacks and America's Energy Future