The PITA Principle
: How to Work With (and Avoid Becoming) a Pain in the Ass
Robert Orndorff and Dulin Clark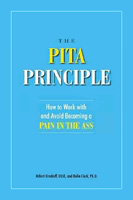 Format:
Hardcover, 227pp.
ISBN:
9781593575519
Publisher:
JIST Works
Pub. Date:
August 2008
Average Customer Review:

For Bulk Orders Call: 626-441-2024

Description and Reviews
From
The Publisher:
A humorous new how-to guide by character expert Robert Orndorff and psychologist Dulin Clark unveils the different types of PITAs (Pain In The Ass) one might encounter on the job. Readers will learn how to cope with—and dare we say benefit from—these PITAs, and even identify their own PITA tendencies and learn how to avoid becoming the dreaded coworker.
The PITA Principle uses entertaining scenarios and real-life work situations to describe and identify the different kinds of PITAs in the workplace. Then, readers are provided with a positive scenario for each type of PITA, showcasing techniques for working with this personality type. Readers engage in a self-evaluation process, with the understanding that we all have the potential to become each kind of PITA during certain work situations. The authors identify ways to improve upon various self-identified PITA characteristics through a cognitive-behavioral approach to change.
HR professionals, outplacement professionals, business professionals, college students, and anyone with a job will enjoy Orndorff and Clark's approach to understanding our coworkers and even ourselves. Their humorous approach to this sometimes touchy subject allows readers to relax and reflect on how they react to work stresses and inspires them to recognize their PITA styles and develop ways to overcome them.

Reviews
"Categorizes PITAs in a descriptive--and humorous--way that greatly facilitates satisfactory and timely resolutions to problems they cause."
—Arthur H. Bair, Jr., Colonel, U.S. Army (Retired) and former Blockbuster Video franchisee
"Offers important insight and presents useful strategies to strengthen one's ability to positively and constructively interact with colleagues."
—Stanley M. Bergman, Chairman and Chief Executive Officer, Henry Schein, Inc.
"Would it be wrong to surreptitiously slip this onto one of my coworkers' desks?"
—Bethany Clough, Fresno Bee News Blog
"Orndorff and Clark tackle the importance and challenge of interpersonal effectiveness at work in a thoughtful, practical, yet humorous way."
—Larry Culp, Chief Executive Officer, Danaher Corporation
"Orndorff and Clark have added a new word to the language of business, and it's a beauty!"
—Jeffrey Fox, bestselling author, How to Become a Rainmaker

About the Authors
Dr. Robert Orndorff
is the Associate Director of Career Services and Affiliate Assistant Professor of Counselor Education at Penn State University. Bob received a doctoral degree in counselor education (specializing in higher education and career development) from Penn State University. He has written and published numerous books and articles on both career development and character education. Bob is also a frequent and keynote speaker at regional and national careers and character education conferences.
Dr. Dulin Clark
earned his Ph.D in Counseling Psychology from Penn State University and is a licensed psychologist. He has worked within the university environment as student psychologist and career counselor at University of Delaware North Carolina Sate University, University of Pittsburgh, and most recently at Penn State University, where he is Assistant Director of Counseling and Planning at the Career Services Center.

Find Items On Similar Subjects

The No Asshole Rule
: Building a Civilized Workplace and Surviving One That Isn't