Hit the Ground Running
: A Manual for New Leaders
Jason Jennings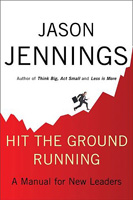 Format:
Hardcover, 256pp.
ISBN:
9781591842477
Publisher:
Portfolio Hardcover
Pub. Date:
March 19, 2009
Average Customer Review:

For Bulk Orders Call: 626-441-2024

Description and Reviews
From
The Publisher:
Want to compete with the best of the best? Then hit the ground running. Here's how.
The toughest job in business is taking over as a new leader. You have to quickly assess the situation, pull together a strong team, decide on a strategy, and inspire everyone to execute it.
The stakes for new leaders are even higher. Whether you've been brought on to fix something that's broken, launch a product, move the company in a new direction, or head up a division, every new leader is under the gun to get up to speed and begin producing strong numbers— ASAP.
In
Hit the Ground Running
, Jason Jennings introduces us to America's best performing new CEOs who pulled off the most impressive transformations of the decade. They doubled revenues, more than tripled earnings per share, and doubled their company's net profit margins.
After interviewing and analyzing the stories of these top leaders, Jennings delivers their hard- earned, battle-tested strategies, which will inspire any new leader to take the helm and start delivering.
When Richard and Tim Smucker were appointed co-CEOs of The J. M. Smucker Company, they shared their strategy with everyone and got them on board with their mission. Since then, Smucker's went on to dominate the markets and bring in billions of dollars of new business.
Mike McCallister, the CEO of a twenty-billion-dollar health-services giant, decided to stop pretending and publicly admit that health insurance is broken. Humana began to replace a crippled, complex, and confusing system with one that works and has more than tripled revenues, earnings, and share price since McCallister took over.
By processing change in bite-size pieces, Jeffrey Lorberbaum led Mohawk Industries through twenty successful acquisitions and turned his family's carpet-making business into the largest flooring company in the world.
Filled with engaging stories and lessons from the cream of the crop,
Hit the Ground Running
will help new leaders at every level balance short- and long-term goals as well as the needs of shareholders, employees, customers, and the community.

Reviews
"A great read and a fantastic book filled with powerful information for anyone who wants to lead!"
—Roger Staubach, executive chairman, Americas, Jones Lang LaSalle; Hall of Fame quarterback of the Dallas Cowboys
"Even though this is a practical management book, it reads with the speed of a series of short mystery novels.... These real-life stories make it clear that any leader can be successful if he or she is willing to step up and do the essentials necessary to guide the organization to significant and sustainable results."
—Dan Coughlin, President, The Coughlin Company
"I read
Hit the Ground Running
from cover to cover. It is a great read and one of the most interesting and useful business books I have ever read."
—Jim Goodnight, CEO, SAS Institute
"
Hit the Ground Running
proves that good guys can and do finish first when they provide value-centered leadership that places the needs of customers, employees, and shareholders before the needs--or ego--of the CEO. A great read for any aspiring leader."
—Kevin L. Robert, CEO, Wolters Kluwer Tax and Accounting
"
Hit the Ground Running
boils down the experience of ten successful new CEOs. The result is a list of rules any leader—new or seasoned—can live by."
—Mike Koehler, president and CEO, Teradata Corporation
"Jason has hit the mark again! The journey of each CEO reminds me of my favorite Bible verse about business, "The rewards of humility and fear of the Lord are riches, honor, and life."
—Larry P. Ferguson, chairman and CEO, Schreiber Foods

About the Author
Jason Jennings
is the bestselling author of
It's Not the Big That Eat the Small . . . It's the Fast That Eat the Slow
;
Less Is More
; and
Think Big, Act Small
. In 2006,
USA Today
named him one of the three most in-demand business speakers, alongside Jim Collins and Tom Peters.

Find Items On Similar Subjects

It's Not the Big that Eat the Small...It's the Fast that Eat the Slow

Think Big, Act Small
: How America's Best Performing Companies Keep the Start-up Spirit Alive