Think Big, Act Small
: How America's Best Performing Companies Keep the Start-up Spirit Alive
Jason Jennings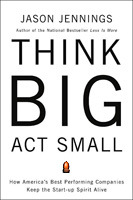 Format:
Hardcover, 288pp.
ISBN:
9781591840763
Publisher:
Portfolio Hardcover
Pub. Date:
May 9, 2005
Average Customer Review:

For Bulk Orders Call: 626-441-2024

Description and Reviews
From
The Publisher:
Is it possible for a company to grow its revenues and profits by 10 percent or more for at least ten consecutive years, not counting acquisitions? That's an incredibly high bar for growth and profitability, one that 99.99 percent of American companies can't meet— including the famous ones that routinely land on magazine covers.
Management expert Jason Jennings screened 100,000 companies to identify nine little- known firms that have delivered stellar performance for a full decade or more, despite the ups and downs of the economy. And, as he reveals in his new book, these superstars have a lot in common despite their wide range of industries, which includes software, food services, medical supplies, and sporting goods.
It turns out that the best long-term performers all combine the strengths of a big organization with the hunger of a start-up. They build excellent relationships with their customers, suppliers, workers, and shareholders. They groom future leaders at all levels. They balance their short-term goals with their long-term visions. And they teach their managers to get their hands dirty.
Jennings did extensive interviews at his nine featured companies to find out exactly how they consistently increase revenue and profits without using manipulation or gimmickry. He reveals their unique approach to leadership and shows how any company, no matter what size or industry, can benefit from following their examples.
Think Big, Act Small
may be the most powerful management book since
Good to Great
and
Execution
.

Reviews
The latest insightful and inspirational title from Jennings (Less Is More; ...It's the Fast That Eat the Slow) again demonstrates potential profitability in contrary concepts. Offering engaging case studies of nine of the country's best performing (if unfamiliar) businesses, Jennings identifies 10 practices they all have in common, which, he argues, catapulted them into the rarefied category of increasing profits and revenue by 10% or more for at least 10 consecutive years. They cut across a wide spectrum of enterprises, but all, according to Jennings, have "nailed the fundamentals." Ten bullet-pointed and chart-summarized chapters with prescriptive titles present the basics that these prosperous business have mastered and asserts that others who apply the principles will also fatten their bottom lines. In breezy prose with plenty of anecdotes from CEO and worker interviews, Jennings argues that regardless of how big a company becomes, acting big and ignoring the needs of employees, merchants and customers always leads to lost profit. Concluding sections offer business self- evaluation materials, fascinating background on research methodologies and more data; the whole will not disappoint Jennings's fans.
—Copyright © Reed Business Information, a division of Reed Elsevier Inc. All rights reserved.

About the Author
Jason Jennings
has spent more than twenty years teaching businesspeople how to build great organizations. He gives more than sixty keynote speeches every year and is the author of two previous business bestsellers:
Less Is More
and
It's Not the Big That Eat the Small, It's the Fast That Eat the Slow
.

Table of Contents
| | | |
| --- | --- | --- |
| | | |
| | Sect. 1 Think big | 1 |
| | | |
| | Sect. 2 The building blocks | 9 |
| | | |
| 1 | Down to earth | 11 |
| | Keep your hands dirty: SAS institute | 27 |
| | Make short-term goals and long-term horizons : Sonic Drive-in | 42 |
| | Let go: Cabela's | 56 |
| | Have everyone think and act like an owner: Koch Industries | 72 |
| | Invent new businesses: Dot Foods | 91 |
| | Create win-win solutions: Medline Industries | 110 |
| | Choose your competitors: PETCO Animal Supplies | 130 |
| | Build communities: Strayer Education | 149 |
| 10 | Grow future leaders: O'Reilly Automotive | 167 |
| | | |
| | Sect. 3 The QUAD: a self-evaluation and ranking | 187 |
| | | |
| | Sect. 4 The research | 203 |
| | | |
| | Sect. 5 Charts | 221 |
| | | |
| | Conclusion | 231 |

Find Items On Similar Subjects

Hit the Ground Running
: A Manual for New Leaders

It's Not the Big that Eat the Small...It's the Fast that Eat the Slow