Billion-Dollar Lessons
: What You Can Learn from the Most Inexcusable Business Failures of the Last 25 Years
Paul B. Carroll and Chunka Mui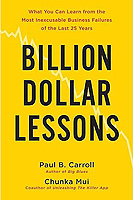 Format:
Paperback, 320pp.
ISBN:
9781591842897
Publisher:
Portfolio
Pub. Date:
August 25, 2009
Average Customer Review:

For Bulk Orders Call: 626-441-2024

Description and Reviews
From
The Publisher:
How to avoid the mistakes that lead to the majority of business failures.
Most executives shudder at the word "failure" and try to avoid thinking about it. No wonder there are thousands of books about successful companies but virtually none about the lessons to be learned from those that crash and burn.
Paul Carroll and Chunka Mui think there's enormous value in learning from companies that lost millions (if not billions) in pursuit of strategies that led to spectacular flameouts. Everyone makes mistakes, but why make the same mistakes over and over?
The authors studied the most significant failures of the last twenty-five years: 750 bankruptcies, major writeoffs, and discontinued operations. They found that the #1 cause of failure was misguided strategy— not sloppy execution, lack of leadership, or bad luck. These strategies fall into eight categories, including:
• Trying to fix a core business that's unfixable
• Moving into an "adjacent" market that isn't really Adjacent
• Buying more problems than efficiencies through misguided consolidation
Billion Dollar Lessons
offers "devil's advocate" questions that managers, boards, and investors can adopt.

Reviews
Carroll (Big Blues) and Mui (Unleashing the Killer App) collaborate to perform an autopsy on some of the most spectacular business failures and corporate disasters in recent times, hunting down the fatal strategies responsible. The authors examine more than 750 inexcusable corporate collapses, neatly cataloguing them into eight common failure patterns: doomed practices, including the Illusion of Synergies, as illustrated by the ruinous merger attempts by Sears and Dean Witter; Faulty Financial Engineering, as conducted by Tyco and Revco; Staying the (Misguided) Course Too Long, a sin committed by Kodak, which missed the boat on digital photography; and Consolidation Blues, as depicted by U.S. Airways, which crashed as a consequence of buying up too many companies too quickly. While there are assuredly lessons in defeat and the authors' detailed analysis and bracing honesty is welcome, readers hoping for a more encouraging or inspirational business book might find Carroll and Mui's avalanche of disastrous failures, avoidable bankruptcies and destruction of shareholder value a depressing—if highly instructive—read. (Sept.)
—Publishers Weekly, Copyright © Reed Business Information, a division of Reed Elsevier Inc. All rights reserved.

About the Authors
Paul B. Carroll
wrote for The Wall Street Journal for seventeen years. The author of Big Blues, he founded Context, the first "new economy" magazine, in 1996. Now a freelance journalist, he lives outside Sacramento.
Chunka Mui
is the coauthor of the major business bestseller Unleashing the Killer App and the former chief innovation officer at Diamond Management and Technology Consultants. He lectures widely on strategy and innovation.

Find Items On Similar Subjects

The Ten Commandments for Business Failure