The Ten Commandments for Business Failure
Donald R. Keough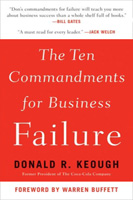 Format:
Paperback, 208pp.
ISBN:
9781591844136
Publisher:
Portfolio
Pub. Date:
June 28, 2011
Average Customer Review:


For Bulk Orders Call: 626-441-2024

Description and Reviews
From
The Publisher:
Don Keough—a former top executive at Coca-Cola and now chairman of the elite investment banking firm Allen & Company—has witnessed plenty of failures in his sixty-year career (including New Coke). He has also been friends with some of the most successful people in business history, including Warren Buffett, Bill Gates, Jack Welch, Rupert Murdoch, and Peter Drucker.
Now this elder statesman reveals how great enterprises get into trouble. Even the smartest executives can fall into the trap of believing in their own infallibility. When that happens, more bad decisions are sure to follow.
This light-hearted "how-not-to" book includes anecdotes from Keough's long career as well as other infamous failures. His commandments for failure include: Quit Taking Risks; Be Inflexible; Assume Infallibility; Put All Your Faith in Experts; Send Mixed Messages; and Be Afraid of the Future.
As he writes, "After a lifetime in business I've never been able to develop a step-by-step formula that will guarantee success. What I could do, however, was talk about how to lose. I guarantee that anyone who follows my formula will be a highly successful loser."

Reviews
"Don possesses a special combination of experience, wisdom, self- confidence, and self-awareness. His commandments for failure will teach you more about business success than a whole shelf full of books."
—Bill Gates
"This is a great book, filled with terrific advice from a management icon, and brought alive by real stories from business history. It is a must-read for every leader."
—Jack Welch
"Don's best ability is to cut to the chase on an issue, to cut through the bureaucratic fog. Keep it simple is his principle and mine too."
—Warren Buffett (from the foreword)
"Don Keough, with his sixty years of business experience, is well equipped to comment about business leadership. He is an outstanding man, and I am proud to call him friend."
—Former President George H. W. Bush
"I would rather listen to Don Keough on almost any subject – his empathetic wit and wisdom are a cure all for what ails on any day. He's now written it down and if you want to learn about life and work, learn from this master."
—Barry Diller, Chairman and CEO, IAC/InterActive Corp.
"Only Don Keough could outdistance Moses and his commandments. Don's self-deprecating style adds great credibility to a well done book. It's a roadmap for winners and must reading for everybody. It's proof that integrity never takes a holiday."
—Andy McKenna, Chairman, McDonald's
"I have found no one better than Don Keough at giving counsel that is clear, unpretentious, grounded in experience, full of useful insight, and exhibiting profoundly good judgment."
—Fr. John I. Jenkins, C.S.C., President, University of Notre Dame
"Anybody who can write a book about the subtleties of high level business management -- including what you do with all those little cubicles and all -- and not only keep a guy like me interested but keep me laughing out loud deserves a medal."
—Sydney Pollack, Academy Award-winning director
"While this profound and highly readable book is likely to become required reading in management circles, it will reward anyone who wants to be a more successful and better person."
—Kevin M. Cahill, M.D., President-General, The American Irish Historical Society

About the Author
Donald R. Keough
is chairman of the board of the investment banking firm Allen & Company. He served as president, chief operating officer, and a director of The Coca-Cola Company from 1981 to 1993. He was reelected a director of the company in 2004. He has served on many prominent boards of directors including those of Berkshire Hathaway, McDonald's, The Washington Post Company, Home Depot, H. J. Heinz Company, and The University of Notre Dame.

Find Items On Similar Subjects

The Snowball
: Warren Buffett and the Business of Life