The Art of Woo
: Using Strategic Persuasion to Sell Your Ideas
G. Richard Shell and Mario Moussa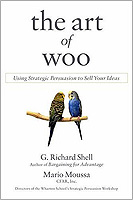 Format:
Paperback, 320pp.
ISBN:
9780143114048
Publisher:
Portfolio
Pub. Date:
December 30, 2008
Average Customer Review:

For Bulk Orders Call: 626-441-2024

Description and Reviews
From
The Publisher:
Your projects, programs, and career turn on the difference between "no" and "yes." Yet selling ideas—especially the kinds of ideas that make organizations work—is a skill shrouded in mystery. Part emotional intelligence, part politics, part rhetoric, and part psychology, selling ideas is not like tricking someone out of his money. It's about helping others to see things your way— engaging their minds and imaginations.
Charles Lindbergh needed woo to assemble backers for his famous flight; Nelson Mandela used it to lead a revolution in South Africa. In any context, woo is two parts art and one part science.
Richard Shell and Mario Moussa offer a self-assessment to determine which persuasion role fits you best and how to make the most of your natural strengths. They also share vivid stories from their experiences advising thousands of leaders, and stories about famous people like John D. Rockefeller, Andrew Carnegie, Andy Grove, and Bono.
Whether you're introverted or extroverted, competitive or collaborative, intellectual or practical,
The Art of Woo
will strengthen your persuasion skills in every aspect of your life.

Reviews
Shell and Moussa, both on the Wharton School faculty, aim to help readers get attention and sell their ideas through strategic relationship-based persuasion, or "woo"-or "winning others over." The authors consider wooing to be one of the most important skills in a manager's repertoire; while the concept may seem simple, mastering it is an art. The challenge is in striking a balance between what the authors identify as the "self-oriented" perspective-where focus is on the persuader's credibility and point of view-and the "other-oriented" perspective, which focuses on the audience's needs, perceptions and feelings. Drawing on their experience in teaching executives to negotiate, the authors examine the most important moments of influence and provide a four-step process to achieving goals: survey your situation, confront the five barriers, make your pitch and secure your commitments. They offer a practical guide to improving one's wooing skills, highlighting successes and failures from history and the present day. An entertaining and useful guide to acquiring the power of woo, this book will help readers beyond the professional realm.
—Publishers Weekly, Copyright © Reed Business Information, a division of Reed Elsevier Inc. All rights reserved.

About the Authors
G. Richard Shell
is director of the Wharton Executive Negotiation Workshop at the Wharton School, where he is professor of legal studies, business ethics and management. His previous book is the award-winning Bargaining for Advantage.
Mario Moussa
is a faculty member at the Wharton School and a principal of CFAR Inc., a management consulting firm.

Find Items On Similar Subjects

Made to Stick
: Why Some Ideas Survive and Others Die