Made to Stick
: Why Some Ideas Survive and Others Die
Chip Heath and Dan Heath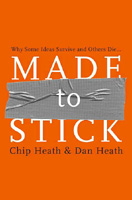 Format:
Hardcover, 304pp.
ISBN:
9781400064281
Publisher:
Random House
Pub. Date:
January 16, 2007
Average Customer Review:

For Bulk Orders Call: 626-441-2024

Description and Reviews
From
The Publisher:
Mark Twain once observed, " A lie can get halfway around the world before the truth can even get its boots on." His observation rings true: Urban legends, conspiracy theories, and bogus public-health scares circulate effortlessly. Meanwhile, people with important ideas—businessmen, educators, politicians, journalists, and others—struggle to make their ideas "stick."
Why do some ideas thrive while others die? And how do we improve the chances of worthy ideas? In
Made to Stick
, accomplished educators and idea collectors Chip and Dan Heath tackle head-on these vexing questions. Inside, the brothers Heath reveal the anatomy of ideas that "stick" and explain sure-fire methods for making ideas stickier, such as violating schemas, using the Velcro Theory of Memory, and creating "curiosity gaps."
In this indispensable guide, we discover that "sticky" messages of all kinds—from the infamous "organ theft ring" hoax to a coach's lessons on sportsmanship to a product vision statement from Sony—draw their power from the same six traits.
Made to Stick
is a book that will transform the way you communicate ideas. It's a fast-paced tour of idea success stories (and failures)—the Nobel Prize-winning scientist who drank a glass of bacteria to prove a point about stomach ulcers; the charities who make use of the Mother Teresa Effect; the elementary-school teacher's simulation that actually prevented prejudice . Provocative, eye-opening, and funny, Made to Stick shows us the principles of successful ideas at work—and how we can apply these rules to making our own messages "stick."
Whether our goal is to familiarize customers with our products, or communicate with employees about where our organizations are going, we can learn a lot about making our own messages stick by considering why urban legends and rumors have so much SUCCESS in the social marketplace of ideas.
Urban legends are:
S
imple
U
nexpected
C
oncrete
C
redentialed
E
motional
S
tories that
S
tick

About the Authors
Chip Heath
is a Professor of Organizational Behavior in the Graduate School of Business at Stanford University. His research examines why certain ideas-- ranging from urban legends to folk medical cures, from Chicken Soup for the Soul stories to business strategy myths—survive and prosper in the social marketplace of ideas. These "naturally sticky" ideas spread without external help in the form of marketing dollars, PR assistance, or the attention of leaders.
Dan Heath
is a Director at Duke Corporate Education, the world's #1 provider of custom executive education (as ranked by BusinessWeek and the Financial Times). His roles include developing and designing curriculum, teaching, and working closely with clients to ensure their business outcomes are met. He has worked with clients such as Microsoft, Wal-Mart, BAE Systems, and Brown Brothers Harriman.

Table of Contents
| | | |
| --- | --- | --- |
| | Introduction: What Sticks? | 3 |
| 1 | Simple | 25 |
| 2 | Unexpected | 63 |
| 3 | Concrete | 98 |
| 4 | Credible | 130 |
| 5 | Emotional | 165 |
| 6 | Stories | 204 |
| | Epilogue: What Sticks | 238 |
| | | |
| | Making Ideas Stick: The Easy Reference Guide | 253 |
| | Notes | 259 |
| | Acknowledgements | 277 |
| | Index | 281 |

Find Items On Similar Subjects

Mavericks at Work
: Why the Most Original Minds in Business Win