The Elephant and the Flea
Charles Handy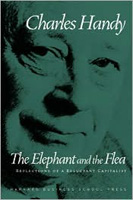 Format:
Paperback, 240pp.
ISBN:
9781591391289
Publisher:
Harvard Business School Press
Pub. Date:
February 27, 2003
Average Customer Review:

For Bulk Orders Call: 626-441-2024

Description and Reviews
From
The Publisher:
"Back in 1981...I had decided that it was not enough to prophecy. I ought to try to practice what I had been preaching, to find out for myself what it felt like to leave the shelter of organizations and fend for myself, to be what I have come to call a flea, outside the world of the elephants, the big organizations that had been the pillars of the employee society of the twentieth century... I had no savings to speak of, a mortgage, a wife, two teenage children and had not been long enough attached to any of my organizations to collect anything resembling a proper pension. Life was going to be a trifle uncertain, I could see, since all I could do was write and talk. Maybe I had been unduly rash ... to resign so impulsively..."
Are big corporations (the elephants) out of control?
Now in paperback, this insightful and controversial work from Britain's bestselling author and world-class management guru looks at how individuals (the fleas) relate to multi-national conglomerates (the elephants).
"It is easy to see why many observers think that the big corporations are now both richer and more powerful than many nation states. They worry that these new corporate states are accountable to no-one? that their financial clout makes governments beholden to them? The elephants, people feel, are out of control."
Drawing on his experience of life and work, Charles Handy discusses the future of everything -- from education, work and marriage to capitalism, management, religion and society.

Reviews
A former oil executive and economist, as well as an early proponent of the "free agent" lifestyle, Handy (The Age of Unreason) uses his career as a telling example of how the nature of work has changed over the past 20 years and tries to predict how people will earn a living in the years ahead. Handy opens the book three-quarters autobiography, one-quarter social commentary with warm recollections of his Irish countryside childhood before elaborating his metaphor for the workplace, that of the elephant and flea. "Elephants" represent established corporations and large organizations of every kind, while "fleas" symbolize people who work independently as small-scale entrepreneurs. Handy, who used to work for Shell and has made his living as a lecturer and author since 1981, finds problems and opportunities in both kinds of establishments. Elephants, he contends, need to figure out ways to grow bigger while maintaining personal client relationships and rewarding creativity. The fleas need a better way to forge connections among themselves. Handy offers some general advice, but his main purpose is to try to make sense of the first 70 years of his life and the last two decades of the Western workplace. Some of his labor market analysis will seem familiar to readers, as it has already seeped into the cultural lexicon, but Handy's fans will appreciate this unusually personal look at the labor revolution. This is not the start-off book for those new to his work, however.
—Publishers Weekly, Copyright 2002 Cahners Business Information, Inc.

About the Author
Charles Handy
is a London-based author and broadcaster whose books have sold more than a million copies worldwide. A Fellow at the London Business School, he has been an oil executive, business economist, professor, and Chairman of the Royal Society of Arts.

Find Items On Similar Subjects

Myself and Other More Important Matters

The Hungry Spirit
: Beyond Capitalism

The Age of Unreason

The Age of Paradox