Myself and Other More Important Matters
Charles B. Handy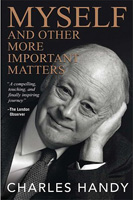 Format:
Hardcover, 320pp.
ISBN:
9780814401736
Publisher:
AMACOM
Pub. Date:
February 28, 2008
Average Customer Review:


For Bulk Orders Call: 626-441-2024

Description and Reviews
From
The Publisher:
One of the world's most influential living management thinkers, Charles Handy has year-after-year been listed alongside business gurus including Peter Drucker and Tom Peters in the prestigious Thinkers 50 list. His views on management -- and life -- have inspired and enlightened others for decades. Now, in Myself and Other More Important Matters, the bestselling author of books including The Age of Unreason shares his special brand of wisdom, giving readers uncommon insight into business and careers...as well as the choices we all have to make in our lives.
Handy draws on the lessons of his own experience to help readers move beyond the facts they learned in business school and reflect on their own individual management style. With the "philosophical elegance and eloquence" Warren Bennis has described as his trademark, Handy discusses how one should develop one's career goals in line with personal values and sense of ethics. Handy entertainingly recounts what he's discovered along his own international journey: from lessons his father taught him growing up in Ireland…to what he learned in Borneo in his days working for Royal Dutch Shell… to Italy, where he bought and fixed up an old house in Tuscany…all the way to America, where recent corporate scandals have shaken our understanding of what is ethical and acceptable.
Throughout the book, Handy asks us to look at the role of work in our life, and what we truly find fulfilling. It is hard to imagine a better or wiser guide to work -- and life's -- big questions.

About the Author
Charles Handy
is often referred to as Britain's greatest management thinker. He has written some of the most influential management articles and books of the past 30 years, including
The Age of Unreason, The Elephant and the Flea, The Future or Work
, and
The Age of Paradox
. Mr. Handy worked for Royal Dutch Shell International in South-East Asia and London and then entered the Sloan School of Management at MIT. He then helped to start the London Business School and later became warden of St. George's House at Windsor Castle, managing a program bringing together captains of industry, trade union leaders, civil servants, politicians, bishops and chaplains to discuss issues in society and to trade ideas. Today, Mr. Handy works on writing projects while moving between bases in England and Italy.

Table of Contents
| | | |
| --- | --- | --- |
| | To My American Readers | vi |
| | Acknowledgements | ix |
| | List of Plates | x |
| | | |
| 1 | Are You Sure? | 1 |
| 2 | Irish Beginnings | 12 |
| 3 | Greek Wisdom | 22 |
| 4 | Borneo Lessons | 32 |
| 5 | The Golden Seeds | 44 |
| 6 | Schools for Business | 57 |
| 7 | The Antigone Challenge | 69 |
| 8 | My Father's Death | 80 |
| 9 | Home Is a Castle | 89 |
| 10 | St Michael and St George | 102 |
| 11 | A Portfolio Life | 117 |
| 12 | The Property Business | 133 |
| 13 | Kitchens and Studies | 144 |
| 14 | Kennels for Kids | 155 |
| 15 | Family Matters | 168 |
| 16 | Guru Times | 179 |
| 17 | Travels with a Microphone | 194 |
| 18 | A Seventieth Birthday | 203 |

Find Items On Similar Subjects

The Hungry Spirit
: Beyond Capitalism

The Elephant and the Flea

The Age of Unreason

The Age of Paradox