The Mindful Leader
: Ten Principles for Bringing Out the Best in Ourselves and Others
Michael Carroll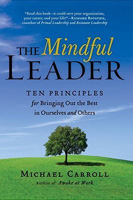 Format:
Paperback , 224pp.
ISBN:
9781590306208
Publisher:
Trumpeter
Pub. Date:
December 16, 2008
Average Customer Review:

For Bulk Orders Call: 626-441-2024

Description and Reviews
From
The Publisher:
What does the ancient Buddhist teaching of mindfulness have to do with effective leadership of today's organizations? Everything, according to Michael Carroll, longtime human resources executive, meditation teacher, and executive coach. Mindfulness—learning to be fully present in the moment—can be a transformative leadership tool for gaining clarity, reducing stress, and optimizing job performance, and The Mindful Leader shows us how.
Drawing on the ancient tradition of the bodhisattva warrior, a Buddhist model for enlightened leadership, Carroll explains what mindfulness is and how to develop it in the hectic and often stressful environment of the twenty-first century workplace. Traditionally, the bodhisattva-warrior cultivates six virtues or "perfections": generosity, discipline, patience, energy, meditation, and wisdom. Carroll also presents the teaching of the "four dignities" (poise, enthusiasm, awareness, and humility) as essential principles for successful leadership. In this inspiring, accessible, and often playful book, Carroll explores how to develop each of these virtues in order to become a more effective leader.
Topics include:
Healing the "toxic workplace," where anxiety, stress, and overwhelm impede performance
Cultivating courage and confidence in the workplace
Learning to balance leadership goals with awareness of day-to-day and moment-to-moment realities
Starting a personal meditation practice to gain clarity, reduce stress, and develop one's innate leadership talents
Full of engaging stories and practical exercises, The Mindful Leader will help leaders in any field to discover their innate intelligence, bravery, and joy on the job.

Reviews
While most business books focus on how readers can do more, better and faster, this welcome addition to the category is about taking a moment to pause and reflect. Anticipating some resistance from harried executives, Carroll, a Buddhist-trained HR executive with many years of experience in both the corporate and Zen worlds, emphasizes the renewal and perspective that can result from taking time out; he only discusses meditation directly at the end. His discussion about Inspiring the Best in Ourselves and Others includes anecdotes and parables addressing issues like developing openness and breaking out of routine. A series of short descriptions of The Ten Talents of a Mindful Leader includes poise, courage, enthusiasm and awareness. After suggesting some practical ways to test these leadership skills, he reviews the basics of meditation. Although Carroll practices what he writes, the book is more informative than preachy. By the end, stressed-out executives may be willing to read about how to give meditation a try as a way to reconnect with themselves and become more open to their colleagues. (Oct. 9)
—From Publishers Weekly, Copyright © Reed Business Information, a division of Reed Elsevier Inc. All rights reserved.

About the Author
Michael Carroll
is the founding director of Awake at Work (AAW) Associates, a consulting group that works with organizations and individuals to help them rediscover balance and well-being while pursuing professional success. For over two decades Carroll worked as a human resources professional, holding executive positions at Shearson Lehman Brothers, Paine Webber, Simon & Schuster, and the Walt Disney Company. He is a longtime student of Buddhism and an authorized teacher in the lineage of the Tibetan meditation master Chögyam Trungpa. Michael continues to work in corporate settings and has taught mindfulness meditation at the New York Open Center, the Omega Institute (assisting Pema Chödrön), and the Wharton School of Business.

Find Items On Similar Subjects

Theory U
: Leading from the Future as It Emerges