The Rules of Victory
: How to Transform Chaos and Conflict--Strategies from "The Art of War"
James Gimian with Barry Boyce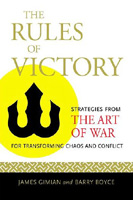 Format:
Paperback, 304pp.
ISBN:
9781590307014
Publisher:
Shambhala
Pub. Date:
October 13, 2009
Average Customer Review:

For Bulk Orders Call: 626-441-2024

Description and Reviews
From
The Publisher:
The Art of War by Sun Tzu is one of the world's most profound treatises on strategy and leadership, and it has been a best seller in numerous editions around the world. Perhaps best known for the dictum "win without fighting," it has attracted millions of readers seeking to understand the underlying dynamics of conflict and victory.
However, for all the popularity of the various editions, The Art of War remains one of the most difficult texts to understand and apply successfully in daily life. This book is one of the first to make Sun Tzu's lessons accessible and relevant in today's world.
Though The Art of War comes from an ancient lineage of Chinese military commanders, The Rules of Victory shows that the text is just as valuable and compelling for the ordinary person as it is for the soldier or the business leader. James Gimian and Barry Boyce, who collaborated on the best-selling Denma translation of the text, reveal that The Art of War is not in fact about making war, but is a manual on how to work effectively and artfully with chaotic situations and thorny conflicts.
The
Rules of Victory
includes a complete translation of the classical text. With engaging case studies and examples drawn from a variety of contexts, readers learn that:
Conflict in life is inevitable, yet we can achieve our objectives without resorting to aggression.
War is any situation that demands hard choices about creation and destruction, life or death.
Victory lies in bringing others around to embracing a larger view—one that includes their own—without ever going to battle.
Dealing effectively with conflict involves becoming comfortable with uncertainty, ambiguity, imperfection, and gestation.

About the Authors
For over two decades,
James Gimian
has been actively involved in helping organizations and individuals apply the principles of The Art of War in a wide range of contexts including corporations, leadership programs, and one-on-one consulting. Director of the Denma Translation Group, which produced a critically acclaimed and best-selling translation of the Sun Tzu text, Gimian works as a business consultant and as the publisher of the Shambhala Sun magazine. A resident of Nova Scotia, Canada, he teaches seminars on The Art of War around the United States.
Barry Boyce
is a member of the Denma Translation Group and has taught seminars on The Art of War throughout North America and in Europe. Senior editor and staff writer for the Shambhala Sun and Buddhadharma magazines, he is also a freelance writer and a writing teacher.
Customer Reviews
Write your own online review
.

Truly practical advice
May 25, 2008
Reviewer: Michael Chender from United States
As a long-time student of social and personal change methodologies, I find that most attempts at guidance give you a bunch of by this time well-worn insights and exercises, and skip over the hardest part--how to work, in real-life, with the underlying attitudes that are the real determinant of how and whether you can more skillfully engage your challenges. Boyce and Gimian manage to both present and make accessible a profound understanding, and at the same time give a sense that they live in the same neighborhood I do--a place where magical solutions and quick fixes are seen as hucksterism. This in my experience is a rare combination of vision and practicality, and the kind of authentic voice I hope we all hear more of.

An outstanding contribution
May 30, 2008
Reviewer: Kidder Smith from Maine United States
What I most admire about this book is that it refuses to give quick fixes: the wisdom it teaches is far too important for that. And subtle. If you want a set of seven maxims to maximize your product growth, stay away. But if you want to transform your understanding of how business (and every other conflictual situation) works, you'll be deeply rewarded by the careful, thorough presentation you'll find in this book. Gimian and Boyce take us through the view (meaning outlook or perspective of the Art of War), the practice (learning how to bring this view to bear on situations) and the action. The result is a teaching that will, as the subtitle says, "transform chaos and conflict" into situations of victory. Highly recommended!

Find Items On Similar Subjects

The Art of War
Paperback