Lean Enterprise
: How High Performance Organizations Innovate at Scale
Jez Humble, Joanne Molesky and Barry O'Reilly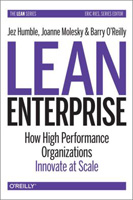 Format:
Hardcover, 352pp.
ISBN:
9781449368425
Publisher:
O'Reilly Media
Pub. Date:
January 4, 2015
Average Customer Review:

For Bulk Orders Call: 626-441-2024

Description and Reviews
From
The Publisher:
How well does your organization respond to changing market conditions, customer needs, and emerging technologies when building software-based products? This practical guide presents Lean and Agile principles and patterns to help you move fast at scale—and demonstrates why and how to apply these methodologies throughout your organization, rather than with just one department or team.
Through case studies, you'll learn how successful enterprises have rethought everything from governance and financial management to systems architecture and organizational culture in the pursuit of radically improved performance. Adopting Lean will take time and commitment, but it's vital for harnessing the cultural and technical forces that are accelerating the rate of innovation.
Discover how Lean focuses on people and teamwork at every level, in contrast to traditional management practices
Approach problem-solving experimentally, by exploring solutions, testing assumptions, and getting feedback from real users
Lead and manage large-scale programs in a way that empowers employees, increases the speed and quality of delivery, and lowers costs
Learn how to implement ideas from the DevOps and Lean Startup movements even in complex, regulated environments

Reviews
"This book is Reengineering the Corporation for the digital age. It is destined to be the classic, authoritative reference for how organizations plan, organize, implement, and measure their work. Lean Enterprise describes how organizations can win in the marketplace while harnessing and developing the capabilities of employees. Any business leader who cares about creating competitive advantage through technology and building a culture of innovation needs to read this book."
—Gene Kim, co-author of The Phoenix Project, founder and former CTO of Tripwire, Inc.
"This book is a godsend for anyone who's tried to change their organization and heard: 'It's OK for the little guy, but we're too big/regulated/complex to work like that here.' Lean Enterprise provides a pragmatic toolkit of strategies and practices for establishing high performing organizations. It should be required reading for every executive who understands that we're all in the technology business now."
—Stephen Foreshew-Cain, COO, UK Government Digital Service
"To thrive in the digital world, transformation must be more than technology driven--everyone within the organization must collectively work together to adapt. This book provides an essential guide for all leaders to change the way they deliver value to customers."
—Matt Pancino, CEO, Suncorp Business Services
"This book integrates into a compelling narrative the best current thinking about how to create great software-intensive products and services. The approach in this book is both challenging and disciplined, and some organizations will be unable to imagine following this path. But those who make the journey will find it impossible to imagine ever going back--and if they happen to be a competitor, they are well positioned to steal both your market and your people. Ignore this book at your own risk."
—Mary Poppendieck, co-author of The Lean Mindset and the Lean Software Development series
"This is the book I've been waiting for--one that takes on the hardest questions in bringing Lean approaches to the enterprise. The authors provide solutions that are valuable even in low trust environments."
—Mark A. Schwartz (@schwartz_cio)

About the Authors
Jez Humble
is co-author of Continuous Delivery (Addison-Wesley), the Jolt Award-winning book in Martin Fowler's signature series. He began his career at a startup, and then spent 10 years at ThoughtWorks, building products and consulting. He now serves as a Vice President at Chef, and teaches at UC Berkeley.
Joanne Molesky
is a Principal Consultant with ThoughtWorks, where she works on internal IT Risk and Compliance, and provides consulting services to clients in the area of continuous delivery and process improvement, particularly as it applies to controls, risk, and compliance. She holds CISA and CRISC certifications from ISACA.
Barry O'Reilly
works with ThoughtWorks, consulting with leading global organizations on continuousimprovement using lean and agile practices and principles. He has been an entrepreneur, employee, and consultant. His passion is business model innovation, product development, organizational design, and cultural transformation.

Find Items On Similar Subjects

The Lean CEO
: Leading the Way to World-Class Excellence