The Lean CEO
: Leading the Way to World-Class Excellence
Jacob Stoller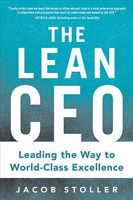 Format:
Hardcover, 352pp.
ISBN:
9780071833066
Publisher:
McGraw-Hill
Pub. Date:
March 31, 2015
Average Customer Review:


For Bulk Orders Call: 626-441-2024

Description and Reviews
From
The Publisher:
As organizations strive to do more with less, many are turning to Lean methodology, which is based on the same techniques that propelled the legendary turnaround of Japan's industrial sector after World War II. Few leaders, however, understand that the real secret behind Lean is a comprehensive approach to management that differs significantly from what is taught in business school. Lean initiatives, consequently, are rarely led by senior management, and seldom lead to significant change.
The Lean CEO
reveals the true power of Lean through in-depth interviews with CEOs who have gone beyond tool adoption and established Lean as a corporate-wide management system. The all-star cast of twenty-eight leaders represents a wide variety of organizations, including global manufacturers Ingersoll-Rand and Barry-Wehmiller, healthcare icons Thedacare and Virginia Mason, the states of Connecticut and Washington, historical icons such as Wiremold, and many more.
In a series of provocative chapters, the CEOs tell in their own words how they applied Lean management to deliver sustainable financial results, empower and motivate employees, break down internal silos, and build solid partnerships with customers and suppliers. Their testimony provides a goldmine of practical advice for managers in Lean and non-Lean organizations alike as they share their unique personal insights on topics such as:
• Leading and empowering people.
• Building transparency and trust.
• Tuning into the customer experience.
• Aligning strategic direction with day-to-day operations.
• Instilling a corporate-wide culture that promotes safety and quality.
• Creating a learning organization
Thoughtful, sometimes brutally frank, these leaders challenge many of the sacred cows of traditional business, such as standard cost accounting, hierarchical management, emphasis on large batches, and our obsession with data and computers. Citing numerous examples from their experience, they provide a fresh view of today's business challenges and a positive roadmap for any organization that is striving for excellence.

Reviews
"Give this book to your CEO. It captures the passion, challenges, fun and impressive results achieved by pioneering Lean CEOs. Now you know what is involved, you can do so too."
—Daniel T Jones, author of The Machine that Changed the World and Lean Thinking and Chairman of the Lean Enterprise Academy in the UK
"What a triumph of a book on lean leadership—connecting the early history of lean and management theories with seminal examples of lean leaders and organizations in action! This is a unique and compelling read which will serve to inspire and guide."
—Amir Dan Rubin, President and CEO, Stanford Health Care, Stanford University
"Finally in this book we learn the lesson so often missed. Lean is a total enterprise approach to adaptation and prosperity that must be understood and owned by the CEO."
—K. Liker, Professor, University of Michigan, and author of The Toyota Way
"Few books get into the hearts and minds of successful CEOs like Stoller's does! Read this and learn what leading from the top truly means."
—Karen Martin, President, The Karen Martin Group, and co-author of Value Stream Mapping
"The Lean CEO allows the reader to join executive leaders as they take you through their journey of learning. Hear their lessons while they were knee-deep in the hands-on process of leadership, change, and implementation – with all the bumps, bruises, and successes along the way."
—Jim Huntzinger, President and Founder, Lean Frontiers

About the Author
Jacob Stoller
is a writer and facilitator specializing in communication between experts and outsiders in areas such as Lean management, information technology, accounting, and engineering.

Find Items On Similar Subjects

Lean Enterprise
: How High Performance Organizations Innovate at Scale