Leadership is Dead
: How Influence is Reviving It
Jeremie Kubicek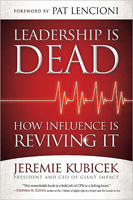 Format:
Paperback, 240pp.
ISBN:
9781451626353
Publisher:
Howard Books
Pub. Date:
July 3, 2012
Average Customer Review:

For Bulk Orders Call: 626-441-2024

Description and Reviews
From
The Publisher:
Anyone can make an impact. All you need is influence—the most potent professional asset on the planet. The problem is that influence is also the most underused asset on the planet. And the primary reason is that the enemy of influence is a universal human trait: self-preservation. You guard your ideas, your status, and your reputation. Within your self-constructed walls you must cast safer visions, take smaller risks, and accept shallower relationships to ensure the security of all you are protecting.
This is the downside of self-preservation: While your walls protect you and yours from demise, they also restrict your influence. You must break down your walls of self-preservation and sacrifice your security for the sake of others. Only then does the escalating paradox of personal generosity come into play: The more you give, the more you receive. This book shows that the key to effective leadership is learning how to influence in a way that engenders greater trust, stronger partnerships, and more impactful endeavors.

Reviews
"Leadership is dead or alive, depending on how people use it. Jeremie shows us how to influence in such a way that brings life into organizations and most importantly into you. Don't miss this."
—Joel Manby, CEO of Herschend Family Entertainment
"Jeremie Kubicek clearly shares what so many influential leaders have come to know: there's a huge difference between authority and responsibility and between influence and power."
—Seth Godin, author of Linchpin
"In a world where everyone wants to be a leader, Jeremie understands that it's the influencers that change the world. This book offers you a way to move people to action, and make your mark on the world. It's fast paced, easy to act on and most importantly from the heart."
—Tim Sanders, former chief solutions officer at Yahoo! and author of Love Is the Killer App: How to Win Friends and Influence People
"Jeremie Kubicek delivers a unique voice on the topic of leadership and that is not easy to do. More than that, his voice climbs off the pages as if he was standing in front of you imploring you to use your influence to help the world. Not because he is preaching, but because he has a very real desire to help you understand that leadership is more than just being in charge . . ."
—Scott Klososky, CEO of Future Point of View and author of the Velocity Manifesto and Enterprise Social Technology
"Are you 'for me, against me or for yourself'? That's only one of the thought-provoking questions Kubicek asks in this must-read book on true influence. This book should come with a warning: 'May make you uncomfortable and re-examine your motives as you strive to be a person with trust, character and credibility.'"
—Pattye Moore, chairman of the board, Red Robin Gourmet Burgers and author of Confessions from the Corner Office
"Where are the great leaders of our time? The world needs a new paradigm for leadership—Jeremie Kubicek has defined it. If you needed to dig a ditch, would you use a teaspoon or a bulldozer? Until now, leaders have been using a teaspoon. Every leader should read this book!"
—Matthew Kelly, New York Times bestselling author of The Dream Manager and president of Floyd Consulting
"Get inspired. Live with intention. Make a difference. Jeremie shares 'how-to' insights to manifest breakthrough leadership moments."
—Kevin Carroll, author & Katalyst
"Jeremie has given a clear path to follow that will serve as a guide and a measuring stick for any leader who wants to have real and lasting influence. Take it to heart. If you want to have life-giving impact, start here."
—Dr. Henry Cloud, bestselling author of Necessary Endings
"Leadership has changed, and we need a new generation of influencers, great leaders, poised to influence well and ultimately change the world for good. And this book will help us get there! It's challenging, inspiring, and applicable, all in one. Get ready!"
—Brad Lomenick, executive director of Catalyst

About the Author
Jeremie Kubicek
is the president and CEO of Giant Impact and a founding partner of the GiANT Companies. He has been growing and leading domestic and international companies for two decades that value people over processes and integrity above all else.Today he leads the global leadership event and training company and has added key new partnerships with Dr.Henry Cloud, Pat Lencioni, Andy Stanley and Mark Sanborn along with Dr. John Maxwell.