The Way We're Working Isn't Working
: The Four Forgotten Needs That Energize Great Performance
Tony Schwartz with Catherine McCarthy and Jean Gomes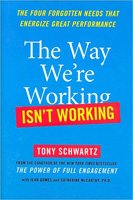 Format:
Paperback, 352pp.
ISBN:
9781451610260
Publisher:
Free Press
Pub. Date:
February 1, 2011
Average Customer Review:

For Bulk Orders Call: 626-441-2024

Description and Reviews
From
The Publisher:
The Way We're Working Isn't Working
is one of those rare books with the power to profoundly transform the way we work and live.
Demand is exceeding our capacity. The ethic of "more, bigger, faster" exacts a series of silent but pernicious costs at work, undermining our energy, focus, creativity, and passion. Nearly 75 percent of employees around the world feel disengaged at work every day. The Way We're Working Isn't Working offers a groundbreaking approach to reenergizing our lives so we're both more satisfied and more productive—on the job and off.
By integrating multidisciplinary findings from the science of high performance, Tony Schwartz, coauthor of the #1 bestselling The Power of Full Engagement, makes a persuasive case that we're neglecting the four core needs that energize great performance: sustainability (physical); security (emotional); self-expression (mental); and significance (spiritual). Rather than running like computers at high speeds for long periods, we're at our best when we pulse rhythmically between expending and regularly renewing energy across each of our four needs.
Organizations undermine sustainable high performance by forever seeking to get more out of their people. Instead they should seek systematically to meet their four core needs so they're freed, fueled, and inspired to bring the best of themselves to work every day.
Drawing on extensive work with an extra-ordinary range of organizations, among them Google, Ford, Sony, Ernst & Young, Shell, IBM, the Los Angeles Police Department, and the Cleveland Clinic, Schwartz creates a road map for a new way of working. At the individual level, he explains how we can build specific rituals into our daily schedules to balance intense effort with regular renewal; offset emotionally draining experiences with practices that fuel resilience; move between a narrow focus on urgent demands and more strategic, creative thinking; and balance a short-term focus on immediate results with a values-driven commitment to serving the greater good. At the organizational level, he outlines new policies, practices, and cultural messages that Schwartz's client companies have adopted.
The Way We're Working Isn't Working
offers individuals, leaders, and organizations a highly practical, proven set of strategies to better manage the relentlessly rising demands we all face in an increasingly complex world.

Reviews
"Tony Schwartz has become a National Treasure, the champion of a new source of renewable energy--ourselves! The Way We're Working Isn't Working is a great combination of engaging intellectual foundations, intriguing research findings, and truly practical advice."
—Robert Kegan, Ph.D., Harvard University School of Education and co-author of Immunity to Change
The foundations of great leadership are self-awareness and thoughtful action, and the ideas in this book can be truly life-changing for both. The transformative power of this lies in its ability to help very smart and already high-performing people change their current behaviors to be even more effective, fulfilled and connected to others.
—Evan Wittenberg, Head of Global Leadership Development, Google, Inc.
"Now, more than ever, we need a unified science of energy--what makes us work (and what doesn't.) The Way We're Working Isn't Working begins to unlock essential insights we're going to need to get more done and feel better while we're doing it."
—Seth Godin, blogger and bestselling author of Linchpin
"The practices in The Way We're Working Isn't Working have truly changed my life and they've become guiding principles for all the members of my operating room team."
—Mark Gillinov, M.D.,Cardiovascular Surgeon, Cleveland Clinic
"There's one compelling reason to read The Way We're Working Isn't Working—it works! The 100 senior leaders at the LAPD took the course on which the book is based, and while we were doubtful at first, we became believers and beneficiaries."
—Bill Bratton, Former LAPD Police Chief
"I've read dozens of books about leadership and management. What makes this book unique and essential is the integrated and comprehensive way it addresses the challenge of getting the best from people. At Zappos we deeply believe that truly meeting our employees' needs is what inspires their great performance. The Way We Work Isn't Working lays out a compelling new workplace paradigm and a detailed roadmap for organizations, leaders and individuals seeking to gain true competitive advantage, even as the rules change every day."
—Tony Hseih, CEO Zappos.com
The Way We're Working Isn't Working offers us an engaging, thorough, and authoritative manual for optimal performance and for a rewarding life. Tony Schwartz has done it again—a business must-read.
—Daniel Goleman, author Emotional Intelligence
"Integrating our physical, emotional, mental, and spiritual lives really enables "one life" and our life's work. Thank you Tony!"
—Alan Mulally, President and Chief Executive Officer, Ford Motor Company

About the Authors
Tony Schwartz
is the founder and president of The Energy Project, a consulting group that works with a number of Fortune 500 companies, including American Express, Credit Suisse, Ford, General Motors, Gillette, Master Card, and Sony. He was a reporter for the New York Times, an associate editor at Newsweek, and a staff writer for New York Magazine and Esquire and a columnist for Fast Company. He co-authored the #1 worldwide bestseller The Art of the Deal with Donald Trump, and after that wrote What Really Matters. He co-authored the #1 New York Times bestseller The Power of Full Engagement with Jim Loehr.
Jean Gomes
is Managing Director of DPA, a London-based management consultancy specialising in leadership and culture change. For the past 20 years, he has been advising companies like Coca-Cola, Pfizer, Cable & Wireless, Sun Microsystems, Sony, ICL, The Home Office, Nokia and Intel in the US, Japan and Europe. He is also Chairman of The Energy Project Europe.

Find Items On Similar Subjects

The Power of Full Engagement
: Managing Energy, Not Time, is the Key to High Performance and Personal Renewal