The Leader Who Had No Title
: A Modern Fable on Real Success in Business and in Life
Robin Sharma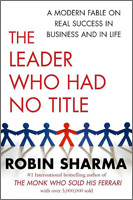 Format:
Paperback,  224pp.
ISBN:
9781439109137
Publisher:
Free Press
Pub. Date:
December 28, 2010
Average Customer Review:

For Bulk Orders Call: 626-441-2024

Description and Reviews
From
The Publisher:
For more than fifteen years, Robin Sharma has been quietly sharing with Fortune 500 companies and many of the super-rich a success formula that has made him one of the most sought-after leadership advisers in the world. Now, for the first time, Sharma makes his proprietary process available to you, so that you can get to your absolute best while helping your organization break through to a dramatically new level of winning in these wildly uncertain times.
In
The Leader Who Had No Title
, you will learn:
How to work with and influence people like a superstar, regardless of your position
A method to recognize and then seize opportunities in times of deep change
The real secrets of intense innovation
An instant strategy to build a great team and become a "merchant of wow"with your customers
Hard-hitting tactics to become mentally strong and physically tough enoughto lead your field
Real-world ways to defeat stress, build an unbeatable mind-set, unleash energy, and balance your personal life
Regardless of what you do within your organization and the current circumstances of your life, the single most important fact is that you have the power to show leadership where you are planted and play at peak in all you do. This book shows you how to claim that staggering power. And transform your life—and the world around you—in the process.
The book tells the story of Blake, a dissatisfied office worker who is offered a life-altering opportunity: spend one full day studying the lessons of a mysterious group of teachers and learn the secrets of limitless success at work and in life. Along with Blake, readers are introduced to the four inspirational teachers—a maid who proves that every job can be done with deep passion; a surfer who demonstrates how important it is to rise to the riskiest challenges in turbulent times; a former CEO who explains the value of great relationships; and a shoe shiner who proves that excellence begins within. Each offers a lesson to show that the most powerful leadership comes from within—and anything is possible when those skills are put to use.
The Leader Who Had No Title
is powerful, engaging, and packed with real-world lessons that will help any business person realize extraordinary results and reach their potential in uncertain times.

Reviews
Iraq War vet Blake Davis is working a dull job at a bookstore when he's confronted by an eccentric stranger, one Tommy Flinn, who claims to have known his father and wants to mentor Blake. Thus begins this contrived, faux-inspirational leadership parable from Sharma (
The Monk Who Sold His Ferrari
). Making the lackluster argument that everyone in an organization has to be a leader, not just the CEO, Tommy schools Blake in the way of the hackneyed "Leading Without a Title" philosophy. As Blake encounters such saccharine caricatures as Anna, a self-actualized hotel housekeeper; Jackson Chan, a CEO-turned gardener; and Jet Brisley, a superstar massage therapist, he learns that by changing his attitude, he can change his life. Though this message will hit home with magical-thinking acolytes—Blake crows on the first page, "The principles and tools you'll discover will automatically cause your career to fly, your happiness to soar, and your absolute best to fully express itself"—awkward writing and abundant platitudes make it of little benefit to readers looking for serious leadership advice. (Mar.)
—Publishers Weekly
"The Leader Who Had No Title is a game changing book; read it and get ready for an amazing new life!"
—Marci Shimoff, bestselling author of Happy for No Reason
"Read this book and make the leap to extraordinary performance, innovation and influence at work and in life."
—Keith Ferrazzi, bestselling author of New Eat Alone
"If you want to operate at the level of 'WOW!', be an exceptional leader and live life 'full out'--buy this book"
—Darren Hardy, Publisher, SUCCESS magazine

About the Author
Robin Sharma
is one of the world's top experts on leadership and personal success. The author of eight international bestsellers, including
The Monk Who Sold His Ferrari
(published in forty-three languages) and
Who Will Cry When You Die?
, Sharma's corporate clients include Microsoft, Nike, E, FedEx, BP, and NASA. He also provides personal coaching to billionaires, CEOs, and celebrity entrepreneurs.

Find Items On Similar Subjects

The Greatness Guide
: Powerful Secrets for Getting to World Class •
Paperback

The Greatness Guide
: Powerful Secrets for Getting to World Class •
Hardcover

The Monk Who Sold His Ferrari
: A Fable About Fulfilling Your Dreams & Reaching Your Destiny