The Greatness Guide
: Powerful Secrets for Getting to World Class
Robin Sharma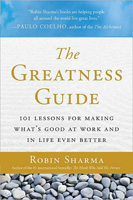 Format:
Paperback, 240pp.
ISBN:
9780061238574
Publisher:
Collins Business
Pub. Date:
August 19, 2008
Average Customer Review:

For Bulk Orders Call: 626-441-2024

Description and Reviews
From
The Publisher:
Each one of us is called to greatness. We can have a significant impact on the world around us—if we so choose. If you are looking to craft an extraordinary life,
The Greatness Guide
is the powerful and practical handbook that will inspire you to get to world class in both your personal and professional life. Passionate, provocative, and full of big ideas that will challenge and inspire, The Greatness Guide is one of those rare books that will release your potential and awaken your best self.
Leaders, top entrepreneurs, and high-performance organizations in more than 40 countries have turned to Robin Sharma, one of the world's most trusted advisors on personal and business mastery, for his deeply insightful advice on getting to greatness. In this much-awaited book, you will get an insider's look at the tools, tactics, and techniques that have transformed so many of Robin's personal and organizational clients.
Make the leap today and learn what the best do to become even better.
The Greatness Guide
will show you exactly how to experience remarkable results in each of the important areas of your life while enjoying the journey of living. You will discover the personal practices of successful people, and learn necessary tools for achieving work-life balance. The Greatness Guide will help you meet your highest potential and live an extraordinary life.

Reviews
Though Sharma rejects the guru label, it's hard not to think of the CEO of the training and coaching firm Sharma Leadership International that way after reading this slim volume of leadership and life advice. In two-page chapters with catchy titles and memorable anecdotes, this author of five bestsellers (The Monk Who Sold His Ferrari, etc.) dishes out wisdom for white-collar professionals on everything from goal setting and time management to figuring out your talents. In a chapter called "Harvey Keitel and Windows of Opportunity," he tells how he saw the Reservoir Dogs star and walked in the other direction—not toward him, as he has with most celebrities—and his regret over not seizing that opportunity. In "Your Schedule Doesn't Lie," Sharma highlights the need to schedule things you really want to do in your life. In "Sell Your Desk," he advocates getting out of the office to become a better performer in business. A keen observer of life and business, Sharma frames his wisdom in a friendly, accessible way that will appeal to readers at every level of their careers. (Jan.)
—Publishers Weekly, Copyright © Reed Business Information, a division of Reed Elsevier Inc. All rights reserved.

About the Author
Robin Sharma
is the CEO of Sharma Leadership International, a training and coaching services firm that helps organizations develop employees who lead without title and get to world class. The author of eight books, including five #1 bestsellers that have been published in over 40 countries, Robin is also a highly sought-after speaker, leadership coach, and consultant to organizations like Microsoft, Nike, FedEx, NASA, KPMG, IBM, and the Young Presidents' Organization.

Find Items On Similar Subjects

The Leader Who Had No Title

The Greatness Guide
: Powerful Secrets for Getting to World Class •
Hardcover

The Monk Who Sold His Ferrari
: A Fable About Fulfilling Your Dreams & Reaching Your Destiny