Leadership Matters ... the CEO Survival Manual
: What It Takes to Reach the C-Suite and Stay There
Mike Myatt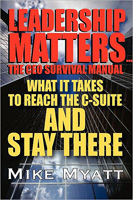 Format:
Hardcover, 212pp.
ISBN:
9781432717735
Publisher:
Outskirts Press
Pub. Date:
November 19, 2007
Average Customer Review:

For Bulk Orders Call: 626-441-2024

Description and Reviews
From
The Publisher:
The 7 Secret Weapons of Successful CEOs Unveiled Within!
Mike Myatt, America's Top CEO Coach has filled the pages of
Leadership Matters
with a definitive road map which incorporates everything that it takes to become a great CEO. Whether you're an existing or aspiring chief executive, the insider secrets shared in this book will provide you with a clear strategic advantage. If you want to develop the savvy and sophistication of the world's greatest business leaders enabling you to successfully navigate the ever changing and complex world of a CEO then this book is a must-read.

Reviews
"Clear, concise and comprehensive. Mike Myatt gives us the first, practical field guide for leaders. If you want to succeed in the C-suite, read this book and keep your highlighter handy."
—Robin Koval President, The Kaplan Thaler Group and Co-author of "The Power of Nice"
"Mike has taken his experience as a leader, and his relationships with other leaders, to draft a textbook study of what it takes to reach the "C-suite" and to stay there. It's nice to read that ethics and character are enjoying a resurgence of appreciation, and that leadership skills like innovation and discipline can be learned and taught."
—JOHN NABER, Olympic champion, television broadcaster, Speaker and author: "Awaken the Olympian Within"
"Mike Myatt tells truths rarely heard, but crucial to know if you're to live up to your billing as a CEO. His 'CEO Survival Manual' ought to be mandatory reading for anyone with ambition."
—Jay Conrad Levinson, The Father of Guerrilla Marketing and Best Selling Author of the series of Guerilla Marketing books
"Mike's book is a must read for anyone who is serious about surviving and thriving as a CEO in today's business world."
—Sydney Finkelstein, Steven Roth Professor of Management at the Tuck School of Business at Dartmouth and Best Selling Author
"Mike's 'CEO Survival Manual' revealed several great tools that all CEOs should avail themselves of and that I plan to utilize in my business"
—Edgar Martinez, former Major League Baseball Star and CEO of Branded Solutions
"Mike's book has captured the essence of what it takes to become a successful CEO while maintaining balance and perspective."
—Carolyn Kepcher, formerly of NBC's hit show "The Apprentice", CEO of Carolyn & Co., and New York Times Best Selling Author

About the Author
Mike Myatt
is a top CEO coach. He is a sought after professional advisor known for his savvy, yet straight forward approach to business in serving some of the nation's top CEOs. As an executive Mike Myatt has held numerous C-suite positions, as an entrepreneur he has been a principal in 4 successful ventures, and as a professional advisor he has worked with clients ranging from successful CEOs and other public figures to Fortune 100 companies.

Table of Contents
| | | |
| --- | --- | --- |
| | | |
| | Acknowledgements | v |
| | Preface | vii |
| | | |
| 1 | Introduction ... A Little Perspective on What Really Matters | 1 |
| 2 | CEO ... The Toughest Job on the Org Chart | 7 |
| 3 | Becoming a True Leader ... Do You Have What It Takes? | 29 |
| 4 | Speed, Timing & Innovation ... Leading Change As a CEO | 71 |
| 5 | Talent Management for the CEO | 89 |
| 6 | Creating Dominate Corporate Brands | 117 |
| 7 | Process ... The CEOs Most Undervalued Asset | 137 |
| 8 | The 7 Secret Weapons of Great CEOs | 151 |
| 9 | The 5 Traps that Great CEOs Avoid | 183 |
| | Postscript: It's How You Finish That Counts | 197 |

Find Items On Similar Subjects

Motivate Like a CEO
: Communicate Your Strategic Vision and Inspire People to Act!