Motivate Like a CEO
: Communicate Your Strategic Vision and Inspire People to Act!
Suzanne Bates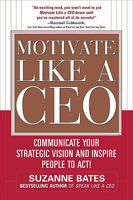 Format:
Hardcover, 288pp.
ISBN:
9780071600293
Publisher:
McGraw-Hill
Pub. Date:
December 19, 2008
Average Customer Review:

For Bulk Orders Call: 626-441-2024

Description and Reviews
From
The Publisher:
The most successful leaders seem to possess a remarkable gift for inspiring and motivating people. They are not only hard workers who possess great business minds; they rally others to drive forward with a powerful, common vision.
Motivate Like a CEO
demonstrates how leaders at every level can develop this skill and use it to bring their teams together around a common purpose.
In this follow-up to her bestselling
Speak Like a CEO
, Suzanne Bates explains how you can become a powerful force of influence within your organization and position your company for greatness. You'll learn how to translate simple, effective concepts into brilliant execution; get people working together on the highest priorities; and align warring factions to channel energy into the efforts that make your company profitable.
Inside, you'll discover secrets to generate excitement all the way down the line to achieve superior results. Real-world stories of leaders who have transformed their organizations will inspire you to move your own organization to a position of strength. And, you'll find helpful, easy-to-follow advice on how to communicate in. a way that inspires people to act.
Motivate Like a CEO
teaches you how to:
Inspire people to embrace and share your vision
Speak with energy and confidence in tough situations
Turn challenges into opportunities
Get your team engaged, in the loop, and tracking real results
Make time in your schedule for sharing your message of motivation throughout your company
Even a well-positioned, strategically sound company will fail if its messages and focus are not clear. Successful leaders must be able to move the strategic plan from words on paper into the hearts and minds of the people who make it happen.
Motivate Like a CEO
can help you significantly improve bottom line results, create a happier, more unified team of people, and allow you to leave a legacy of leadership.

Reviews
"How do you increase the forward momentum of your company? How do you get your people excited about helping you implement your vision? Learn how to Motivate Like a CEO. Suzanne Bates will help you discover how you can be the catalyst for your organization's future success. What a great book."
Ken Blanchard, coauthor of The One Minute Manager? and The One Minute Entrepreneur
"Motivate Like a CEO tells you why, then how to motivate an organization. It is well written, clear and motivating both for the experienced CEO and the new leader."
Robert Chappell, CEO, Penn Mutual Life Insurance Company
"Suzanne Bates insightfully goes against the current models of business, based mainly on financial stimulus and behavioral response, and illustrates the importance of people rather than institutions. In a nutshell, this book is important, because it's about people connecting."
Charles H. Green, co-author of The Trusted Advisor
"Motivate like a CEO is chock full of great ideas and strategies. Suzanne Bates has written a valuable guide that will not only help leaders to inspire others but also will help them get their own batteries recharged."
Diane Hessan, CEO, Communispace Corporation
"A 'must-read' for anyone who is, or aspires to be in a position of high leadership."
Chuck Wright, former Senior Executive Vice President, Chief Agency and Marketing Officer, State Farm Insurance Companies

About the Author
Suzanne Bates
is an executive coach, author, speaker, entrepreneur, and former award-winning television news anchor. As president and CEO of Bates Communications, she shows leaders how to get business results through better communication.

Table of Contents
| | | |
| --- | --- | --- |
| | | |
| 1 | What It Means to Motivate Like a CEO | 1 |
| 2 | Eight Principles for Motivating Others Through Communication | 19 |
| 3 | Discovering Your Purpose and Communicating It to Others | 41 |
| 4 | Connecting People to Purpose. Link What and Why | 61 |
| 5 | At the Helm: Align the Organization with Mission, Values, and Strategy | 83 |
| 6 | Feedback Loop: Track and Measure the Impact of the Message | 101 |
| 7 | Create Momentum and Keep It Going | 119 |
| 8 | Create Accountability and Drive Results | 133 |
| 9 | Create the Story: The Secret to Winning Hearts and Minds | 151 |
| 10 | On Stage: Speaking with Passion and Conviction | 173 |
| 11 | Everyday Motivation: Make Communication Your Job Number 1 | 189 |
| 12 | Making Time for Motivating People | 207 |
| 13 | Your Strategy: When, Where, and How to Motivate People | 225 |
| 14 | Motivating Your Team: The Coach Gets You Ready | 249 |
| 15 | Final Thoughts on Becoming a Leader Who Motivates People | 263 |
| 16 | A List of Ideas to Get Started | 267 |
| | | |
| | Recommended Reading | 269 |
| | Index | 271 |

Find Items On Similar Subjects

Jeffrey Gitomer's Little Teal Book of Trust
: How to Earn It, Grow It, and Keep It to Become a Trusted Advisor in Sales, Business and Life