Leading the Life You Want
: Skills for Integrating Work and Life
Stewart D. Friedman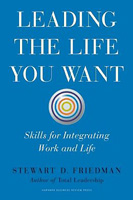 Format:
Hardcover, 256pp.
ISBN:
9781422189412
Publisher:
Harvard Business Review Press
Pub. Date:
October 7, 2014
Average Customer Review:

For Bulk Orders Call: 626-441-2024

Description and Reviews
From
The Publisher:
"For nearly thirty years, my life's work has been to help people like you find ways to bring the often warring aspects of life into greater harmony." — Stew Friedman, from
Leading the Life You Want
You're busy trying to lead a "full" life. But does it really feel full—or are you stretched too thin? Enter Stew Friedman, Wharton professor, adviser to leaders across the globe, and passionate advocate of replacing the misguided metaphor of "work/life balance" with something more realistic and sustainable. If you're seeking "balance" you'll never achieve it, argues Friedman. The idea that "work" competes with "life" ignores the more nuanced reality of our humanity—the interaction of four domains: work, home, community, and the private self. The goal is to create harmony among them instead of thinking only in terms of trade-offs. It can be done.
Building on his national bestseller,
Total Leadership
, and on decades of research, teaching, and practice as both consultant and senior executive, Friedman identifies the critical skills for integrating work and the rest of life. He illustrates them through compelling original stories of these remarkable people:
former Bain & Company CEO and Bridgespan co-founder
Tom Tierney
?
Facebook COO and bestselling author
Sheryl Sandberg
?
nonprofit leader and US Navy SEAL
Eric Greitens
US First Lady
Michelle Obama
?
soccer champion-turned-broadcaster
Julie Foudy
?
renowned artist
Bruce Springsteen
Each of these admirable (though surely imperfect) people exemplifies a set of skills—for being real, being whole, and being innovative—that produce a sense of purpose, coherence, and optimism.
Based on interviews and research, their stories paint a vivid picture of how six very different leaders use these skills to act with authenticity, integrity, and creativity—and they prove that significant public success is accomplished not at the expense of the rest of life, but as the result of meaningful engagement in all its parts. With dozens of practical exercises for strengthening these skills, curated from the latest research in organizational psychology and related fields, this book will inspire you, inform you, and instruct you on how to take realistic steps now toward leading the life you truly want.

Reviews
"Friedman sets out tests and suggestions for developing skills for integrating work and the rest of life…the message…is worth exploring."
—Financial Times
"Friedman's accessible book is a significant entry in the work/life balance category."
—Publishers Weekly
"Recommended Reading for Creative Leaders This Fall"
—FORBES.com
"Wharton professor Friedman, building on his excellent study, Total Leadership, uses examples ranging from Sheryl Sandberg to Bruce Springsteen to move from familiar calls to balance competing work and life commitments toward taking steps, instead, to integrate our passions and values across the domains of work, home, community, and the private self."
—David Slocum, Berlin School of Creative Leadership

About the Author
Since 1984
Stew Friedman
has been teaching at Wharton, where he is the Practice Professor of Management. In 1991 he founded both the Wharton Leadership Program—initiating the required MBA and Undergraduate leadership courses—and the Wharton Work/Life Integration Project. Stew served in the mental health field before earning his PhD in organizational psychology from the University of Michigan. In 2001 he concluded a two-year assignment (while on leave from Wharton) at Ford, as the senior executive for leadership development. Stew is the author of Baby Bust: New Choices for Men and Women in Work and Family (Wharton Digital, 2008) and Total Leadership: Be a Better Leader, Have a Richer Life (Harvard Business Review Press, 2014). The Total Leadership program is used worldwide, including by the 57,000+ students in Stew's recent Coursera MOOC. He advises many organizations, gives high-energy keynotes, and is an award-winning teacher. The New York Times cited the "rock star adoration" he inspires in students. He was chosen by Working Mother as one of America's twenty-five most influential men to have made things better for working parents, and by Thinkers50 as one of the "world's top fifty business thinkers." The Families and Work Institute honored him with a Work Life Legacy Award. Follow him on Twitter @StewFriedman and tune in to his show, Work and Life, on Sirius XM 111, Business Radio Powered by the Wharton School, Tuesdays at 7:00 p.m. (EST).

Find Items On Similar Subjects

Total Leadership
: Be a Better Leader, Have a Richer Life