Total Leadership
: Be a Better Leader, Have a Richer Life
Stewart D. Friedman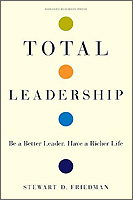 Format:
Hardcover, 272pp.
ISBN:
9781422103289
Publisher:
Harvard Business School Press
Pub. Date:
June 8, 2008
Average Customer Review:

For Bulk Orders Call: 626-441-2024

Description and Reviews
From
The Publisher:
Now more than ever, your success as a leader isn't just about being a great business person. You've got to be a great person, performing well in all domains of your life -- your work, your home, your community, and your private self.
That's a tall order.
The good news is that, contrary to conventional wisdom about "balance," you don't have to assume that these domains compete in a zero-sum game.
Total Leadership
is a game-changing blueprint for how to perform well as a leader not by trading off one domain for another, but by finding mutual value among all four. Stew Friedman shows you how to achieve these "four-way wins" as a leader who can:
• Be real: Act with authenticity by clarifying what's important
• Be whole: Act with integrity by respecting the whole person
• Be innovative: Act with creativity by experimenting to find new solutions
With engaging examples and clear instruction, Friedman provides more than thirty hands-on tools for using these proven principles to produce stronger business results, find clearer purpose in what you do, feel more connected to the people who matter most, and generate sustainable change.
Most leadership development books focus only on your professional skills, while books about personal growth concentrate on your needs beyond work.
Total Leadership
is different. It's a unique and long-awaited resource that shows how to win in all domains of life.

Reviews
Destined to be a classic, this is a remarkable book. I have studied leadership and led organizations for over twenty years. No other book has reshaped my thinking about leadership development as much as Total Leadership.
—David A. Thomas, professor, Harvard Business School, and author, Breaking Through: The Making of Minority Professionals in Corporate America
Stew Friedman absolutely gets it. He is both a visionary and a much-needed advocate for a new kind of total leadership in the twenty-first century. What an empowering book!
—Janet Hanson, Founder, 85 Broads
Total Leadership will help you build a life, not just a resume. Stew Friedman has written the owner s manual for all types of leaders, young and old, who aspire to both professional success and personal fulfillment.
—Tom Tierney, Chairman and Cofounder, The Bridgespan Group
The best leaders are those who stay connected to their communities, to the people they love, to themselves. In Stew Friedman s Total Leadership, you'll learn simple, powerful new ways to make these connections happen and enjoy the rich rewards that inevitably follow.
—Keith Ferrazzi, CEO, Ferrazzi Greenlight, and author, Never Eat Alone
As the pace of business continues to race forward at lightening speed, Stew Friedman offers us an innovative and sustainable model for successful leadership. Total Leadership provides a unique proposition for individuals who strive to be their very best both personally and professionally.
—Dave Lissy, CEO, Bright Horizons Family Solutions
Total Leadership is so aligned with my thinking as an HR executive and medical director of a global business. With practical tools and compelling stories, Friedman demonstrates how to achieve four-way wins a distinctive, important new concept for today s leaders.
—Dr. Robert W. Carr, Vice President and Corporate Medical Director, GlaxoSmithKline

About the Author
Stewart D. Friedman
is the founding director of the Wharton School's Leadership Program and of Wharton's Work/Life Integration Project. He is the former head of Ford Motor Company's Leadership Development Center.

Find Items On Similar Subjects

Crucibles of Leadership
: How to Learn from Experience to Become a Great Leader