Followership
: How Followers Are Creating Change and Changing Leaders
Barbara Kellerman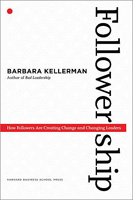 Format:
Hardcover, 256pp.
ISBN:
9781422103685
Publisher:
Harvard Business School Press
Pub. Date:
February 18, 2008
Average Customer Review:


For Bulk Orders Call: 626-441-2024

Description and Reviews
From
The Publisher:
There is no leader without at least one follower - that's obvious. But this groundbreaking volume is the first to provide a sweeping view of followers both in their own right - and in relation to their leaders. It deliberately departs from the leader-centric approach that has for too long dominated our thinking about leadership and management.
Barbara Kellerman argues that followers have always mattered more than we generally understand - and that they matter more now than they ever did before. Moreover the trend is accelerating. Followers are becoming more important, and leaders less.
Through gripping stories about a range of people and places — from multinational corporations such as Merck, to Nazi Germany, to the American military after 9/11 — Kellerman makes all-important distinctions among five different types of followers: Isolates, Bystanders, Participants, Activists, and Diehards. And she explains the significance not only of how they relate to their leaders, but also of how they relate to each other.
Followership enables us to see how people with relatively fewer sources of power, authority, and influence matter. They matter when they do something - and they matter even when they do little or nothing. In these rapidly changing times, and as Kellerman makes crystal clear, to fixate on leaders at the expense of followers is to do so at our peril. The latter are every bit as important as the former - which makes this book required reading for superiors and subordinates alike.

Reviews
"In this learned, vivid, and iconoclastic book, Barbara Kellerman argues that we are all followers. She develops a convincing taxonomy of kinds of followers and delineates the sometimes surprising roles assumed by followers in organizations and in society at large."
—Howard Gardner, author of Five Minds for the Future, and John H. and Elisabeth A. Hobbs Professor of Cognition and Education, Harvard Graduate School of Education

About the Author
Barbara Kellerman
is James MacGregor Burns Lecturer in Public Leadership at Harvard University's Kennedy School of Government. Among her many books on leadership, she is author of Bad Leadership: What It Is, How It Happens, Why It Matters.

Table of Contents
Acknowledgments
xiii
Introduction
"Shooting an Elephant"
xv
Part I Seeing Followers
1
Fictions
3
2
Facts
25
3
Relationships
49
4
Types
75
Part II Being a Follower
5
Bystanders
Nazi Germany
97
6
Participants
Merck
125
7
Activists
Voice of the Faithful
151
8
Diehards
Operation Anaconda
179
Part III Future Followers
9
Values
213
10
Transformations
239
Notes
263
Index
287
About the Author
303

Find Items On Similar Subjects

Creative Followership
: In the Shadow of Greatness

The Courageous Follower
: Standing Up to and for Our Leaders

The Art of Followership
: How Great Followers Create Great Leaders and Organizations