The Art of Followership
: How Great Followers Create Great Leaders and Organizations
Edited by Ronald E. Riggio, Ira Chaleff and Jean Lipman-Blumen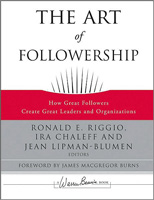 Format:
Hardcover, 416pp.
ISBN:
9780787996659
Publisher:
Jossey-Bass
Pub. Date:
January 28, 2008
Average Customer Review:

For Bulk Orders Call: 626-441-2024

Description and Reviews
From
The Publisher:
The Art of Followership
puts dynamic leader-follower interaction at the forefront of discussion. It examines the multiple roles followers play and their often complex relationship to leaders. With contributions from leading scholars and practitioners from the burgeoning field of leadership/followership studies, this groundbreaking book outlines how followers contribute to effective leadership and to organizations overall.
Drawing from various disciplinesfrom philosophy, to psychology and management, to educationthe book defines followership and its myriad meanings. The Art of Followership explores the practice and research that promote positive followership and reveals the part that followers play in setting the standards and formulating the culture and policies of the group.
The contributors include new models of followership and explore fresh perspectives on the contributions that followers make to groups, organizations, societies, and leaders. The book also explores the most current research on followership and includes insights and perspectives on the future of leader-follower relationships.

About the Editors
Ronald E. Riggio
is director of the Henry R. Kravis Leadership Institute at Claremont McKenna College. He is coeditor of The Practice of Leadership and Improving Leadership in Nonprofit Organizations, both from Jossey-Bass, and coauthor of Transformational Leadership, from Erlbaum.
Ira Chaleff
is president of Executive Coaching & Consulting Associates, adjunct faculty at Georgetown University, and the author of The Courageous Follower: Standing Up to and for Our Leaders, from Berrett-Koehler.
Jean Lipman-Blumen
is Thorton F. Bradshaw Professor of Public Policy and professor of organizational behavior at the Peter F. Drucker and Masatoshi Ito Graduate School of Management, Claremont Graduate University, and author, The Allure of Toxic Leadership and Connective Leadership.

Table of Contents
Contents
Foreword: James MacGregor Burns
xi
Acknowledgments
xiii
About the Contributors
xv
Introduction: Warren Bennis
xxiii
Defining and Redefining Followership
Rethinking Followership
Robert E. Kelley
5
Leadership: A Partnership in Reciprocal Following
James Maroosis
17
Three Perspectives on Followership
Jon P. Howell and Maria J. Mendez
25
A New Leadership-Followership Paradigm
Ernest L. Stech
41
Followership: An Outmoded Concept
Joseph Rost
53
Effective Followership
Creating New Ways of Following
Ira Chaleff
67
Rethinking Leadership and Followership: A Student's Perspective
Krista Kleiner
89
The Hero's Journey to Effective Followership and Leadership: A Practitioner's Focus
Gail S. Williams
95
Courageous Followers, Servant-Leaders, and Organizational Transformations
Linda Hopper
109
Followership in a Professional Services Firm
Brent Uken
127
Developing Great Leaders, One Follower at a Time
Rodger Adair
137
Getting Together
Gene Dixon
155
The Pitfalls and Challenges of Followership
Following Toxic Leaders: In Search of Posthumous Praise
Jean Lipman-Blumen
181
What Can Milgram's Obedience Experiments Contribute to Our Understanding of Followership?
Thomas Blass
195
What Kind of Leader Do People Want to Follow?
Michael Maccoby
209
Bystanders to Children's Bullying: The Importance of Leadership by "Innocent Bystanders"
Lorna S. Blumen
219
Whistleblowing as Responsible Followership
C. Fred Alford
237
Followers and Leaders: Research, Practice, and the Future
Followers' Cognitive and Affective Structures and Leadership Processes
Robert G. Lord
255
Social Identity Processes and the Empowerment of Followers
Michael A. Hogg
267
Lead, Follow, and Get out of the Way: Involving Employees in the Visioning Process
Melissa K. Carsten and Michelle C. Bligh
277
Effective Followership for Creativity and Innovation: A Range of Colors and Dimensions
Kimberly S. Jaussi, Andy Stefanovich and Patricia G. Devlin
291
Conformist, Resistant, and Disguised Selves: A Post-Structuralist Approach to Identity and Workplace Followership
David Collinson
309
The Rise of Authentic Followership
Bruce J. Avolio and Rebecca J. Reichard
325
Notes
338
Index
377

Find Items On Similar Subjects

Creative Followership
: In the Shadow of Greatness

The Courageous Follower
: Standing Up to and for Our Leaders

Followership
: How Followers Are Creating Change and Changing Leaders