Where Have All the Leaders Gone?
Lee Iacocca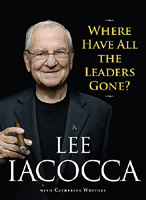 Format:
Paperback, 192pp.
ISBN:
9781416532491
Publisher:
Scribner
Pub. Date:
April 15, 2008
Average Customer Review:

For Bulk Orders Call: 626-441-2024

Description and Reviews
From
The Publisher:
Legendary auto executive Lee Iacocca has a question for every American: Where have all the leaders gone?
The most widely recognized business executive of all time asks the tough questions that America's leaders must address:
What is each of us giving back to our country?
Do we truly love democracy?
Are we too fat and satisfied for our own good?
Why is America addicted to oil?
Do we really care about our children's futures?
Who will save the middle class?
A self-made man who many Americans once wished would run for president, Iacocca saved the Chrysler Corporation from financial ruin, masterminded the creation of the minivan, and oversaw the renovation of Ellis Island. Since then he has created the Iacocca Institute for leadership at Lehigh University and the Iacocca Foundation, which funds research for a cure for diabetes. Lee Iacocca believes that leaders are made in times of crisis -- such as today. He has known more leaders than almost anyone else -- among them nine U.S. presidents, many heads of state, and the CEOs of the nation's top corporations -- and is uniquely suited to share his wisdom, knowledge, and wit about the leadership of America.
Author of the gigantic number one bestsellers
Iacocca: An Autobiography
and
Talking Straight
, Lee Iacocca famously doesn't mince words and offers his no-nonsense, straight-up assessments of the American politicians most likely to run for president in 2008, including Hillary Clinton, Barack Obama, John McCain, Rudy Giuliani, Joe Biden, Bill Richardson, Mitt Romney, and John Edwards.
Confessing that he has "flunked retirement," Iacocca calls on citizens of all ages to vote, get involved, and choose our leaders carefully. Along the way, he shares stories about the prominent people he's met and known, including the time he smoked cigars with Fidel Castro, what Bob Hope told him about how to live a long life, what Lady Sarah Ferguson said to him as they danced, why Bill Clinton woke him up in Italy, what Robert McNamara taught him about success, how Frank Sinatra sang for him personally, and whom Pope John Paul II asked him to pray for. We learn what he discussed with Warren Buffett, DaimlerChrysler CEO Dieter Zetsche, Ronald Reagan, Senator John Kerry, Congressman John Murtha, Prince Charles and Camilla, former Saudi ambassador Prince Bandar, rapper Snoop Dogg, financier Kirk Kerkorian, Ted Turner, Bob Dole, and many more.
Knowing that the times are urgent, the iconic leader shares his lessons learned and issues a call to action to summon Americans back to their roots of hard work, common sense, integrity, generosity, and optimism.
Where have all the leaders gone?
Lee Iacocca has the answer.

Reviews
Iacocca, the bestselling author and former president of Ford and Chrysler, is back to sound a howl of anger against the sad state of leadership in the U.S. today. Iacocca starts with a rundown of sins committed by George W. Bush and his administration, and then moves on to criticize the American auto industry-naturally, he's furious over over the sale of Chrysler to Daimler-Benz. Along the way, Iacocca rails against the lack of leadership in vital national concerns such as health care, open markets and energy policy. Iacocca may not have a whole lot new to say, but he is always engaging, even when spinning his wheels over the current crop of presidential hopefuls or recommending that Congress take a year off from enacting laws or spending money. The book's strength lies in Iacocca's emotional honesty, which shines when he details the reasons he passed on a Presidential run, how he felt when his wife died and his frustration at the poor decisions he's made during his retirement (fessing up to voting for Bush in 2000 and handpicking the executive who sold Chrysler to the Germans). Iacocca is a genial person to spend time with, but his insights no longer carry the weight that made his autobiography, Iacocca, a runaway bestseller.
—From Publishers Weekly, Copyright © Reed Business Information, a division of Reed Elsevier Inc. All rights reserved.

Table of Contents
| | | |
| --- | --- | --- |
| | | |
| | Acknowledgments | ix |
| | | |
| | Part 1: Where Have All The Leaders Gone? | 1 |
| 1 | Had enough? | 3 |
| 2 | People and priorities: It's that simple | 15 |
| 3 | Can you show me where it's working? | 25 |
| 4 | Aren't we supposed to be the good guys? | 33 |
| 5 | How much do we love democracy? | 39 |
| | | |
| | Part 2: Where Have All Our Friends Gone? | 57 |
| 6 | Will the real leader of the free world please stand up? | 59 |
| 7 | Meet the coalition of the UNwilling | 75 |
| 8 | What will we do for oil? | 89 |
| 9 | Free trade must be fair trade | 101 |
| 10 | Don't fence me in...or out | 111 |
| | | |
| | Part 3: Is Capitalism Letting Us Down? | 125 |
| 11 | Where does all the money go? | 127 |
| 12 | Will we ever trust corporate America again? | 137 |
| 13 | Chrysler's lesson: Resist the urge to merge | 151 |
| 14 | Can anyone around here run a car company? | 165 |
| 15 | Who will save the middle class? | 185 |
| 16 | The blame game is killing us | 195 |
| | | |
| | Part 4: Can America Be Great Again? | 203 |
| 17 | Are we too fat and satisfied for our own good? | 205 |
| 18 | Bring back brain power | 215 |
| 19 | Three men who taught me to lead | 223 |
| 20 | Get off the golf course and DO something | 237 |
| 21 | 2008: A call to action | 257 |
| | | |
| | Index | 265 |

Customer Reviews
Write your own online review
.

Where has YOUR character gone, Lee?
March 06, 2008
Reviewer: Dale Weiss from Daleville, IN United States
As someone who has always looked up to Lee Iacocca, and thoroughly enjoyed his autobiography "Iacocca", I looked forward to reading this book. However, during the first half of the book, I realized that the title SHOULD have been "1001 Reasons Why I Hate George W. Bush". Every bad thing (and no good thing) that has happened since 2000 has been laid at W's doorstep. Mr. Iacocca talks about "The 9 C's of Leadership", one of which is CHARACTER. He assaults Bush's character, while giving Bill Clinton a free pass! No President besides Bush is without flaws either, but you'd never know it by reading this book.
However, about the halfway point, Mr. Iacocca puts his hatred and political bias aside, and finally starts to deal with problems and solutions in an easy reading style. A good book with some good ideas...but it might've been a great book had the author employed a little more fairness.

Find Items On Similar Subjects

The First Billion Is the Hardest
: Reflections on a Life of Comebacks and America's Energy Future