Fred 2.0
: New Ideas on How to Keep Delivering Extraordinary Results
Mark Sanborn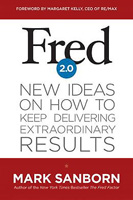 Format:
Hardcover, 200pp.
ISBN:
9781414362205
Publisher:
Tyndale House Books
Pub. Date:
March 5, 2013
Average Customer Review:

For Bulk Orders Call: 626-441-2024

Description and Reviews
From
The Publisher:
Transform the Ordinary into the Extraordinary
Since writing The Fred Factor almost ten years ago, Mark Sanborn has met many people who were inspired by the original Fred to turn the ordinary into the extraordinary. What motivates these real-world "Freds"? In
Fred 2.0
, Mark digs deeper, revealing principles that inspire these Fred-like individuals. With this book you, too, can discover passion in what you do.
Who are these "Freds"?
Freds are the millions of people who have been inspired by Mark Sanborn's real-life mailman Fred Shea—and the millions more who exemplify Fred's code for success without knowing the real-life Fred. What makes Fred so extraordinary? He's a man who is passionate about his ordinary job, treating those on his mail route as his friends. In the process, he has turned an ordinary job into something truly extraordinary—and you can too.
Mark reminds us that your life is what you make it. Let
Fred 2.0
inspire you to reach even higher and do more!
Nine years ago, bestselling author and business consultant Mark Sanborn introduced the world to Fred, his postman, who delivered extraordinary service in simple but remarkable ways. Fred's story inspired millions. Companies—even, cities—were inspired to turn the ordinary into the extraordinary each day.
Today, with stiff competition from the networked global economy, delivering extraordinary results is more important than ever. With
Fred 2.0
, Mark not only revisits the original Fred to gain new insights, but also equips all of us with new strategies to achieve more. You'll not only be inspired by
Fred 2.0
, you'll also have the tools and strategies to aim higher and achieve the extraordinary.

Reviews
When Mark Sanborn first introduced us to Fred, he challenged us to do our jobs better. Now with Fred 2.0, he inspires us to take our service to the next level.
—Harvey Mackay, #1 NYT bestselling author of Swim with the Sharks without Being Eaten Alive

About the Author
Mark Sanborn
is the president of Sanborn & Associates, Inc., an idea lab for leadership development. LeadershipGurus.net lists Mark as one of the top 30 leadership experts in the world. In addition to his experience leading at a local and national level, he has written or coauthored 8 books and is the author of more than two dozen videos and audio training programs on leadership, change, teamwork, and customer service. He has presented over 2400 speeches and seminars in every state and a dozen countries. He lives in Highlands Ranch, Colorado, with his wife, Darla, and sons, Hunter and Jackson.

Find Items On Similar Subjects

The Fred Factor
: Every Person's Guide to Making the Ordinary Extraordinary!

Up, Down, or Sideways
: What You Must Always Do to Succeed When Times Are Good, Bad, or in Between