The Mindfulness Edge
: How to Rewire Your Brain for Leadership and Personal Excellence Without Adding to Your Schedule
Matt Tenney and Tim Gard PhD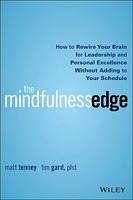 Format:
Hardcover, 288pp.
ISBN:
9781119183181
Publisher:
Wiley
Publication Date:
March 7, 2016
Average Customer Review:

For Bulk Orders Call: 626-441-2024

Description and Reviews
From
The Publisher:
The one habit that can improve almost every leadership skill
There is a simple practice that can improve nearly every component of leadership excellence and it doesn't require adding anything to your busy schedule. In
The Mindfulness Edge
, you'll discover how a subtle inner shift, called mindfulness, can transform things that you already do every day into opportunities to become a better leader. Author Matt Tenney has trained leaders around the world in the practice of mindfulness. In this book, he partners with neuroscientist Tim Gard, PhD, to offer step-by-step, practical guidance for quickly and seamlessly integrating mindfulness training into your daily life—rewiring your brain in ways that improve both the 'hard' and 'soft' skills of leadership.
In this book, you'll learn how mindfulness training helps you:
Quickly improve business acumen and your impact on the bottom line
Become more innovative and attract/retain innovative team members
Develop the emotional intelligence essential for creating and sustaining a winning culture
Realize the extraordinary leadership presence that inspires greatness in others
The authors make a compelling case for why mindfulness training may be the 'ultimate success habit.' In addition to helping you improve the most essential elements of highly effective leadership, mindfulness training can help you discover unconditional happiness and realize incredible meaning—professionally and personally.

Reviews
"This is an extraordinary book! The Mindfulness Edge offers a practical path to mastering your mind—and changing your brain in ways essential for effective leadership—with one simple habit."
—Skip Prichard, President and CEO, OCLC, Leadership Insights blogger at skipprichard.com
"I thoroughly enjoyed this valuable book. Matt Tenney and Tim Gard offer a practical, enjoyable path to consistently being the leaders we aspire to be."
—Bob Hottman, CEO, EKS&H
"This is a game-changing book. The Mindfulness Edge can take your business acumen, leadership skills, and personal growth to a higher level. I have read roughly 2,000 business books and this one is now in my top 10."
—John Spence, Named one of the top 500 leadership development experts in the world by HR.com
"I found this book very insightful. It serves as a practical training manual for improving self-awareness, and shows how self-awareness impacts nearly every aspect of leadership. This book will not only help you to be a better leader, it will also help you to enjoy the journey."
—Gregory A. Serrao, Executive Chairman, American Dental Partners, Inc.
"In The Mindfulness Edge, Matt Tenney and Tim Gard present—in an engaging and inspiring way—a practical method of 'strength training' for the most important 'muscle' in your body: your brain. This is a must-read for any leader looking to raise the bar of excellence, while also becoming happier!"
—Chris Thoen, Senior VP, Global Head Flavour Science + Technology, Givaudan Flavours Corp.
"I truly enjoyed this book! The applications and narrative herein apply not only to leadership but also to life. I strongly recommend The Mindfulness Edge to people new to the practice and to people with a long-standing interest."
—Tara Swart, MD, PhD, CEO, The Unlimited Mind, Senior Lecturer, MIT Sloan, and Author of Neuroscience for Leadership
"I recommend The Mindfulness Edge to leaders of all types. The authors show how mindfulness training can be easily integrated into daily routines with a measurable impact on your home, social, and business worlds."
—Rick Staab, CEO, InterMed

About the Authors
Matt Tenney
works to develop highly effective leaders who achieve extraordinary, long-term business outcomes—and live more fulfilling lives—as a result of realizing high levels of self-mastery and more effectively serving and inspiring greatness in the people around them. He is an international keynote speaker, a corporate trainer, and the author of Serve to Be Great: Leadership Lessons from a Prison, a Monastery, and a Boardroom. He has been teaching mindfulness since 2002. Matt's clients include Wells Fargo, Marriott, Keller Williams, The Four Seasons, and many other companies, associations, and universities.
Tim Gard
PhD, is a neuroscientist, keynote speaker, and mindfulness trainer. His research focuses on the neural and psychological mechanisms of mindfulness in a variety of contexts. Tim is affiliated with the Lazar lab for neuroscience of mindfulness research at Massachusetts General Hospital, Harvard Medical School, Boston, MA.

Find Items On Similar Subjects

Mindfulness