Mindfulness
Ellen J. Langer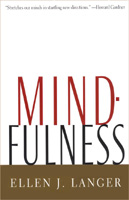 Format:
Paperback, 272pp.
ISBN:
9780738217994
Publisher:
Da Capo Lifelong Books
Pub. Date:
October 14, 2014
Average Customer Review:

For Bulk Orders Call: 626-441-2024

Description and Reviews
From
The Publisher:
"A landmark work of social psychology" (Booklist) now in paperback at a popular price." . . . Harvard psychology professor Langer seeks to dramatize the rigid conditions and mindsets that often produce a pervasive state of automatized stupidity . . . (and) proposes a life-enhancing alternative."--Kirkus Reviews.

Reviews
"Stretches our minds in startling new directions."
—Howard Gardner
"Ellen Langer has succeeded in writing a book that, in one bite, manages to be scientifically interesting, immensely practical, and dramatically absorbing. It is about the mindsets that lead human beings—even the smartest of them—to become stupid and 'mindless.' Its power as drama in demonstrating that mindlessness leads not only to the banality of dullness, but to a giving up of life itself. In a series of fascinating research studies, Dr. Langer demonstrates that the young can be made more creative, the man in charge made more effective, and the elderly kept from giving in to and dying of their age."
—Jerome Bruner, author of Actual Minds, Possible Worlds
"One simply can't finish this book and not see the world in the same way."
—Alan Dershowitz, Harvard Law School
"A landmark work of social psychology."
—Booklist
"Langer. . . .has shown us the power of mindfulness."
—Psychology Today


Reader's Index
Send us your favorite quotes or passages from this book
.
• "When we blindly follow routines or unwittingly carry out senseless orders, we are acting like automatons, with potentially grave consequences for ourselves and others." Pg. 4
• "Mindlessness sets in when we rely too ridgly on categories and distinctions created in the past." Pg. 11

About the Author
Ellen J. Langer, Ph.D.
, professor of psychology at Harvard University, is the author of Personal Politics (with Carol Dweck), The Psychology of Control, and Mindfulness, which has been published in ten countries. She is also coeditor of Higher Stages of Development and Beliefs, Attitudes and Decision Making. She is the recipient of a Guggenheim Fellowship and numerous awards including the Award for Distinguished Contributions to Psychology in the Public Interest of the American Psychological Association.

Table of Contents
| | | |
| --- | --- | --- |
| 1 | Introduction | 1 |
| | Part 1: Mindlessness | |
| 2 | When the Light's on and Nobody's Home | 9 |
| 3 | The Roots of Mindlessness | 19 |
| 4 | The Costs of Mindlessness | 43 |
| | Part 2: Mindfulness | |
| 5 | The Nature of Mindfulness | 61 |
| 6 | Mindful Aging | 81 |
| 7 | Creative Uncertainty | 115 |
| 8 | Mindfulness of the Job | 133 |
| 9 | Decreasing Prejudice by Increasing Discrimination | 153 |
| 10 | Minding Matters: Mindfulness and Health | 171 |
| | Epilogue: Beyond Mindfulness | 197 |

Find Items On Similar Subjects

Mindfulness
: Be mindful. Live in the moment

The Power of Mindful Learning

The Prepared Mind of a Leader