Learning Leadership
: The Five Fundamentals of Becoming an Exemplary Leader
James M. Kouzes and Barry Z. Posner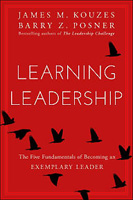 Format:
Hardcover, 272pp.
ISBN:
9781119144281
Publisher:
Wiley
Publication Date:
May 2, 2016
Average Customer Review:


For Bulk Orders Call: 626-441-2024

Description and Reviews
From
The Publisher:
From the bestselling authors of The Leadership Challenge and over a dozen award winning leadership books,
James M. Kouzes and Barry Z. Posner have written a new book that examines a fundamental question: How do people learn leadership? How do they learn to become leaders?
Learning Leadership
is a comprehensive guide to unleashing the inner-leader in us all and to building a solid foundation for a lifetime of leadership growth and mastery. The book offers a concrete framework to help individuals of all levels, functions, and backgrounds take charge of their own leadership development and become the best leaders they can be. Arguing that all individuals are born with the capacity to lead, Kouzes and Posner provide readers with a practical series of actions and specific coaching tips for harnessing that capacity and creating a context in which they can excel., Supported by over 30 years of research, from over seventy countries, and with examples from real-world leaders, Learning Leadership is a clarion call to unleash the leadership potential that is already present in today's society.
According to Kouzes and Posner, "Leadership makes a significant difference in levels of engagement and commitment and is perhaps the most important asset in every organization, yet recent research points to a shortage of leaders. It is a serious global concern. The world needs more exemplary leaders in order to promote high-performing workplaces and inspire feelings of greater self-worth and meaningfulness. The shortage, however, is not because of the lack of potential talent. The people are out there, the eagerness is out there, and the capability is out there. The shortage results from prevailing myths—myths about talent, strengths, position, self-reliance, and effort—that inhibit the vast majority of leaders from shining and organizations from realizing the full benefits of the talent they already have."
Learning Leadership provides readers with evidence-based strategies to ignite the habit of continuous improvement and the mindset of becoming the best leaders they can be. Emerging leaders, as well as leadership developers, internal and external coaches and trainers, and other human resource professionals will learn from first-hand stories and practical examples so that they can deeply understand and apply the fundamental for becoming the best leaders they can be.
Learning Leadership: The Five Fundamentals of Becoming an Exemplary Leader
is divided into digestible bite-sized chapters that encourage daily actions to becoming a better leader. Key takeaways from the book include:
Believe in Yourself. Believing in oneself is the essential first step in developing leadership competencies. The best leaders are learners, and they can't achieve mastery until and unless they truly decide that inside them there is a person who can make and difference and learn to be a better leader than they are right now.
Aspire to Excel. To become an exemplary leader, people have to determine what they care most about and why they want to lead. Leaders with values-based motivations are the most likely to excel. They also must have a clear image of the kind of leader they want to be in the future—and the legacy they want to leave for others.
Challenge Yourself. Challenging oneself is critical to learning leadership. Leaders have to seek new experiences and test themselves. There will be inevitable setbacks and failures along the way that require curiosity, grit, courage, and resilience in order to persist in learning and becoming the best.
Engage Support. One can't lead alone, and one can't learn alone.It is essential to get support and coaching on the path to achieving excellence. Whether it's family, managers at work, or professional coaches, leaders need the advice, feedback, care, and support of others.
Practice Deliberately. No one gets better at anything without continuous practice. Exemplary leaders spend more time practicing than ordinary leaders. Simply being in the role of a leader is insufficient. To achieve mastery, leaders must set improvement goals, participate in designed learning experiences, ask for feedback, and get coaching. They also put in the time every day and make learning leadership a daily habit.
Kouzes and Posner offer unrivaled insights into what it means to become an exemplary leader in today's world with their original research and over 30 years of experience studying the practices of extraordinary leadership. They show that anyone can become a better leader if they believe in themselves, aspire to excel, challenge themselves, to grow, engage the support of others, and practice deliberately.
Learning Leadership
challenges readers to do the meaningful and disciplined work necessary to becoming the best they can, using a new mindset and toolkit that can make extraordinary things happen. It's not the once-in-a-while transformational acts that demonstrate leadership. It's the little things that one does day in and day out that pave the path to greatness.

Reviews
"How heartening it is to see definitive proof that great leaders are made, not born. Learn for yourself how to make critical connections, collect and use constructive feedback, and lead any size of organization with deliberation and success with the wisdom mined, analyzed, and presented by Kouzes and Posner!"
—Marshall Goldsmith is the #1 New York Times bestselling author of Triggers, MOJO, and What Got You Here Won't Get You There
"So, you want to be a leader? This book shows you how. With fluid writing, comprehensive research, and actionable insights, Kouzes and Posner debunk myths and demonstrate that leadership is comprised of a clear set of skills and abilities that can be learned, practiced, and mastered."
—Tina Seelig, professor of the practice, Stanford School of Engineering; author of Insight Out, inGenius, andWhat I Wish I Knew When I Was 20
"Learning Leadership covers the fundamentals of what it takes to become an exemplary leader. Kouzes and Posner have done a wonderful job recognizing and sharing the mindset of leaders as learners—and they offer evidence-based tools and techniques that you can put to use right away."
—Adam Grant, Wharton professor and New York Times bestselling author of Give and Take and Originals
"In my work, people often ask, 'Is there one best book you could recommend on leadership?' In the past, that choice was difficult, but not anymore. Learning Leadership is that one book with widespread appeal and true value. This book gives each of us the ability to set upon a lifelong path of development as leaders."
—Tom Kolditz, executive director, Doerr Institute for New Leaders, Rice University; Brigadier General, U.S. Army (ret); professor emeritus, Behavioral Sciences and Leadership
"Jim Kouzes and Barry Posner have delivered (yet again!) with Learning Leadership. This relevant and engaging book powerfully demonstrates how leadership is, in fact, a learnable competency. It gives readers a useful framework on how to become a leader, and how to learn and grow as a leader. A wonderful blend of deep insight coupled with immediately practical application, Learning Leadership is indispensable to any current or aspiring leader."
—Stephen M. R. Covey, New York Times bestselling author of The Speed of Trust, and coauthor of Smart Trust
"Kouzes and Posner have done it again. Recognizing the dynamic leadership challenges of the 21st century, they have created an essential leadership text that helps aspiring leaders lift their game in an ambitious but practical fashion."
—Doug Conant, Chairman, Avon Products; former CEO, Campbell Soup Company; Founder & CEO, ConantLeadership; Chairman, Kellogg Executive Leadership Institute
"A compelling and practical read from two of the most trusted thinkers in the field, Learning Leadership is a roadmap to becoming the best leader you can be."
—Chip Conley, New York Times bestselling author of Emotional Equations; AirBnB Head of Global Hospitality & Strategy
"In this wonderful book, Kouzes and Posner have summarized, in a highly engaging and accessible way, the very best lessons from irrefutable research about how to become the best leader you can possibly be. I wish I had it available 30 years ago: I would have recommended it to every single job candidate, as I will do from now on."
—Claudio Fernández-Aráoz, Senior Advisor, Egon Zehnder ; author, It's Not the How or the What but the Who
"We all talk about leadership as a journey and I believe Jim Kouzes and Barry Posner just provided us with the map. Cover to cover Learning Leadership: The Five Fundamentals of Becoming an Exemplary Leader is exceptional and should become required reading for every leader regardless of their age or experience. A sincere thank you to Jim and Barry for their lifelong commitment to bringing out the leader in all of us."
—Mark Fernandes, Chief Leadership Officer, Luck Companies
"Learning Leadership is a practical and wonderful roadmap for anyone in leadership considering leadership or afraid they were not good enough for leadership. Jim and Barry challenge and motivate the reader every step of the way to reach inside for the latent capabilities for great leadership. The research and case studies are undeniable proof that there is opportunity for greatness in each and every one of us."
—Kory Kogon, Global Productivity Practice Leader, Franklin Covey, and co-author: The 5 Choices: The Path to Extraordinary Productivity
"Jim and Barry's insightful book reminds young professionals that their education does not stop with graduation. They must continue to learn, to practice and to develop as leaders, and the five fundamental lessons of leadership in the book guide and inspire this new generation into becoming the leaders of tomorrow."
—Susan Luchey, Leadership and Career Consultant; Directs Leadership Program, University of Delaware
"The conversational and optimistic tone of Learning Leadership belies the serious leadership culture shift that Kouzes and Posner highlight in this rich addition to the leadership bookshelf. Readers are invited to evaluate their capacity to lead—and that of those around them—in the context of upending the social belief that only certain individuals 'belong' in the leadership pipeline. The growth-and-the-greater-good mindset the authors emphasize for preparing everyone to lead is an easy and welcome mantra to embrace. The earlier this philosophy can be introduced to young adults and their mentors, the better; and Learning Leadership is an excellent springboard."
—Mariam G. MacGregor, Professional Development Center, Neeley School of Business, Texas Christian University, author of the award-winning Building Everyday Leadership curriculum
"In a leadership development space that is often full of sizzle and "revolutionary" new ideas that lack real substance, Kouzes and Posner offer sound advice that is incredibly valuable for emerging leaders and existing leaders looking to sharpen their skills alike. Kouzes and Posner offer a perfect combination of hard facts and analysis derived from deep research and anecdotes that are both practical and relatable. They don't focus on the one-in-a-billion success stories of celebrity entrepreneurs and business people that are often rooted in inapplicable circumstance- instead they make leadership development tangible, sharing stories from everyday people, making their sage advice more achievable. Each chapter's Self-Coaching Actions bring their core leadership principles to life, leading you to not only think through how each applies to you, but also to implement what you have learned."
—Aaron McDaniel, Millennial Expert, Speaker, Entrepreneur, and Author of The Young Professional's Guide Series
"It has always been valuable to bring Jim and Barry's work to my students and young leaders. With Learning Leadership, they continue to impress, giving new insights, captivating stories, and practical tips, ultimately revitalizing our perceptions of what it means to be a leader, helping others to grow and to learn, and discover exactly what leadership is and how to achieve it."
—Bill Shannon, former Executive, Duke Clinical Research Institute
"Learning Leadership is another jewel from leadership gurus Kouzes and Posner. Whether you are a new leader or have many years of experience, I guarantee you will find valuable development ideas for you and your organization in this book."
—Steve Skarke, President, The Kaneka Foundation
"Learning Leadership is like having your own personal leadership coach. Or make that coaches. Top leadership thinkers Jim Kouzes and Barry Posner distill thirty years of hands-on research into a book so filled with practical tips that you're guaranteed to become a better leader. "
—Bill Treasurer, CEO, Giant Leap Consulting; Author, Leaders Open Doors

About the Authors
James M. Kouzes
is the Dean's Executive Fellow of Leadership at the Leavey School of Business, Santa Clara University, and lectures on leadership around the world to corporations, governments, and nonprofits.
Barry Z. Posner
is the Accolti Endowed Professor of Leadership at the Leavey School of Business. An accomplished scholar, he also provides leadership workshops and seminars around the world.

Find Items On Similar Subjects

The Leadership Challenge
: Sixth Edition