The Leadership Challenge
: How to Make Extraordinary Things Happen in Organizations
Sixth Edition
James M. Kouzes, Barry Z. Posner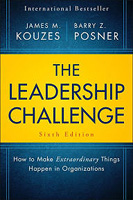 Format:
Hardcover, 400pp.
ISBN:
9781119278962
Publisher:
Jossey-Bass; 6 edition
Pub. Date:
May 1, 2017
Average Customer Review:


For Bulk Orders Call: 626-441-2024

Description and Reviews
From
The Publisher:
The most trusted source of leadership wisdom, updated to address today's realities
The Leadership Challenge
is the gold-standard manual for effective leadership, grounded in research and written by the premier authorities in the field. With deep insight into the complex interpersonal dynamics of the workplace, this book positions leadership both as a skill to be learned, and as a relationship that must be nurtured to reach its full potential. This new sixth edition has been revised to address current challenges, and includes more international examples and a laser focus on business issues; you'll learn how extraordinary leaders accomplish extraordinary things, and how to develop your leadership skills and style to deliver quality results every time. Engaging stories delve into the fundamental roles that great leaders fulfill, and simple frameworks provide a primer for those who seek continuous improvement; by internalizing key insights and putting concepts into action, you'll become a more effective, more impactful leader.
A good leader gets things done; a great leader aspires, inspires, and achieves more. This book highlights the differences between good and great, and shows you how to bridge the chasm between getting things done and making things happen.
• Gain deep insight into leadership's critical role in organizational health
• Navigate the shift toward team-oriented work relationships
• Motivate and inspire to break through the pervasive new cynicism
• Leverage the electronic global village to deliver better results
Business is evolving at an increasingly rapid rate, and leaders must keep pace with the changes or risk stagnation. People work differently, are motivated differently, and have different expectations today—business as usual is quickly losing its effectiveness.
The Leadership Challenge
helps you stay current, relevant, and effective in the modern workplace.

Reviews
From the ten commitments of leadership to the emphasis on actions and relationships, this valuable book is full of enduring wisdom and practical insights essential for success in challenging times.
—Rosabeth Moss Kanter, Harvard Business School, best-selling author of "Evolve! Succeeding in the Digital Culture of Tomorrow"
The first edition was seminal and totally original. It became a modern classic on leadership practically overnight. With this new edition, with new cases and concepts and action steps that are even riper and more important, Kouzes and Posner go way beyond their earlier work and have made yet another brilliant contribution to leadership studies. This new book, a product of an unusual collaboration, is essential reading for everyone involved or concerned with leading.
—Warren Bennis, was distinguished Professor of Business Administration, University of Southern California, and coauthor, "Geeks and Geezers: How Era, Values, and Defining Moments Shape Leaders"
This book is one of the very best on the topic of leadership, offering extraordinary stories from leaders at various ages and stages of their lives. Whether you're now in a leadership role and want to further strengthen and hone your skills, or you simply have the desire to learn to make a difference and help guide your company—or even friends and family members—to higher levels of success, you'll benefit by reading The Leadership Challenge.
—David S. Pottruck, president & CEO, The Charles Schwab Corporation
An inspirational and practical handbook, this expanded revision of a bestselling manual originally published in 1987 offers sound advice to corporate leaders and entrepreneurs, to managers and employees and to aspiring leaders in retail, manufacturing, government, community, church and school settings. Drawing on interviews and a questionnaire survey of more than 3000 leaders, the authors identify five fundamental practices of exemplary leadership: challenge the status quo; inspire a shared vision; enable others to act; model the way forward by setting an example; tap individuals' inner drives by linking rewards and performance. Kouzes, chairman and CEO of TPG/Learning Systems, and Posner, managing partner of Santa Clara University's Executive Development Center in California, write insightful, down-to-earth, jargon-free prose. This new edition has been substantially updated to reflect the challenges of shrinking work forces, rising cynicism and expanded telecommunications. An appendix includes the author's Leadership Practices Inventory, a tool for assessing leadership behavior. 75,000 first printing; Executive Program Book Club main selection; author tour.
—Publisher's Weekly (Sept.)
Kouzes gives workshops in executive development and managing growth companies; Posner conducts seminars in communication, group dynamics, etc. Their excellent book on leadership for business executives covers identifying and developing leadership qualities, building commitment into action, and other important topics. In addition to discussing the theoretical foundations of leadership, the authors use many examples from work situations to demonstrate application. In a field in which many books are available, this one is readable, interesting, and up-to-date. Highly recommended for collections serving business executives and students.
—Library Journal, Grace Klinefelter, Ft. Lauderdale Coll. Lib., FL

About the Authors
James M. Kouzes
is chairman of the Tom Peters Group/Learning Systems, which makes leadership work through practical, performance-oriented learning programs, including the Leadership Challenge Workshop and Leadership Is Everyone's Business. In 1993 the Wall Street Journal cited him as one of the twelve most requested "nonuniversity executive-education providers" to U.S. companies.
Barry Z. Posner, Ph.D
, is dean of the Leavey School of Business, Santa Clara University, and professor of organizational behavior. He has received several outstanding teaching and leadership awards, has published more than eighty research and practitioner-oriented articles, and currently is on the editorial review boards for the Journal of Management Education, the Journal of Management Inquiry, and the Journal of Business Ethics. He also serves on the board of directors for Public Allies-Silicon Valley and for the Center for Excellence in Nonprofits.