Serve to Be Great
: Leadership Lessons from a Prison, a Monastery, and a Boardroom
Matt Tenney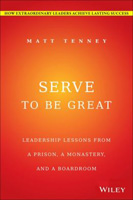 Format:
Hardcover, 224pp.
ISBN:
9781118868461
Publisher:
Wiley
Pub. Date:
May 5, 2014
Average Customer Review:

For Bulk Orders Call: 626-441-2024

Description and Reviews
From
The Publisher:
Do you aspire to be a more effective leader who guides your team or organization to higher levels of lasting success? Would you like to look forward to each day and know that you are having a positive impact on the world around you?
This is possible for everyone, regardless of your title or position. In fact,
Serve to Be Great: Leadership Lessons from a Prison, a Monastery, and a Boardroom
will train you to make this a reality. Although it's not an easy process, it is a worthwhile one.
By making a shift in your approach to leadership, you can become a highly effective leader who enjoys your work and makes the world a better place. The shift is simply a matter of gradually becoming more focused on how you can serve others and increase your capacity to do so. Being an extraordinary leader does not require a MBA or PhD. The reality is that anyone can be a great leader.
Author Matt Tenney has survived – and thrived – in situations where most people would have been quickly broken. In
Serve to Be Great
, he offers his life experiences and unique insights to help leaders apply the powerful principles of servant leadership. Servant leaders are not weak or timid. Motivated by the aspiration to serve, they achieve true power by empowering others to achieve excellence.
This is a practical guide to becoming a leader people want to follow. By shifting focus from short-term gain to serving others, leaders can create great workplace cultures that deliver superior, long-term results. Serve to Be Great is the perfect playbook for realizing the ultimate in personal and business success.
In keeping with the spirit in which
Serve to Be Great
was written, all author proceeds from the sale of the book will be donated to charity.

Reviews
"Matt Tenney has a clarity about the world that is remarkable. His experience and the lessons he learned need to be heard by as many people as possible."
—Simon Sinek, Optimist and author of Start With Why and Leaders Eat Last
"Serve to Be Great draws you in with one of the most powerful stories you'll ever hear and offers an inspiring path to true greatness as a leader. I encourage anyone who wants to be great to read this book."
—Jon Gordon, Bestselling author of The Energy Bus, The Carpenter, and The Seed
"With a gripping narrative about his journey from prisoner to monk to social entrepreneur, Matt Tenney shows how leaders can elevate those around them and make everyone better off in the process."
—Adam Grant, Wharton professor and bestselling author of Give and Take
"Learn how you can be of greater service and make a bigger difference as a leader whether you have a title or not – read this book."
—Mark Sanborn, Bestselling author of The Fred Factor and You Don't Need a Title to Be a Leader
"Serve to Be Great is one of those rare books that is an enjoyable and inspiring read, and also quite useful for helping you and your team succeed."
—Chip Conley, Founder and former CEO of Joie de Vivre Hotels and New York Times bestselling author of Peak and Emotional Equations
Serve to Be Great provides you with powerful tools for becoming an extraordinary leader who gets results and makes our world a better place. This inspiring book is a must-read for leaders at all levels."
—Chade-Meng Tan, Jolly Good Fellow of Google, and New York Times bestselling author of Search Inside Yourself
"The insights from [Matt's] journey and the examples he shares of truly great leaders will improve your performance, widen your perspective, and raise your leadership game."
—Skip Prichard, CEO of OCLC
"This is an outstanding book full of truly powerful ideas, tools, stories, and advice. I strongly recommend you read and apply the lessons of Serve to Be Great."
—John Spence, named one of the Top 100 Business Thought Leaders in America by Trust Across America and author of Awesomely Simple

About the Author
Matt Tenney
is an international keynote speaker, a trainer, and a consultant with the prestigious Perth Leadership Institute, whose clients include numerous Fortune 500 companies. He works with companies, associations, universities, and nonprofits to develop highly effective leaders who achieve lasting success by focusing on serving and inspiring greatness in the people around them. Matt envisions a world where the vast majority of people realize that effectively serving others is the key to true greatness. When he's not traveling for speaking engagements, he can often be found in Nashville, TN.

Find Items On Similar Subjects

Serve to Lead
: Your Transformational 21st Century Leadership System