Lead Positive
: What Highly Effective Leaders See, Say, and Do
Kathryn D. Cramer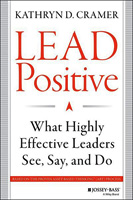 Format:
Hardcover, 288pp.
ISBN:
9781118658086
Publisher:
Jossey-Bass
Pub. Date:
February 17, 2014
Average Customer Review:

For Bulk Orders Call: 626-441-2024

Description and Reviews
From
The Publisher:
Conventional Wisdom points to industry expertise, strategic capability, and operational savvy as the essential components of leadership, but the best leaders never lose sight of a simpler truth. Effective leadership means inspiring your followers to action, and the secret to truly powerful, inspiring leadership is not strategic know-how but rather a sense of self-confidence and optimism. Leaders at every level must learn to establish a foundation of positivity in everything they see, say, and do. A positive mindset will enable them to inspire the imagination and actions of every follower, driving real results across the organization.
In
Lead Positive
, Kathy Cramer takes the fundamentals of her pioneering Asset-Based Thinking™ (ABT) system and turns them into a playbook for successful leadership. ABT is an elegantly simple mindset management process that allows leaders to make small shifts in perception that yield great results for their businesses, their lives, and the lives and work of those they lead. Cramer shows leaders precisely how to turn their attention from the negative and toward the positive aspects of any situation. As leaders make this mental shift, they improve their optimism, empathy, and confidence—and what they say and do from this mindset is far more likely to inspire others to do their best possible work. Step by step, Lead Positive helps leaders learn to change what they:
See: leaders learn how to shift their perspective and zero in on what is working, strong, and possible
Say: leaders learn how to connect what they say to the positive evidence they see so they can create magnetic high-impact communication
Do: informed by what they see and say, leaders learn which behaviors will work best to inspire effective action in others
Weaving findings in neuroscience and positive psychology with case studies of exemplary leaders in action,
Lead Positive
offers a unique and invaluable path to better leadership. Guided by Cramer's simple approach, you can inspire your team to make a lasting impact and live up to its full potential.

Reviews
"Lead Positive gives leaders a playbook for how to be courageous, resilient, and optimistic as they spearhead positive change."
—John C. Maxwell, bestselling author and speaker
"In Lead Positive, Cramer has captured the secret to great leadership: the actions and words, based on positive thinking and integrity, that bring out the best in everyone around us. Instead of process and strategies, she shines the spotlight on what we can do and say to engage and create a truly cohesive workforce that is up to any challenge. Lead Positive is a valuable, original contribution to leadership thinking and learning with case studies that are original, on-point, and enlightening. Brilliant!"
—Marshall Goldsmith, author, New York Times bestsellers MOJO and What Got You Here Won't Get You There
"Don't be fooled by the title—Cramer's book is not some kumbaya leadership treatise. Lead Positive is a brilliant manifesto for how readers can reframe their thinking, messaging, and behavior to be more effective at motivating and inspiring the people they lead."
—Michael Feiner, former Chief People Officer of PepsiCo; professor, Columbia University School of Business; and author, The Feiner Points of Leadership
"These days, it's all too easy for leaders to hunker down into defensiveness, negativity and fear. Cramer offers a simple, powerful approach to shifting your thinking and your actions as a leader toward what's working and what's possible, making yourself the kind of leader people will be inspired to follow through thick and thin."
—Erika Andersen, founder and partner, Proteus, and author, Leading So People Will Follow and Being Strategic
"I stood up to take on the Jeopardy Challenge and build Watson when the vast majority of technical leaders at IBM stated it was 'impossible,' 'fantasy,' and that 'Ferrucci was a dreamer'— and when the executives backing the project insisted that Watson had to win to save the IBM brand. I look back at what made me successful in the face of such extreme doubt, high stakes, and extraordinary stress, and it was exactly what Kathy Cramer suggests in Lead Positive: my ability to honestly reflect and acknowledge challenges and limitations in myself, my team, and current technology, and then summon the courage to focus on what was possible—what could be done with the assets I had in hand and what greatness would be if we built the smartest machine in the world. In retrospect, the ideas in Lead Positive enabled me to stay focused, conquer seemingly impossible tasks, and keep the team motivated. I may have acquired them innately, but this book makes the attitudes, ideas, thought processes, and behaviors underlying leadership explicit and accessible to anyone. Had I just dwelled on everything we could not do and our weaknesses, rather than working with our assets, Watson—and its impact on science and business— would have never happened."
—David Ferrucci, artificial intelligence scientist and research lead responsible for Watson, IBM
"The concepts Kathy Cramer has introduced in Lead Positive will be as dynamic a tool in the workplace as her previous books about asset-based thinking (ABT). I found ABT to be such a powerful concept that I have distributed copies of her last book to all my employees. I look forward to sharing Kathy's new book with them."
—Louisa Jaffe, CEO and president, TAPE
"Kathy Cramer's Lead Positive connects many previously unconnected aspects of the work of the leader. By showing readers how what they see, say, and do positively impacts themselves, others, and their current situations, she connects their intrapersonal potential with the interpersonal practice of leadership."
—Peter J. Dean, founder and president, Leaders By Design; author, The Coachable Leader
"Lead Positive confirms what I believe and have experienced as a community leader. Leaders who are geared toward potential and approach their work with abundance are far more likely to rise above the scarcity and barriers that prevent us from moving forward. Kathy Cramer provides us with a personal roadmap toward a very positive future!"
—Kelly Pollock, executive director, Center of Creative Arts (COCA)
"Lead Positive is one of those rare leadership books that I am recommending not only to my work colleagues but also to my friends and family. It is one thing to tell someone to lead from Cramer—Lead Positive a positive approach, and another to give them the tools and methods to put it into action. Lead Positive does both and more. It is a must-read for anyone wanting to raise their leadership skills to the next level and have a positive influence on the people around them."
—Mark Wagner, vice president, global sales, DuPont
"Kathy Cramer's Lead Positive shows you how to get the most out of yourself as a person so that you can be the best leader possible. Her insights and tools on how to leverage the positive dynamics of any situation are critical to making each moment count."
—Jason W. Womack, founder, YourBestJustGotBetter.com

About the Author
Kathryn D. Cramer
is passionate about possibilities and potential. She created and has dedicated her life to Asset-Based Thinking (ABT), a way of looking at the world that helps leaders, influencers, and their teams make small shifts in thinking to produce extraordinary impact. As founder and managing partner of The Cramer Institute, she has worked with clients such as DuPont, Prudential Real Estate, Starbucks, and Microsoft, as well as many educational and nonprofit organizations. Cramer, a psychologist, has written nine books, including the bestselling
Change the Way You See Everything
, which started the ABT global movement. She won an Emmy for her film Stress: A Personal Challenge, and was twice featured on the Oprah Winfrey Show. She believes in big thinking, the power of presence, and laughter as the great elixir, and lives in St. Louis, Missouri.

Table of Contents
| | | |
| --- | --- | --- |
| | Acknowledgments | xiii |
| | | |
| | Introduction: Lead Positive | 1 |
| | | |
| | PART 1 - What Highly Effective Leaders See | |
| 1 | What You See Is What You Get | 11 |
| 2 | Focus on the Past | 35 |
| 3 | Focus on the Present | 53 |
| 4 | Focus on the Future | 64 |
| | | |
| | PART 2 - What Highly Effective Leaders Say | |
| 5 | From See to Say | 85 |
| 6 | Say It with Substance | 93 |
| 7 | Say It with Sizzle | 108 |
| 8 | Say It with Soul | 135 |
| | | |
| | PART 3 - What Highly Effective Leaders Do | |
| 9 | From Say to Do: It's a Very Short Trip | 163 |
| 10 | Reactive or Responsive: It's Up to You | 169 |
| 11 | Start Being Before You Start Doing | 182 |
| 12 | Driving Positive Change | 200 |
| 13 | The Asset-Based Leadership Advantage | 217 |
| | | |
| | Conclusion: Your Lead Positive Hero's Journey | 238 |
| | | |
| | Notes | 240 |
| | About the Author | 247 |
| | Index | 249 |

Find Items On Similar Subjects

Change the Way You See Everything
Through Asset-based Thinking