The Myths of Creativity
: The Truth About How Innovative Companies and People Generate Great Ideas
David Burkus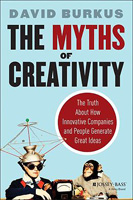 Format:
Hardcover, 224pp.
ISBN:
9781118611142
Publisher:
Jossey-Bass
Pub. Date:
October 14, 2013
Average Customer Review:


For Bulk Orders Call: 626-441-2024

Description and Reviews
From
The Publisher:
How to get past the most common myths about creativity to design truly innovative strategies
We tend to think of creativity in terms reminiscent of the ancient muses: divinely-inspired, unpredictable, and bestowed upon a lucky few. But when our jobs challenge us to be creative on demand, we must develop novel, useful ideas that will keep our organizations competitive.
The Myths of Creativity
demystifies the processes that drive innovation. Based on the latest research into how creative individuals and firms succeed, David Burkus highlights the mistaken ideas that hold us back and shows us how anyone can embrace a practical approach, grounded in reality, to finding the best new ideas, projects, processes, and programs.
Answers questions such as: What causes us to be creative in one moment and void in the next? What makes someone more or less creative than his or her peers? Where do our flashes of creative insight come from, and how can we generate more of them?
Debunks 10 common myths, including: the Eureka Myth; the Lone Creator Myth; the Incentive Myth; and The Brainstorming Myth
Written by David Burkus, founder of popular leadership blog LDRLB
For anyone who struggles with creativity, or who makes excuses for delaying the work of innovation,
The Myths of Creativity
will help you overcome your obstacles to finding new ideas.

Reviews
"We may no longer literally worship the Muses, but the myths surrounding creativity continue to delude us. In this smart and urgent book, David Burkus explodes these myths and replaces them with the scientific results of modern research on creativity and innovation."
—Daniel H. Pink, author, To Sell is Human and Drive
"Creative potential is all too often held captive by misconceptions. Burkus tackles the myths head on and digs into the true underpinnings of creative insight. It turns out that great ideas are within your grasp as soon as you take the reins. Read this book to free yourself of the myths and assumptions that burden your true creative potential."
—Scott Belsky, author, Making Ideas Happen and cofounder & CEO, BEHANCE
"Through rigorous research and engaging stories, Burkus debunks the myths of creativity and illuminates a creative process that makes ingenuity accessible to all. If you seek a more innovative company, The Myths of Creativity is a brilliant find."
—Liz Wiseman, author, Multipliers, and founder, The Wiseman Group
"David Burkus is an important new voice, both as a scholar and storyteller, as well as a commentator of the emerging 'GenEntrepreneur' in America."
—Peter Sims, author, Little Bets, and founder, BLK SHP
"The Myths of Creativity speaks the truth. The processes, environments, and organizational structures that foster creativity, as well as the obstacles that inhibit innovation, are laid bare. David Burkus uncovers the hidden elements which have been at the core of Continuum's innovation process, driving us to find better answers to the biggest questions."
—Gianfranco Zaccai, president, chief design officer, and founder, Continuum
"You must embrace your creative ability in order to thrive in today's marketplace. David Burkus swiftly and effectively debunks the myths that limit your creative firepower."
—Todd Henry, author, The Accidental Creative

About the Author
David Burkus
is assistant professor of management at the College of Business at Oral Roberts University, where he teaches courses on creativity, innovation, entrepreneurship, and organizational behavior. He is the founder and editor of LDRLB, an online publication that shares insights from research on leadership, innovation, and strategy. His work has been featured in Forbes, Bloomberg BusinessWeek, PsychologyToday, Fast Company and the Harvard Business Review.

Table of Contents
| | | |
| --- | --- | --- |
| | | |
| 1 | The Creative Mythology | 1 |
| 2 | The Eureka Myth | 17 |
| 3 | The Breed Myth | 33 |
| 4 | The Originality Myth | 49 |
| 5 | The Expert Myth | 67 |
| 6 | The Incentive Myth | 87 |
| 7 | The Lone Creator Myth | 105 |
| 8 | The Brainstorming Myth | 125 |
| 9 | The Cohesive Myth | 141 |
| 10 | The Constraints Myth | 159 |
| 11 | The Mousetrap Myth | 177 |
| | | |
| | Notes | 195 |
| | Acknowledgments | 203 |
| | About the Author | 205 |
| | Index | 207 |

Find Items On Similar Subjects

Solving Problems with Design Thinking
: Ten Stories of What Works

The Myths of Innovation