The Myths of Innovation
Scott Berkun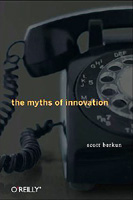 Format:
Hardcover, 192pp.
ISBN:
9780596527051
Publisher:
O'Reilly Media, Inc
Pub. Date:
May 4, 2007
Average Customer Review:

For Bulk Orders Call: 626-441-2024

Description and Reviews
From
The Publisher:
How do you know whether a hot technology will succeed or fail? Or where the next big idea will come from? The best answers come not from the popular myths we tell about innovation, but instead from time-tested truths that explain how we've made it this far. This book shows the way.
In
The Myths of Innovation
, bestselling author Scott Berkun takes a careful look at innovation history, including the software and Internet Age, to reveal how ideas truly become successful innovations-truths that people can apply to today's challenges. Using dozens of examples from the history of technology, business, and the arts, you'll learn how to convert the knowledge you have into ideas that can change the world.
Why all innovation is a collaborative process
How innovation depends on persuasion
Why problems are more important than solutions
How the good innovation is the enemy of the great
Why the biggest challenge is knowing when it's good enough
"For centuries before Google, MIT, and IDEO, modern hotbeds of innovation, we struggled to explain any kind of creation, from the universe itself to the multitudes of ideas around us. While we can make atomic bombs, and dry-clean silk ties, we still don't have satisfying answers for simple questions like: Where do songs come from? Are there an infinite variety of possible kinds of cheese? How did Shakespeare and Stephen King invent so much, while we're satisfied watching sitcom reruns? Our popular answers have been unconvincing, enabling misleading, fantasy-laden myths to grow strong."

Reviews
"Insightful, inspiring, evocative, and just plain fun to read it's totally great."
—John Seely Brown, former Chief Scientist of Xerox, and Director, Xerox Palo Alto Research Center (PARC); current Chief of Confusion
"Small, simple, powerful: an innovative book about innovation."
—Don Norman, Nielsen Norman Group, Northwestern University; author of Emotional Design and Design of Everyday Things
"Brimming with insights and historical examples, Berkun's book not only debunks widely held myths about innovation but also points the ways toward making your new ideas stick. Even in today's ultra-busy commercial world, reading this book will be time well spent."
—Tom Kelley, GM, IDEO; author of The Ten Faces of Innovation

About the Author
Scott Berkun
knows innovation. A member of the Internet Explorer team at Microsoft from 1994-1999, he is a full-time author at www.scottberkun.com and wrote the 2005 bestseller, The Art of Project Management (O'Reilly). He also teaches creative thinking at the University of Washington.

Find Items On Similar Subjects

The Ten Faces of Innovation
: IDEO's Strategies for Defeating the Devil's Advocate and Driving Creativity Throughout Your Organization

Creativity and Innovation