The Pin Drop Principle
: Captivate, Influence, and Communicate Better Using the Time-Tested Methods of Professional Performers
David Lewis and G. Riley Mills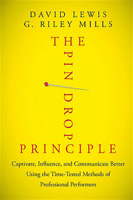 Format:
Hardcover, 272pp.
ISBN:
9781118289198
Publisher:
Jossey-Bass
Pub. Date:
June 5, 2012
Average Customer Review:

For Bulk Orders Call: 626-441-2024

Description and Reviews
From
The Publisher:
A full 91 percent of business professionals admit to daydreaming during the meetings they attend, and a shocking 39 percent confess to falling asleep. You certainly don't want your colleagues to be among them when you have the floor. How can you ensure that, in any communication you deliver—whether you are presenting ideas, conveying feedback, conducting difficult conversations, or trying to persuade others—you not only hold your audience's attention but engage them so completely that you really could hear a pin drop?
The Pin Drop Principle
is a step-by-step master class for anyone—from first-level managers to seasoned executives—who wants to become a more confident, credible, and engaging communicator at work and in life. The core of this master class is the Pinnacle Method®, a unique model for improved communication that draws lessons from an unusual source: the time-tested methods of professional performers. Actors enter every scene with a clear objective—a reaction they want to spark in their audience—as well as a clear intention—a plan for the exact emotional appeals that will help them get what they want. This book will help you identify and activate an equally clear sense of objective and intention for every communication in which you engage.
Drawing on their own careers as professional actors as well as decades of experience in business, Lewis and Mills show you exactly how to apply these classic performance principles to any high-stakes communication challenge you face. A clear objective and intention are just the beginning of any effective communication. Lewis and Mills also offer a full toolbox of performance-based delivery techniques, including storytelling, gestures and movements, and vocal dynamics—and reveal how and when to deploy them. These cornerstones of skillful communication, they explain, are as relevant to business professionals as they are to the actors who have successfully relied on them for centuries.
Ultimately, it is your responsibility to put passion and purpose behind your words, and to captivate and convince your audience, whether a crowd of thousands or a single individual.
The Pin Drop Principle
is the definitive hands-on guide to help you do just that.

Reviews
"By bringing communication back to first principles, Lewis and Mills get beyond the tricks and traps and help you understand what really engages an audience."
—Dylan Taylor, CEO, USA, Colliers International
"Lewis and Mills have beautifully captured their high-energy live performances and workshops in this extraordinary book. Read, enjoy, and allow The Pin Drop Principle to guide you to success!"
—Keith J. Evans, CEO, British Retail Consortium
"The Pin Drop Principle is a must-read for anyone who wants to dramatically enhance their ability to communicate."
—Aarti Gupta, vice president, global head, learning and culture, Capgemini
"In a noisy world, communication with clear intent is critical to drive change. The Pin Drop Principle is a game changer."
—Tom Schencker, director, sales training, Walgreens
"The Pin Drop Principle clearly, concisely, and convincingly shows you how to become a great communicator. A fast, fascinating, fun, and useful read."
—Rob Nelson, entrepreneur and inventor, Big League Chew
"A great book. At the end of each chapter, I found myself cheering for the concepts and wishing I had been introduced to these ideas years ago!"
—Dan Hebel, former senior vice president, claims, Allstate Insurance Company
"Practical, straightforward, sane advice. Anyone who speaks will benefit from applying the concepts in The Pin Drop Principle to their communication."
—Eloise Haverland, director, training and development, Fort Dearborn Company
"The techniques presented in The Pin Drop Principle have proven to be the most effective communication tools that I have acquired as a senior executive. I can only imagine how much more valuable they could be if I had been exposed to them twenty years ago."
—Gregory J. Rizzo, former president and CEO, Spectra Energy Partners
"The Pin Drop Principle is essential for anyone wanting to improve presentation delivery."
—Roshan Joseph, global head, learning and development, Virtusa Corporation
"This insightful book provides everything you need to know to move from being an average speaker to becoming a great speaker."
—Brendan Noonan, senior vice president, learning and development, Emirates Airline Group

About the Authors
David Lewis
and
G. Riley Mills
are cofounders of Pinnacle Performance Company, a global training firm that teaches the Pinnacle Method to thousands of professionals each year. Lewis is a former Fortune 500 executive, filmproducer, and screen actor. Mills is a regular speaker and award-winning writer with twenty years of professional acting experience.

Table of Contents
Introduction
1
Understand the Secrets of Persuasion
Communicating with Intention and Objective
2
Tell a Good Story
Using Personal Experiences to Inspire and Persuade
3
Craft a Compelling Narrative
Building the Framework to Support Your Message
4
Be Prepared
Managing Nerves and Controlling Anxiety
5
Project Confidence
Expressing Your Intention Nonverbally
6
Say It Like You Mean It
Using Your Voice to Influence
7
Listen to Understand
Maximizing Comprehension and Retention
8
Think on Your Feet
Mastering Impromptu Speaking in Any Situation
9
Stay Focused and On Track
Handling Questions and Controlling Your Audience
10
Assert Yourself
Gaining Commitment, Providing Feedback, and Delivering Difficult News
Conclusion
Notes
Glossary of Terms
Acknowledgments
About the Authors
Index

Find Items On Similar Subjects

Tell to Win
: Connect, Persuade, and Triumph with the Hidden Power of Story