Tell to Win
: Connect, Persuade, and Triumph with the Hidden Power of Story
Peter Guber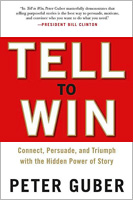 Format:
Paperback, 272pp.
ISBN:
9781846685576
Publisher:
Profile Books
Pub. Date:
August 2, 2012
Average Customer Review:

For Bulk Orders Call: 626-441-2024

Description and Reviews
From
The Publisher:
Today everyone – whether they know it or not – is in the emotional transportation business. More and more, success is won by creating compelling stories that have the power to move partners, shareholders, customers, and employees to action. Simply put, if you can't tell it, you can't sell it. And this book tells you how to do both.
Historically, stories have always been igniters of action, moving people to do things. But only recently has it become clear that purposeful stories – those created with a specific mission in mind – are absolutely essential in persuading others to support a vision, dream or cause.
Peter Guber, whose executive and entrepreneurial accomplishments have made him a success in multiple industries, has long relied on purposeful story telling to motivate, win over, shape, engage and sell. Indeed, what began as knack for telling stories as an entertainment industry executive has, through years of perspiration and inspiration, evolved into a set of principles that anyone can use to achieve their goals.
In
Tell to Win
, Guber shows how to move beyond soulless Power Point slides, facts, and figures to create purposeful stories that can serve as powerful calls to action. Among his techniques:
Capture your audience's attention first, fast and foremost
Motivate your listeners by demonstrating authenticity
Build your tell around "what's in it for them"
Change passive listeners into active participants
Use "state-of-the-heart" technology online and offline to make sure audience commitment remains strong
To validate the power of telling purposeful stories, Guber includes in this book a remarkably diverse number of "voices" – master tellers with whom he's shared experiences. They include YouTube founder Chad Hurley, NBA champion Pat Riley, clothing designer Normal Kamali, "Mission to Mars" scientist Gentry Lee, Under Armour CEO Kevin Plank, former South African president Nelson Mandela, magician David Copperfield, film director Steven Spielberg, novelist Nora Roberts, rock legend Gene Simmons, and physician and author Deepak Chopra.
After listening to this extraordinary mix of voices, you'll know how to craft, deliver -- and own – a story that is truly compelling, one capable of turning others into viral advocates for your goal.

Reviews
"TELL TO WIN gives great insight into why good storytelling skills are essential for a successful leader. It's both an engaging read and a great practical guide on how to listen, prepare and marshal facts to tell the right kind of story to the right audience."
—Robert A. Iger, President and Chief Executive Officer, The Walt Disney Company
"If anyone knows how to survive in business, it's Peter. This book is a manual for that. It gives you the two keys to success -- first, everything starts with a good story, and second, don't drop names (actually Frank Sinatra told me that)."
—George Clooney
"Incredibly insightful…gets to the heart of why some entrepreneurs who start with a pile of money fail utterly and why others who begin with nothing succeed spectacularly. It's not enough to have a vision or even talent. You need to get others to see the world through your eyes, to buy into your dream…Peter Guber understands that, and in this book he shows you exactly how to do it."
—Ian Schrager, Chairman and CEO of Ian Schrager Company, and Co-Founder of Studio 54
"I wish I had this book when I was starting out, trying to break through. It's not just a business book, it's a life book. Buy it, and you'll hit all the right notes."
—Quincy Jones, Winner of 27 Grammy Awards
"Every great business has a great story to tell. The businesses that realize their potential are the ones that figure out how to tell their stories well. When everyone—from executives to entry-level employees, from partners to customers and clients—understands and embraces their role in a company's narrative, success isn't just possible; it's inevitable. TELL TO WIN is astonishing, a lifetime of sharp insights and invaluable takeaways distilled into a couple hundred pages of pure gold."
—Hilary Schneider, Former EVP, Americas Region, Yahoo!
"An absorbing read. The central concept is powerful. Guber shows that carefully crafted story telling can transform your ideas into action, win the day, and even move a few mountains."
—Tim Kelly, President of Global Media Group, National Geographic
"I couldn't put Peter Guber's new book down. It reads like a novel, entertains like a movie, and yet manages to hammer home a message everybody should take to heart."
—Al Ries, co-author of POSITIONING and WAR IN THE BOARDROOM
"Offers some of the best advice money can buy…Guber is particularly good at spotting patterns, and through his eyes, we come to see that behind every success there's a good story lurking. How we, in turn, can create such stories is the great reward of this book."
—Frank Cooper, Chief Consumer Engagement Officer, PepsiCo Inc.

About the Author
Peter Guber
has had an extraordinarily varied and successful career, serving as Studio Chief at Columbia Pictures; Co-Chairman of Casablanca Records and Filmworks; CEO of Polygram Entertainment; Chairman and CEO of Sony Pictures; and Chairman and CEO of his current venture, Mandalay Entertainment Group. Among the award-winning films he has produced or executive produced are "Midnight Express," "The Color Purple," "Gorillas in the Mist," "Batman," and "Rain Man." Guber is the co-owner of the NBA's Golden State Warriors and oversees one of the largest combinations of professional baseball teams and venues nationwide. He is also a longtime professor at UCLA, a Harvard Business Review contributor, and a thought leader who speaks at numerous business forums around the country.