No Fear of Failure
: Real Stories of How Leaders Deal with Risk and Change
Gary Burnison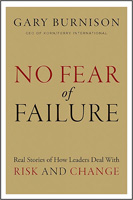 Format:
Hardcover, 208pp.
ISBN:
9781118000786
Publisher:
Jossey-Bass
Pub. Date:
May 3, 2011
Average Customer Review:

For Bulk Orders Call: 626-441-2024

Description and Reviews
From
The Publisher:
Candid conversations with top leaders around the world on how they approached pitvotal moments in their careers
No Fear of Failure
offers insightful, candid conversations with some of the world's top leaders in business, politics, education, and philanthropy?each giving a first-person account of how they approached crucial, career defining moments. Gary Burnison, CEO of Korn/Ferry International, the world's largest executive recruiting firm, sits down one-on-one with a highly select and elite corps, and together they openly discuss how they handled (often very publicly) war, economic downturn, corporate turnover, and even retirement. Together these world-class leaders show the risks one must be willing to take, as well as the vision, resilience, and compassion necessary to lead.
Includes original interviews with Michael Bloomberg, Carlos Slim, Eli Broad, Indra Nooyi, Drew Gilpin Faust, Anne Mulcahy, Vincente Fox, Lt. General Franklin L. "Buster" Hagenbeck, Coach John McKissick, Liu Chuanzhi, Daniel Vasella, and Olli-Pekka Kallasvuo
Explores the common traits great leaders exhibit: vision, compassion, resilience, competitiveness, purpose, humility, team-building skills, entrepreneurial spirit, perseverance, self-awareness, empowerment, and being a catalyst
Taking readers into executive suites, government offices, battlefields, and football fields, No Fear of Failure shows how great leaders make lasting impact.
"No Fear of Failure whisks readers into the executive suites, boardrooms, battlefields, and football fields—all the places where great leadership is imperative. It's a must-read for any executive, in a climate when leadership has never been needed more."—Ali Velshi, chief business correspondent and weekday host, CNN
What if you could have a conversation about what it takes to succeed with the richest man in the world, or the former president of a sovereign nation, or the mayor of one of the most influential cities in the world, or the CEO of one of the most recognized brands on the planet?
New York City's Mayor Bloomberg gives subordinates authority and responsibility, and Carlos Slim, the world's richest man, shows the importance of an entrepreneurial spirit. Vicente Fox, former president of Mexico, offers a case for humility and courage in leadership, and Indra Nooyi, CEO of PepsiCo, speaks openly to the need for clear purpose. Eli Broad, philanthropist, reveals his competitive drive, and GeneralFranklin "Buster" Hagenbeck, the retired superintendent of West Point and three-star general, talks about why losing is not an option. Coach John McKissick (with the most wins of any coach in football) explains that the way to achieve big goals is by scoring one win at a time, and Anne Mulcahy, former CEO of Xerox, shows how to hand over the reins to ensure a smooth leadership transition. Drew Gilpin Faust, the first female president of Harvard, speaks candidly to having to protect the university's endowment during an unprecedented economic downturn. Liu Chuanzhi, founder of Lenovo in China, andOlli-Pekka Kallasvuo, former CEO of Nokia, discuss perseverance and courage; and Daniel Vasella, chairman of Novartis, opens up about self-awareness.

Reviews
"With brilliance and clarity drawn from first-hand experience with some of the world's most celebrated leaders, Gary Burnison has written one of the most important and useful books for 21st century leaders. It will soon be referred to as 'The Global Guide to Successful Leadership'."
—Warren Bennis, Distinguished Professor of Business, University of Southern California; author, Still Surprised: A Memoir of a Life in Leadership
"No Fear of Failure offers riveting insight on leaders who lead by example, who recognize the importance of trust, and who understand that leadership is about earning the right to have others put their trust in you and then live up to that responsibility every day. It's a powerful book that provides insightful inspiration to any leader."
—Tim Flynn, global chairman, KPMG
"Gary Burnison has assembled an all-star cast to explore what it takes to be a leader today. As the profiled leaders attest, having 'no fear of failure' allows leaders to move forward knowing that they will not always win, with the understanding that the real victory is in the lessons learned from all experiences, positive and negative."
—Harry M. Jansen Kraemer, Jr., former chairman and CEO, Baxter International; author, From Values to Action

About the Author
Gary Burnison
is chief executive officer of Korn/Ferry International, the world's largest executive recruiting firm and a leading global provider of talent management solutions. He is also a member of the firm's board of directors. Burnison is a regular contributor to CNBC, CNN, and Fox Business, as well as to other international news outlets. He lives in Los Angeles with his wife, Leslie, and children.

Table of Contents
| | | |
| --- | --- | --- |
| | | |
| | Acknowledgments | |
| | Introduction: Leading the Way | |
| | | |
| 1 | Michael Bloomberg: Empower | |
| 2 | Eli Broad: Competitor | |
| 3 | Indra Nooyi: Purpose | |
| 4 | Vicente Fox: Humility | |
| 5 | Lieutenant General Franklin Hagenbeck: Compassion | |
| 6 | Coach John McKissick: Building Teams | |
| 7 | Carlos Slim: Entrepreneurial Spirit | |
| 8 | Liu Chuanzhi: Perseverance | |
| 9 | Daniel Vasella: Self-Awareness | |
| 10 | Drew Gilpin Faust: Catalyst | |
| 11 | Olli-Pekka Kallasvuo: Courage | |
| 12 | Anne Mulcahy: Resilience | |
| | Epilogue: Learning and Leading | |
| | | |
| | Notes | |
| | About the Author | |
| | Index | |

Find Items On Similar Subjects

The Twelve Absolutes of Leadership

The Corner Office
: Indispensable and Unexpected Lessons from CEOs on How to Lead and Succeed